A Plane Carrying 143 People Slid Off A Runway And Into A River In Florida
"No fatalities reported. We are all in this together," the Jacksonville mayor said.
A charter plane carrying 143 people slid off a runway and into a river in Jacksonville, Florida, on Friday night, injuring 21 people and prompting a massive rescue effort.
The Miami Air International plane was carrying 136 passengers and seven aircrew from Guantánamo Bay, Cuba, when it attempted to land at Naval Air Station Jacksonville around 9:40 p.m. The Boeing 737 slid off a runway and came to a stop in the shallow waters of the nearby St. Johns River.
There were no fatalities or critical injuries, the Jacksonville Sheriff's Office said, though 21 people were transported to hospitals and listed in good condition.
"The plane was not submerged. Every person is alive and accounted for," the Sheriff's Office said on Twitter.
Navy security and emergency personnel responded to the scene in addition to local first responders.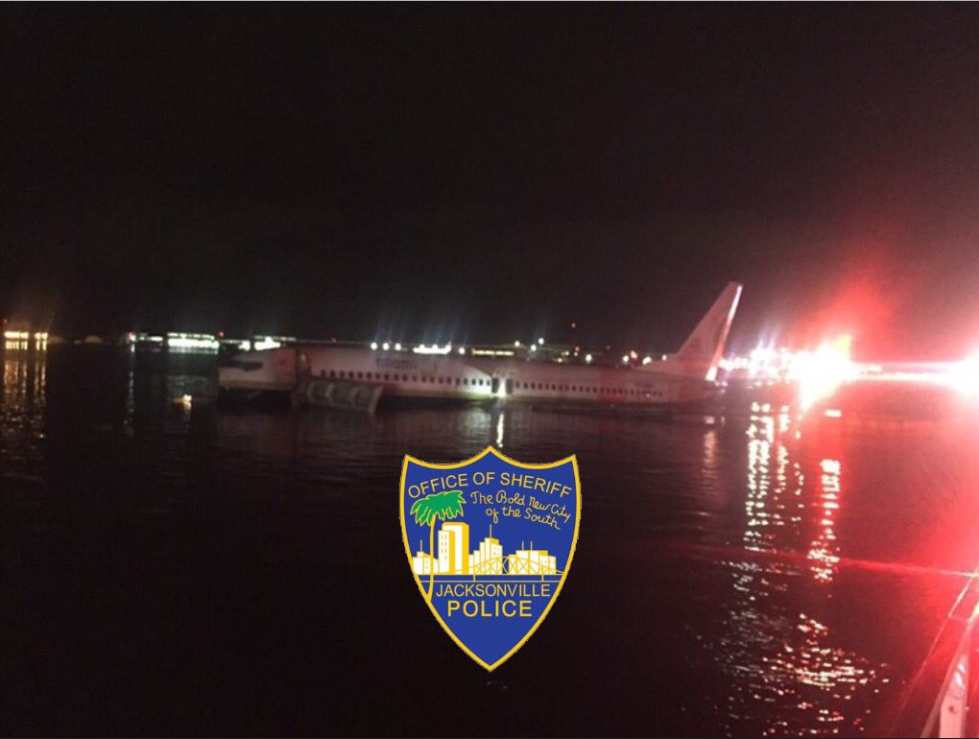 Thunderstorms were observed in the area at the time of the incident. The National Weather Service in Jacksonville had warned drivers near the air station to be careful on roads during the brief, heavy downpours.
A passenger who was on the flight told CNN the plane flew through thunderstorms as it neared Jacksonville and "had a really hard landing."
"We were in water. We couldn't tell where we were, whether it was a river or an ocean," Cheryl Bormann said. "There was rain coming down. There was lightning and thunder. And we stood on that wing for a significant period of time. Rescue folks came, and eventually someone inflated a life raft that had been on the plane, and we began climbing into it. Everybody was helping everybody."
Jacksonville Mayor Lenny Curry said on Twitter that crews were working to keep jet fuel out of the water. The White House also called to offer help, he added.
In a tweet, Boeing said it was aware of the incident and was gathering information. Air station officials said an investigation into the mishap was underway.
"No fatalities reported. We are all in this together," Curry said.