The last of four inmates who escaped from a jail in Santa Clara, California, by somehow cutting through the metal bars of a second-story window and rappelling down with bed sheets were captured Wednesday night after a week-long manhunt.
Rogelio Chavez, 33, had manage to allude police since last Wednesday, but was captured after a nine-hour standoff with officers, according to the Santa Clara County Sheriff's Office.
On Tuesday night, police captured Laron Campbell, 26, who was discovered hiding in an attic, according to officers. Officials had announced a $20,000 reward on Friday for information leading to the men's arrest.
Chavez and Campell were part of a group of four men who attempted to escape around 11 p.m. on the night before Thanksgiving, according to the Santa Clara County Sheriff's Office. Two men were taken back into custody immediately outside the jail, but deputies could not find Chavez and Campbell in spite of setting up a perimeter and deploying a helicopter and K9 dogs.
The men escaped through a second-story window from their cell in the oldest part of the jail, authorities said. They somehow cut through metal bars, but no tools were found in the cell. A bed sheet was left tied to the window.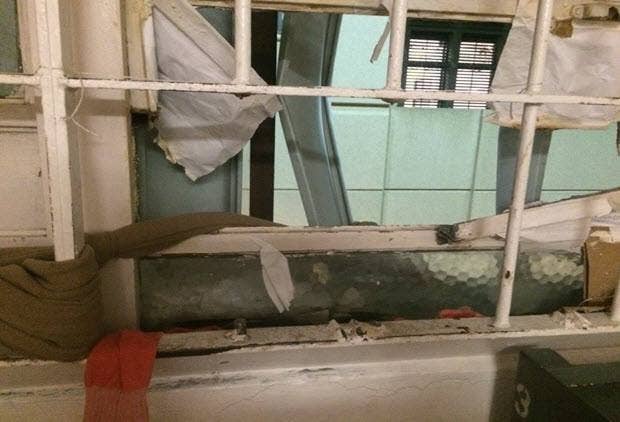 "It was something that probably took some previous planning," sheriff's Sgt. Rich Glennon said at a news conference.
In that part of the jail, there are no surveillance cameras, Glennon added.
Chavez was booked into jail in August on suspicion of burglary, extortion, false imprisonment, resisting arrest, and firearms violations. Campbell had been in jail since February after being arrested on suspicion of robbery, false imprisonment, criminal threats, and firearms violations.