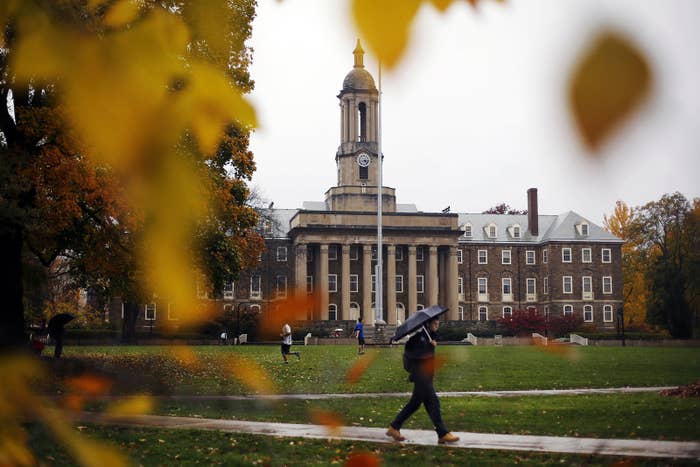 Six days after Nate Parker and his roommate Jean Celestin were charged with raping a fellow Penn State student while she was blackout drunk in 1999, they stood before a court.
Dozens of people had turned out to the preliminary hearing, including Parker and Celestin's wrestling coach. The district justice ordered the 19-year-old and the 20-year-old to stand trial.

"Any rape case is disturbing, but this is probably the most disturbing case I've heard," District Justice Bradley Lunsford said, Penn State's Daily Collegian newspaper reported at the time.

Parker was acquitted of all charges and Celestin found guilty of one count of sexual assault, a conviction that was later dropped. For years the case was a flashpoint for questions within the State College community. Were Parker and Celestin treated with unfair harshness as black men accused of raping a white woman? Was she drinking, and was she able to consent? Were the wrestlers getting special treatment because of their role in the school's athletics program? Did the university do enough to protect a young woman who said she had suffered a sexual assault, then harassment, when she tried to get justice?

The controversy around the case was documented in local media reports and by the Associated Press. As Parker grew in Hollywood fame, he addressed the accusations, his acquittal, and how he had grown as a man. The case even earned a mention in his Wikipedia page, but none when his film The Birth of a Nation was bought by Fox Searchlight for a record-breaking $17.5 million.

This week the case resurfaced in headlines after Variety reported that the alleged victim committed suicide in 2012. Parker addressed the incident and the woman's death in a Facebook statement, and his fans duked out the merits of the original court case on Twitter. Seventeen years later, the same issues that had torn the Penn State community apart now threatened the film, which he had co-written with his former roommate and co-defendant.

Inherent in the first reports of the case was Parker and Celestin's status as college athletes. "2 Nittany Lions Charged With Rape," the Associated Press wrote on Oct. 22, 1999. Their coach released a statement that they had been suspended, and a campus newspaper article days later looked at how the wrestling team was coping. Coach Troy Sunderland said he didn't want any potential actions by Celestin and Parker to overshadow the hard work and good deeds of the rest of the team.

Coaching assistant Kerry McCoy described his hope to be a role model to Celestin and Parker, and his ongoing friendship with them.

"I've been talking to them here and there as any friend would," McCoy told the Daily Collegian. "I don't know what's going on in their hearts and heads, but they're taking it one day at a time. I just want to make sure they're OK, and that they know they have a lot of support behind them."

Supporters from Penn State sat in on Celestin and Parker's hearings. They watched as attorneys for the young men said what many in the community believed: that authorities were railroading black men not for a crime, but because they had sex with a white woman.
At the preliminary hearing, an attorney for Parker said he believed the rape accusations were entirely fabricated because the alleged victim did not like the rumors that had spread about her and Parker.
"When people found out she was having sex with two young black athletes ... I think she reacted poorly and she made a bad decision and she made these accusations, which are totally unfounded," attorney Philip Masorti said, the Daily Collegian reported.
The alleged victim also took the stand, facing the young men she said assaulted her while she was too numb to move or understand what was happening.
"I know myself," she told the court. "I have more respect for myself than to have sex with them."

Students would continue to criticize the case as racially motivated. In several articles, the Philadelphia Inquirer noted that black students who attended the trial did not believe authorities and the jury were acting fairly.

After Parker was acquitted, Celestin was sentenced to 6–12 months by a judge. Dozens of letters were sent to the court to support a light sentence and appeared to pay off; sentencing guidelines suggested 3–6 years in prison for the crime. (Celestin was later granted a new trial on appeal and the district attorney opted to drop the case entirely.)
Penn State's student government passed a resolution commending the sentencing judge. The resolution prompted a screaming match at a meeting of the Student Government Senate, the Philadelphia Inquirer reported.

"I'm really disturbed that they would pass that resolution," undergraduate student government women's affairs director Laurie Rosenberger told the Daily Collegian.
The resolution's sponsor, student Jason Covener, defended it to the Inquirer. The sexual assault "was a terrible and disastrous error in judgment ... , but [Celestin] was not some guy crouched in a dark alley somewhere. ... I don't think you should be in the habit of ruining someone's life for mistakes made," he said.
At the same time, black campus leaders called on the university to allow Celestin to receive his degree.

"Do you really think a black male of color who is accused of raping a white female in Centre County can get a fair trial when a jury of his peers are all white except one female of color? That's a problem," Assata Richards, graduate student and Black Caucus member, said at a press conference.
Members of the Black Caucus also questioned whether university officials could fairly administer Celestin's case, given the controversy around it. "We fear that he will not be able to get an unbiased judicial affairs hearing due to the massive media attention that this case has already received," David Davis said.

Meanwhile, victims' rights groups were rallying around the woman. Penn State had mishandled its response to her accusations, they said, and had not gone far enough to protect her as the case was ongoing. One group would later help her file a federal suit against the university; Penn State settled with her for a reported $17,500.
The lawsuit alleged that Penn State had been indifferent to harassment suffered by the woman as the trial was ongoing. An editorial by the campus newspaper called on the university to address how it supported the victims of sexual assault.
"This woman's experience after reporting the assault can send a dangerous message to other victims: You're better off keeping your mouth shut," the March 2002 editorial said. "That is not a message that the university should want to send to its students."
In late November 2001, the group Security on Campus sent a letter to university officials and the governor arguing that it would be an "absolute indignity" for Celestin to be allowed to graduate.
"Your action violates your own rules, which state that you will not tolerate sexual assault, and sends a horrible message to other students that rapists, sexual deviants and sexual predators are welcome at Penn State," the letter said.

The group's vice president told the Inquirer that allowing Celestin to graduate would revictimize the woman. "Our concern is irrespective of anyone's race," S. Daniel Carter said.

The victim also wrote to the university's Office of Judicial Affairs, the Inquirer reported. "Although the drinking and the amount of alcohol I consumed showed very poor judgment on my part, I did not 'ask' to be raped."

Not long after, Parker transferred to the University of Oklahoma, where he resumed wrestling. In 2002, he competed in the NCAA Championships — coming up against some of his former classmates.
His choice to leave Penn State was the right one, he told a Daily Collegian reporter.
"Penn State was put in the past from the moment I left," Parker said. "It's like night and day. Oklahoma has been so supportive through my ups and downs. It's an experience I wouldn't have traded for the world. Even if I hadn't have placed here, I would have been happy with all of the support my coaches and teammates have given me."