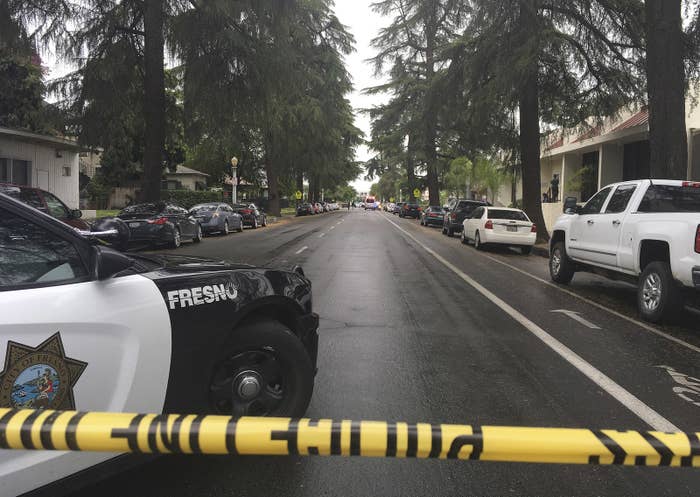 A 39-year-old man shot and killed three people at "random" Tuesday in Fresno, California, after gunning down a motel security guard, a shooting spree police believe was motivated by racial hatred.
The suspect, Kori Ali Muhammad, was quickly arrested after the killings Tuesday and was identified as a suspect in the fatal shooting of a security guard at a Motel 6 on Thursday, Fresno Police Chief Jerry Dyer said.
Officers responded to the shootings Tuesday after they received an alert through a gunshot detection system that 16 rounds had been fired at several locations in the city within a minute.
When officers arrived, they saw a man running away from the scene, Dyer said. Officers arrested the man and he identified himself as Muhammad.
"I did it. I shot them," Dyer said Muhammad told officers.
As he was taken into custody, he said, "Allahu akbar," the Arabic phrase meaning "God is great." Based on a police interview, Dyer said authorities believe Muhammad was pledging his allegiance to God, not to any terrorist group. Muhammad told them that he was Muslim, though he did not attend prayer services at a mosque. He also said he prayed to other gods and practiced voodoo, Dyer said.
Muhammad's motivation in the shooting appears to have been race, Dyer said. The four victims were white men, and Muhammad is black.
"We don't believe it's a terrorist act," Dyer said. "We believe it is a hate crime."
Dyer added that police had found a Facebook page that appeared to belong to Muhammad that contained anti-government and anti-white posts. Based on that and his statements, the FBI has joined the investigation.
Muhammad learned he was wanted in the shooting of the security guard on Tuesday morning when he saw a news report, Dyer said.
"Once he saw that he was wanted for murder, he was not going to go down for shooting a security guard for disrespecting him, but he was going to shoot as many white males as possible," Dyer said.
At the time of his arrest, Muhammad was carrying ammunition and speed loaders matching the caliber of revolver used in the shootings, Dyer said. Police believe he dropped the gun as he was trying to flee, and it was picked up by a man who has been captured on surveillance video but not identified.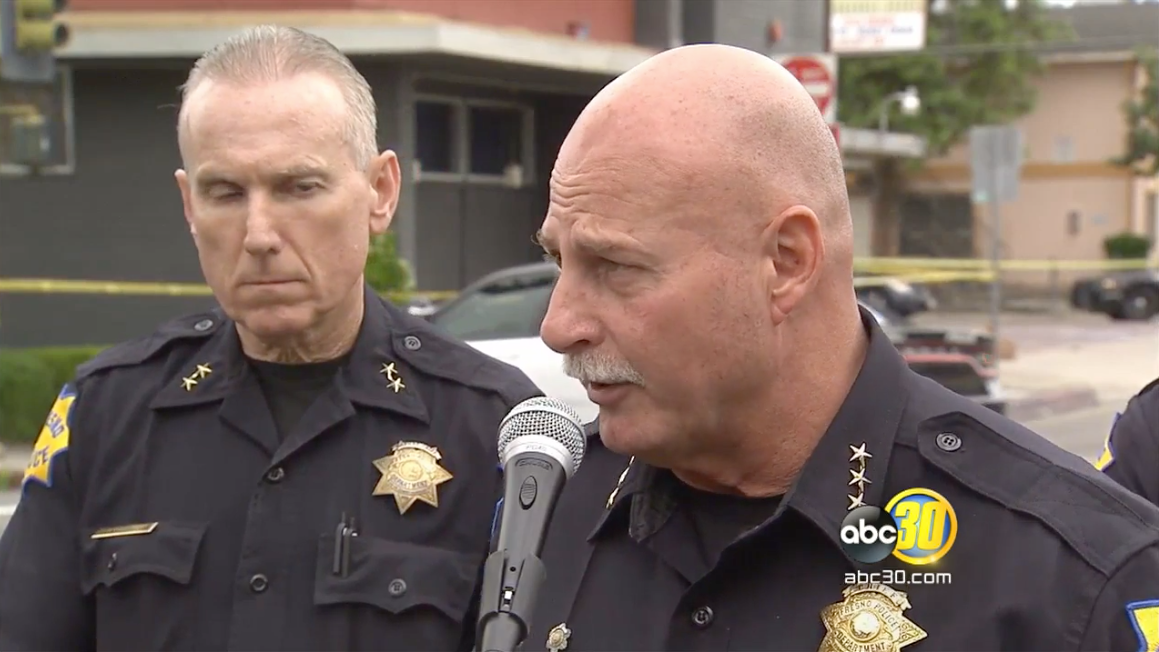 Gunshots were detected at four locations within a block of each other Tuesday morning. At one location, Dyer said a man riding in a utility company pickup truck was fatally struck. That man, Zackary Randalls, worked for Pacific Gas & Electric's call center and was on a ride-along to learn how his colleagues in the field operated. The truck's driver was Latino, and police said Muhammad intentionally aimed for Randalls, who was white.
"Our hearts are very heavy today, as we have lost a member of our PG&E family," a spokesperson for utility Pacific Gas & Electric said. "Our thoughts and prayers are with the family of our employee, and all those impacted by this tragic event."
More gunshots were fired at another man nearby, but he was not injured. Muhammad also approached two Latina women in a car, shot once at them, but then allowed them to drive away, Dyer said.
Another man, identified as Mark Gassett, was fatally shot on a sidewalk after picking up groceries from Catholic Charities, Dyer said. A third man, identified as David Jackson, was fatally shot in the charity's parking lot.
The security guard who was killed on Thursday was identified as 25-year-old Carl Williams.
In each instance, the shooting was unprovoked, Dyer said.
"Unfortunately, this was a random act of violence," he said. "These individuals that were chosen today did not do anything to deserve what they got."
On the Facebook page, posts reference black nationalism and cite natural disasters in the US as proof of punishment for "white devils." Several posts are tagged #ALLAHUAKBAR, and many others reference African spiritual concepts.
Recent posts suggested Muhammad is in Atlanta, but Dyer said that investigators do not believe he left Fresno. He had been living on the street when he was arrested.
The Facebook page also links to videos and music Muhammad appears to have uploaded online.
"Death and destruction, murder and mayhem. That's what you get when you're fucking with me," he appears to sing in one video.
Muhammad has a criminal record that includes possession with intent to distribute crack cocaine as well as being a felon in possession of a firearm. In 2005, his lawyers filed paperwork in federal court that they did not believe he was mentally competent to stand trial.
Fresno police believe that on Tuesday, Muhammad was aware of what he was doing. Dyer said when he arrived at the scene of the arrest, Muhammad told him, "Sorry, chief."
"He was alert and understood what he did and was very aware of the fact that he had shot these people just prior to that," Dyer said.
After his arrest, Muhammad spoke to detectives for hours and accompanied them to the scenes of the shootings to tell them what happened. He had also allowed himself to be taken into custody without a struggle because he said he respected police and to show he was not a coward, Dyer said.
Muhammad also told detectives he was not a terrorist. He described the shootings in a calloused manner, Dyer said, and at times he began laughing about what he had done.
"Kori Muhammad is not a terrorist, but he is a racist, and he is filled with hate," Dyer said. "He set out this week to kill as many people as he could."