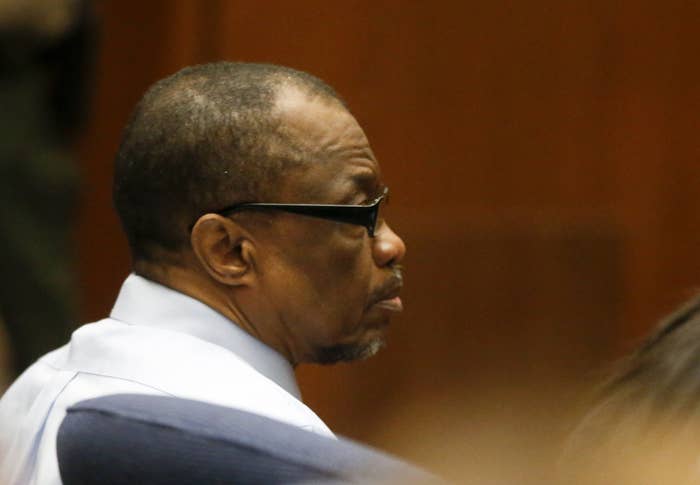 Fifteen young, black women brutally killed, their partially undressed or naked bodies dumped amid trash in the streets of South Los Angeles over the course of three decades: Only the death penalty is appropriate for the "Grim Sleeper" serial killer, prosecutors told jurors Thursday.
Lonnie Franklin was found guilty last week of murdering nine women and a 15-year-old girl, as well as the attempted murder of a woman who would go on to testify that he raped and shot her.
But Deputy District Attorney Beth Silverman on Thursday presented evidence during the sentencing phase to argue Franklin was responsible for the deaths of five additional women.

Though an apparent 14-year gap in killings earned Franklin the Grim Sleeper nickname, prosecutors told jurors the 63-year-old never stopped killing. Murder charges were never brought in the five additional cases.
In each murder, family members of the victims said the killings left lasting scars beyond the suffering the slain women endured.
"After her death, I didn't want to go any place," said Mary Alexander, the mother of 18-year-old Alicia Alexander, who was killed in 1988. "I couldn't stand to see my nieces and nephews, any of her friends. It just hurt me too bad."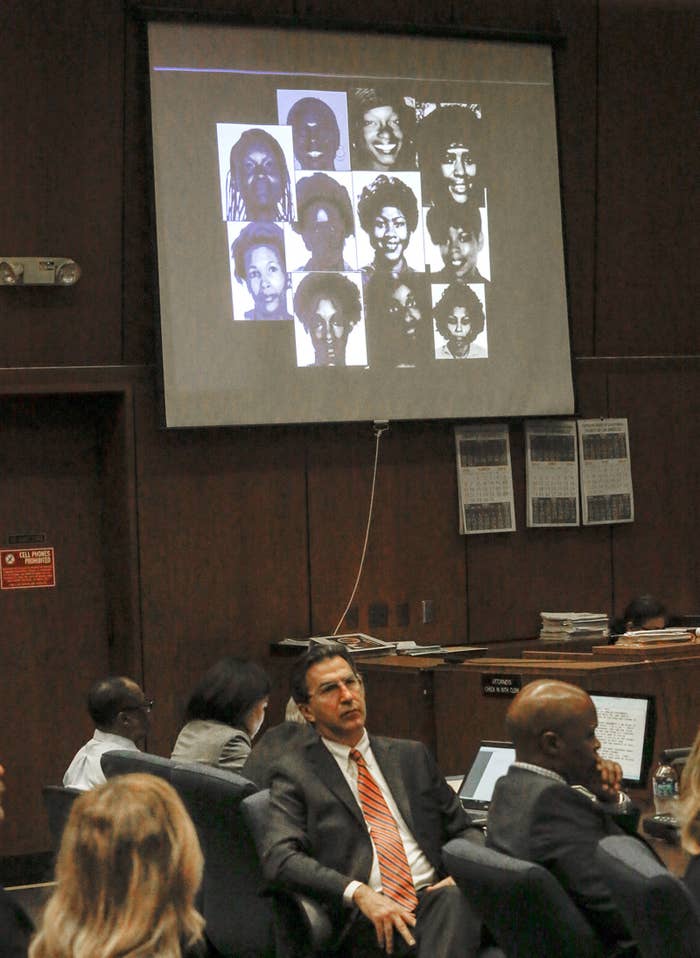 A jury convicted Franklin on May 2 for the murders of Debra Jackson, Henrietta Wright, Barbara Ware, Bernita Sparks, Mary Lowe, Lachrica Jefferson, Alicia Alexander, Princess Berthomieux, Valerie McCorvey, and Janecia Peters. All of them were young black women, and they were killed between 1985 and 2007.
Prosecutors said Franklin sexually assaulted the women in his vehicle, shot or strangled them, then dumped their bodies within a few miles of his South Los Angeles home. DNA and firearms evidence linked Franklin to each of their deaths.
Despite his defense lawyer's attempts to discredit the scientific evidence, a jury returned a guilty verdict within eight hours of deliberation.
On Thursday, Silverman told the jury that Franklin's violence extended to other women, a pattern of viciousness that should be considered in determining if he dies or serves life in prison without parole.
Sharon Dismuke, 21, was found naked and gagged on Jan. 15, 1984, in an abandoned gas station. The same .25 auto pistol that was used in 2007 to kill Jaencia Peters was also used to fatally shoot her twice, Silverman said, and it was found inside a bedroom in Franklin's home in 2010.
Inez Warren, 28, was shot on Aug. 15, 1988. She was found barely alive in an alley, then died at a hospital, Silverman said. Though the bullet that killed her was never recovered, Silverman said like Franklin's other murders, it was a close-range shot to the left chest, the trajectory matching the shots that killed the others.
Georgia Mae Thomas, 43, was found fatally shot Dec. 18, 2000 — just a mile from where victim Barbara Ware had been dumped. The shooting had similar attributes to the other murders, Silverman said. When authorities searched Franklin's home after his arrest in 2010, they found a Titan .25 auto pistol that had been hidden behind a false wall in the garage. According to Silverman, it was later proven to be the gun that killed Thomas.
Though the bodies of 18-year-old Ayellah Marshall and 31-year-old Rolenia Morris have never been found, Silverman said authorities believe they were also victims of Franklin.
Morris went missing in 2005, and Marshall disappeared in 2006. Inside a garage mini-fridge that prosecutors have described as Franklin's "trophy case," authorities found Marshall's high school ID card. Her driver's license was also found in Franklin's garage, along with photos of her inside a van. In one, her breast is exposed — similar to a photo of murder victim Janecia Peters that was found nearby, Silverman said.
A woman who survived being raped by Franklin and two other men in 1974 will also testify, Silverman said. The assault took place in Germany, where Franklin had been stationed with the U.S. Army. The men pulled the then 17-year-old into a van, threatened her with a knife, raped her, and took photos, Silverman said.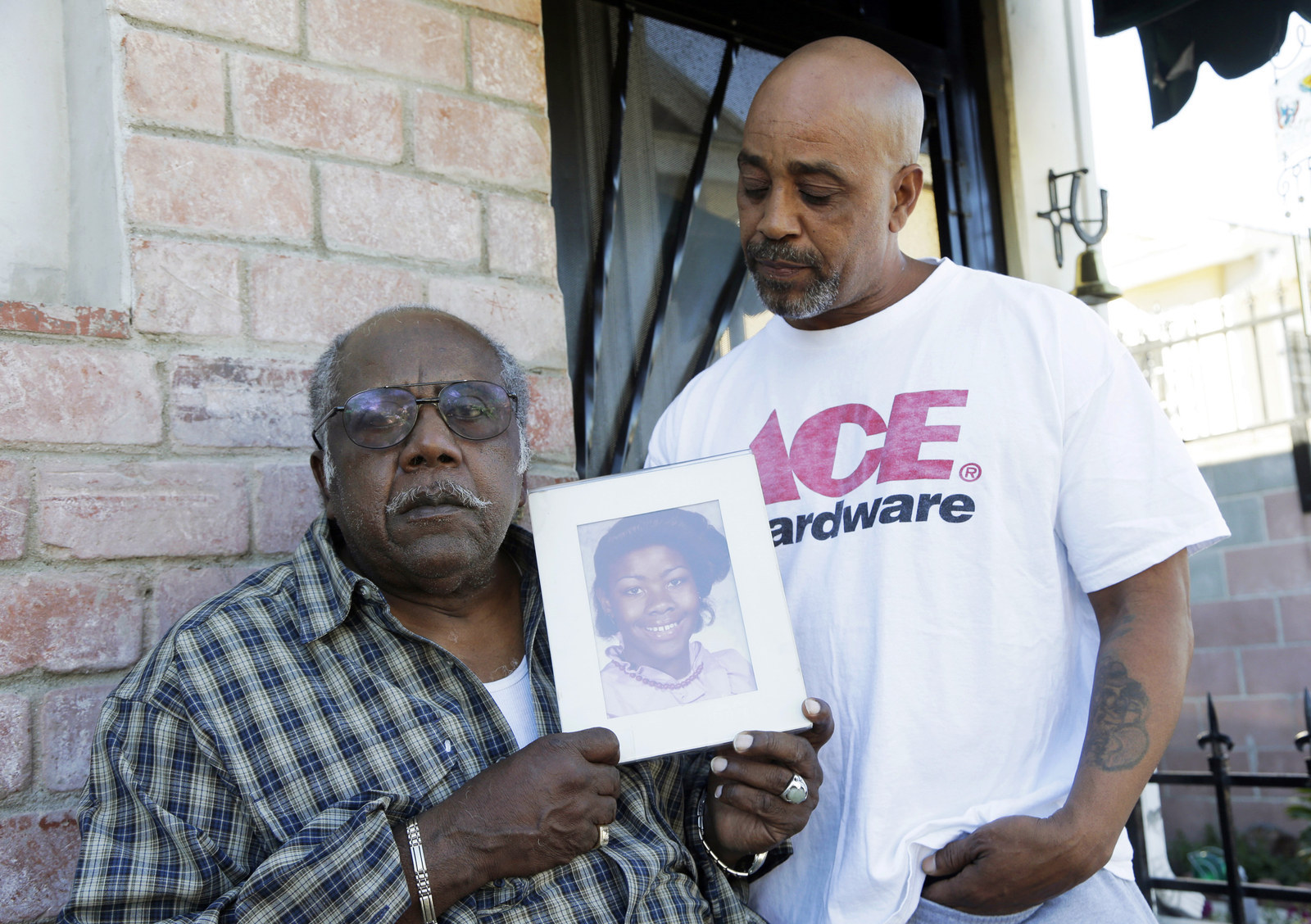 Surviving family members of the slain women also began Thursday to testify about the impact Franklin's crimes have had. Over the coming weeks, the victims' parents, siblings, children, and perhaps a grandchild are expected to describe the pain of loss, happier memories, and family photographs.
Some have waited decades for justice. Donnell Alexander, the older brother of Alicia Alexander, described how he had quit his job to attend each court hearing over the last six years.
"I needed the world to know how we felt about my little sister," he said.
He described his close-knit family and four siblings as like the Brady Bunch. Alicia was the baby — a loving, happy girl who would constantly bring friends to the house.
The family still gets together, he said, but it's not like the carefree days depicted in photographs shown in court on Thursday.
"It's not the same," he said. "There's no happy times. [But] the love that was there is still there."
Rochelle Johnson was 4 years old when her mother, Henrietta Wright, was killed. She said Thursday that while she doesn't have memories of her mother, the loss has followed her throughout her life.
She and her four siblings were split among family members. Now with children of her own, Johnson said she wishes she could ask her mother's advice on parenting or simply have her help cooking over the holidays.
"I've thought of her a lot this year because I'm 34," Johnson said. "That's the age she was when she was killed, so that's a hard situation. She still had so much life to live."
Victim Mary Lowe was remembered for her bright smile and her dancing. She had been on Soul Train and insisted on organizing her younger sister and cousin into a girl group — Lowe, of course, was the group's lead and manager, her family remembered.
Tracy Williams, her cousin, described how the family will never get over Lowe's death.
"We just couldn't understand it, and I still don't understand it to this day," Williams said. "I can't imagine anybody hurting her."