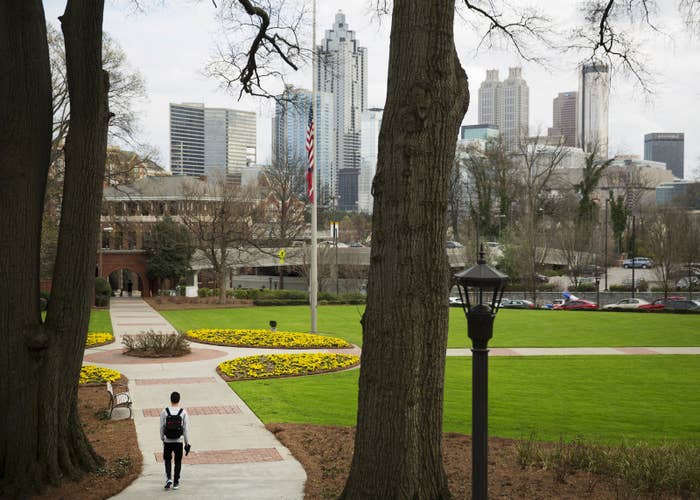 Georgia Gov. Nathan Deal on Thursday signed a law allowing concealed carry license holders to bring guns onto college campuses.
The law still prohibits guns in what Deal called "sensitive areas," including campus preschools, student housing, sporting events, faculty offices, and disciplinary hearings. The state legislature had previously passed a bill that didn't keep guns out of those areas, which Deal vetoed.
Deal said he hoped the new law would protect students going to and from classes, while keeping guns away from places that could draw concern.
"Unfortunately, in parts of the state, the path to higher education travels through dangerous territory," he said in a statement. "At the present time, assailants can, and do, target these students knowing full well that their victims are not permitted to carry protection, even those who are weapons carry license holders, because they are either going to or coming from a campus where no weapons are allowed."
The bill had been approved 33-21 in the state senate and 96-70 in the state house.
Nine other states — Arkansas, Colorado, Idaho, Kansas, Mississippi, Oregon, Texas, Utah, and Wisconsin — already have laws allowing guns on college campuses under certain conditions, according to the National Conference of State Legislatures. A Tennessee law allows faculty to carry guns, though a ban is still in effect for students and the general public.

In recent weeks, the issue had prompted protests on Georgia college campuses. At the University of Georgia, a survey from the school newspaper found that most students opposed allowing firearms on campus. Protesters told the newspaper that they believed existing campus safety measures did more to protect students than allowing concealed firearms would.