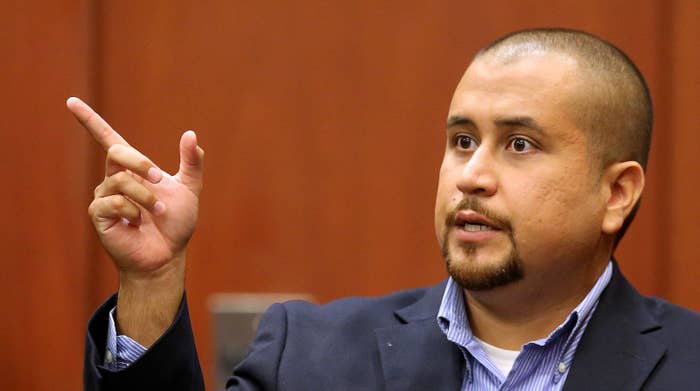 George Zimmerman, the man who fatally shot unarmed Florida teenager Trayvon Martin, said he was punched in the face Sunday after witnesses said he bragged about killing the 17-year-old.
The altercation took place Sunday evening at Gators Riverside Grille in Sanford, Florida, the same town where Zimmerman made international headlines in 2012.
Witness accounts differ on exactly what happened, but Zimmerman was at the restaurant with a friend when he said he complimented another man's tattoos.
A woman at the table told police Zimmerman said, "Hey I like your racist tattoos," according to a report by the Seminole County Sheriff's Office. The owner of the restaurant later told the Orlando Sentinel that Zimmerman told the man he didn't like his tattoos.
Zimmerman said the people at the table recognized him, but the woman told deputies he identified himself as "the guy who killed Trayvon Martin." Zimmerman then pulled out his ID to prove who he was.
Zimmerman continued to talk about shooting Martin in self-defense; the woman and a man at the table said it seemed like he was bragging.
Another man then approached Zimmerman.
"You're bragging about that?" he asked Zimmerman.
Zimmerman said he wasn't, but the man, who appeared to be drunk, punched him in the face.
"He told me he'd fucking shoot me," Zimmerman told a 911 operator, adding he was bleeding and his glasses were broken. "He punched me in the face."
The restaurant owner said no punches were thrown; the men were simply shoving each other. Zimmerman's friend told deputies he tried to get between the men, then began to film with his cell phone, which was hit out of his hands. A friend of the other man also said he tried to break the fight up when the cell phone got in his face; he said he knocked it away.
Zimmerman told deputies and 911 the man who had punched him also called him a "n----- lover." It's possible the man thought Zimmerman was someone else, maybe the man who in 2015 got into a road rage confrontation with Zimmerman, he later told the Sentinel.
The man who Zimmerman said punched him, described as blond, fat, and bearded, then left on a blue Harley-Davidson motorcycle.
If identified, he could be arrested on battery charges, authorities said.
As deputies arrived on the scene, Zimmerman requested paramedics.
"I don't know where I'm bleeding from," he said.
Another woman also spoke with a 911 operator and said it really wasn't necessary to send police.
"We just almost had a fight," she said, "but we broke it up."
CORRECTION
Trayvon Martin was 18. A previous version of this post listed the incorrect age.