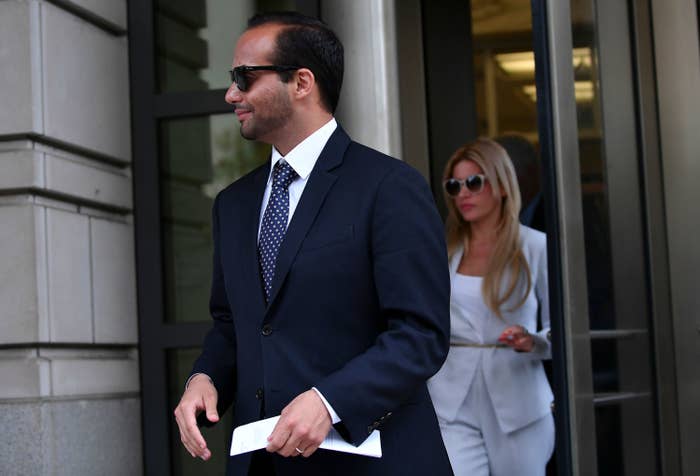 George Papadopoulos, the former campaign adviser for Donald Trump who spent 12 days in prison after lying to the FBI, is running to represent the California seat in Congress last held by Katie Hill.
The campaign committee "George Papadopoulos for Congress" filed paperwork with the Federal Election Commission on Tuesday, and a campaign website also went live.
On georgeforcongress.com, the campaign said it was seeking to bring California's 25th District back under Republican control. The seat had long been held by Republicans before Hill, a Democrat, won in 2018 as part of a national "blue wave."
"Help fight back against Democrat corruption by joining George's campaign today!" a message on the site said.
The committee's representative didn't immediately respond to questions from BuzzFeed News. And its website was no longer accessible Tuesday night.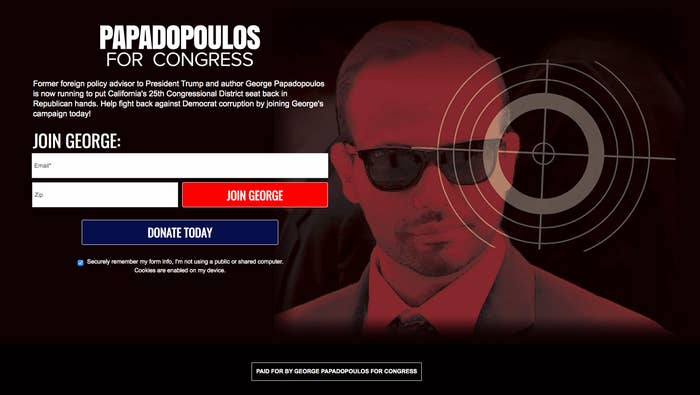 Papadopoulos served on a foreign policy advisory committee during President Trump's 2016 campaign and became a key figure during special counsel Robert Mueller's investigation into Russian meddling in the election.
Papadopoulos has said in court papers that he suggested a meeting between Trump and Russian President Vladimir Putin. He also lied to the FBI about his meeting with a Russian intermediary who offered "dirt" in the form of thousands of Hillary Clinton's emails, authorities said.
Mueller sought a six-month sentence for Papadopoulos because of the damage the lie had done to the Russia investigation.
"The defendant's crime was serious and caused damage to the government's investigation into Russian interference in the 2016 presidential election," Mueller wrote in a court filing. "The defendant lied in order to conceal his contacts with Russians and Russian intermediaries during the campaign."

Since leaving a federal prison camp, Papadopoulos has been living in the Los Angeles area and casting himself as a victim of the "deep state." He'd been considering a run for Congress, initially in the Orange County district long held by former representative Dana Rohrabacher that also flipped Democratic in the 2018 midterm elections.
After intimate photos of Hill were published without her consent, along with allegations that she was in an inappropriate relationship with a staff member, Papadopoulos made his interest in her district known on Twitter.