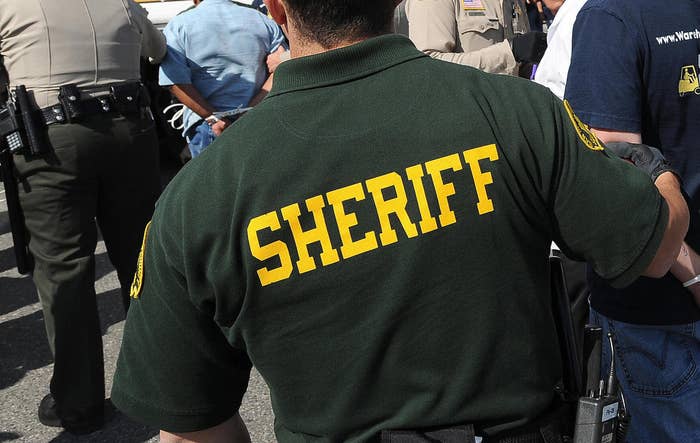 Gay, bisexual, and transgender inmates of a California jail said they are housed in an "alternative lifestyle tank" and unfairly kept from opportunities and programs available to straight inmates, according to a federal lawsuit filed Wednesday.
The class action lawsuit was filed by the American Civil Liberties Union on behalf of all GBT inmates of the West Valley Detention Center in San Bernardino county. The county jail, one of the largest in the state with a capacity of about 3,300, generally houses men and women awaiting trial.
According to the suit, any suspect who identifies as gay, bisexual or transgender when booked by the sheriff's department is automatically taken to the alternative lifestyle tank. Unlike general housing, inmates in the tank are kept indoors for 22-and-a-half hours a day, the suit said. Other inmates were generally out of cells during the day, the suit said, and those in protective custody were allowed outside of their cells three hours a day.
GBT inmates also don't have access to drug treatment, education, and work programs, the completion of which could reduce their sentences, the suit said.
"In short, GBT inmates at WVDC serve longer sentences and endure substantially worse conditions of confinement simply because they are gay, bisexual or transgender," the suit alleges.
A spokesperson for the sheriff's department told BuzzFeed News on Wednesday they had not yet seen the suit. The department does not comment on pending litigation, the spokesperson said.
In addition to "systematic discrimination," inmates in the alternative lifestyle tank often faced abuse or neglect from deputies, the suit said. Gay slurs were common, one inmate said. Guards were also less likely to do safety checks, the suit said, because of an "unwarranted fear of AIDS."
Separating GBT inmates into protective custody might be necessary for the safety within jail facilities, the suit added. Still, "there is no legitimate penological reason to treat GBT inmates worse than non-GBT inmates just because of their sexual orientation or gender identity."
As a class action suit, the defendants include any people who were jailed in the alternative lifestyle tank. The suit also names 15 current or former inmates specifically and describes their experiences.
All reported being unable to work or participate in programs that could have led to reduced sentences. Access to religious services was not allowed and safety checks by deputies were skipped, the men and transgender women said. For some, such as Jonathan Robertson, the affects of deputies' treatment were lasting.
"As a result of the treatment and isolation of GBT inmates at WVDC, Mr. Robertson has experienced severe emotional distress and depression and has made multiple suicide attempts without having been given a psychological evaluation," the suit said.
The lawsuit is seeking immediate changes to the jail's procedures as well as damages.