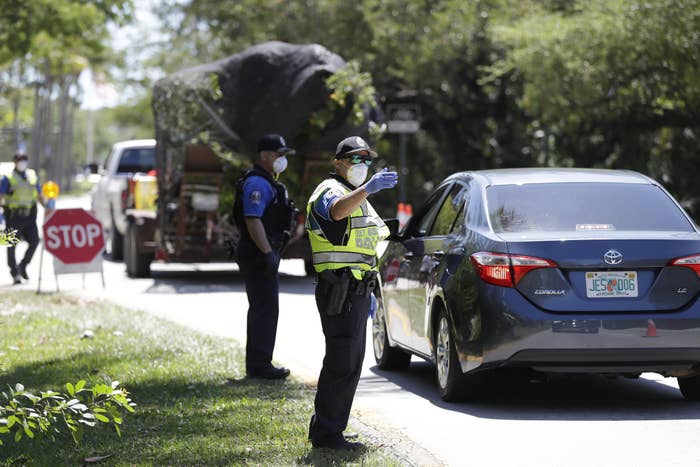 The journalists at BuzzFeed News are proud to bring you trustworthy and relevant reporting about the coronavirus. To help keep this news free, become a member and sign up for our newsletter, Outbreak Today.

A man was charged with kidnapping after he allegedly threatened a 17-year-old and forced her to drive him through a coronavirus checkpoint into the Florida Keys.
Alexander Michael Sardinas, 37, was arrested on Thursday shortly after the incident, and the teen was unharmed, according to the Monroe County Sheriff's Office.
"I am relieved this suspect is currently sitting in jail and the young victim in this case was not seriously hurt," Sheriff Rick Ramsay said in a statement.

According to the sheriff's office, Sardinas and a 43-year-old woman had earlier in the day attempted to enter the Keys in a rideshare car. Since mid-March, the Keys have been closed to visitors to prevent the spread of the coronavirus, and drivers must show proof they live or work on the islands at a highway checkpoint.
Sardinas and the woman both live on the Keys, the sheriff's office said, but they were turned away at the checkpoint because they didn't have the appropriate ID. Not long after, a Florida Highway Patrol trooper saw them arguing on the side of the highway and gave them a ride to Florida City.
The pair then made their way to a grocery store parking lot, where they approached the 17-year-old, whose car had Monroe County license plates and a hurricane reentry sticker, revealing she lived on the Florida Keys.
Sardinas told the girl she was going to drive them to Key Largo, authorities said.
"Sardinas threatened to hurt the victim if she refused. Sardinas threatened to hurt the victim if she touched her cellphone," the sheriff's office said.
She was afraid and complied, getting them past the checkpoint after showing her driver's license, authorities said. After dropping Sardinas off at a gas station and the woman off at a pharmacy, the girl called a family member, who then called police.
Detectives then began searching the area, and the highway patrol trooper who earlier gave Sardinas and the woman a ride heard their description over police radio and was able to identify them. They were then interviewed by detectives and provided conflicting accounts about how they met the girl, the sheriff's office said.
Meanwhile, the teen identified Sardinas from a photo lineup as the man who threatened her, the sheriff's office said. He was booked into jail in Key West, where he remains on a $50,000 bond.