The parents of Michael Brown and the city of Ferguson, Missouri, reached a wrongful death settlement on Tuesday, almost three years after the black teen was killed by a white police officer.
The terms of the settlement were sealed, according to court records. On Friday, the Associated Press reported via an open records request that the city's insurance company paid out $1.5 million.
Brown, 18, was fatally shot on Aug. 9, 2014, by Ferguson Police Officer Darren Wilson. The teen's death kicked off months of protests, which at times turned violent, and inspired a national conversation about race and policing linked with the Black Lives Matter movement.
A grand jury cleared Wilson of criminal charges after the officer testified that he had feared for his life, though Brown was unarmed. Wilson ultimately resigned from the police department.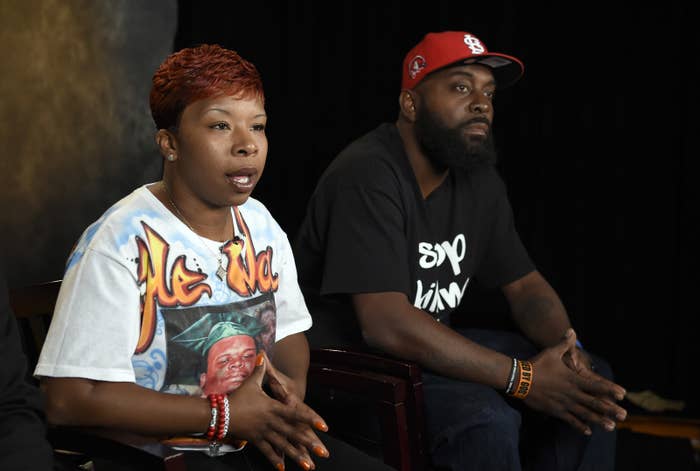 Brown's parents, Michael Brown Sr. and Lesley McSpadden, went on to file a civil lawsuit against the city, alleging that Wilson had used unnecessary and unreasonable force against their son.
From the moment he first told Brown to "get the fuck" out of the street to the shooting itself, Wilson acted aggressively and escalated the encounter, their complaint stated.
Wilson's grand jury testimony also characterized Brown as subhuman or animal-like — evidence that his use of force was racially motivated and part of a larger pattern of bias against black people within the police department, their complaint added.
A Department of Justice review of found evidence the Ferguson Police Department had entrenched racial bias and also focused on generating revenue from residents, rather than protecting their safety.
"The [Ferguson Police Department] often escalate encounters with African Americans, as did Defendant Wilson against [Brown], when they perceive African-Americans to be disobeying their orders or resisting arrest," Brown's parents' complaint stated. "FPD officers frequently use this unconstitutional escalation for punitive and retaliatory purposes, and in response to behavior that may be annoying or distasteful but does not pose a threat."