Update 5:30 p.m. Sept. 9:
A White House spokesman said no evidence indicated that Sotloff had been sold to ISIS, Reuters reported.
Barak Barfi, a spokesman for the family of Steven Sotloff, the American journalist executed by ISIS last week, said the U.S. government should have been better in managing intelligence as well as working with Sotloff's family.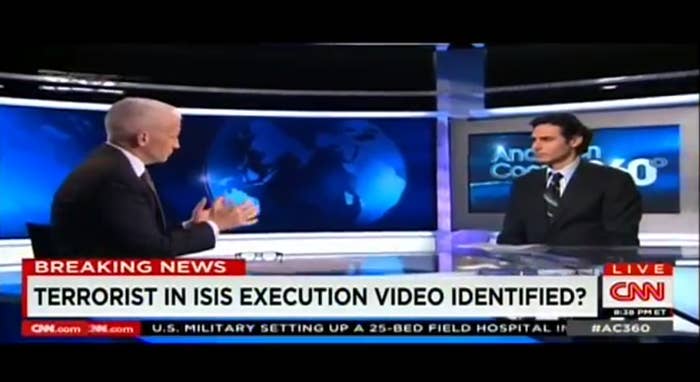 Barfi said Sotloff had just crossed the Syrian border when his group was stopped by rebels who were "supposedly moderate." However, the rebels kidnapped and sold the 31-year-old journalist to ISIS for $25,000 to $50,000, Barfi said sources on the ground told the family.
In the months that followed, a "strained" relationship developed between the administration and the family, Barfi continued. Contrary to official statements, the family did not regularly receive information, he said, and officials declined to accommodate a family request. Citing the safety of other hostages, he would not say what the request was.
"They could have helped us," he said.
Instead, he said Sotloff and fellow hostage James Foley, who was executed in a similar fashion last month, were pawns amid infighting between various branches of the government.
"They said that these hostages were moved frequently. We know that for most of the beginning of part of this year they were stationary," Barfi said. "We know that the intelligence community and the White House are enmeshed in a larger game of bureaucratic infighting and Jim [Foley] and Steve are pawns in that game and that's not fair."
U.S. officials have said they understand the family's grief.
Earlier this summer, a U.S. Special Operations team entered a remote area of Syria to attempt to rescue the hostages. The hostages were not found, however, and the mission failed.
In the past, U.S. officials have said they will not negotiate with terrorists or at least not make concessions to terrorist groups. The U.S. has not paid ransoms demanded by ISIS; for Foley, their demands topped $100 million. Other nations do pay, though, and by some estimates, ransoms have earned ISIS $10 million over the last several months alone.
Barfi, on behalf of the Sotloff family, did not discuss ransoms, but he said the U.S. must do better for other Americans in captivity.
Families should have a point of contact within the government, and more coordination needs to exist within the government and beyond, he said.
"We need to be able to work closer with our allies," he said. "Intelligence sharing and cooperation just isn't as good as it should be."