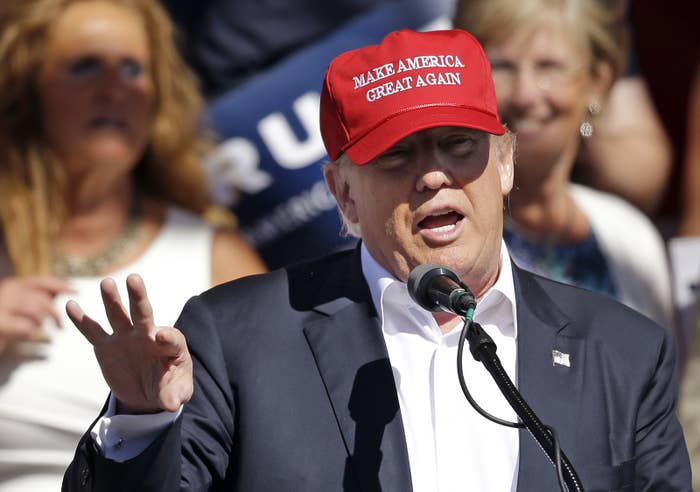 A self-described white nationalist is among the delegates submitted by Donald Trump's campaign to California election authorities, a move the campaign later described as an error.
William Daniel Johnson is the head of the white nationalist American Freedom Party, and he also runs a super PAC that has promoted Trump as being pro-white and anti-Muslim. On Monday, the California secretary of state released a list of Republican delegates that showed the Trump campaign had submitted Johnson's name.
Trump's campaign director for California, Tim Clark, released a statement on Tuesday that Johnson had been named a delegate in error.
"Yesterday the Trump Campaign submitted its list of California delegates to be certified by the Secretary of State of California. Upon careful review of computer records, the inclusion of a potential delegate that had previously been rejected and removed from the campaign's list in February 2016, was discovered. This was immediately corrected and a final list, which does not include this individual, was submitted for certification."
Johnson told BuzzFeed News Tuesday evening that he had heard the campaign wanted to remove him from the delegate list, upon which he also offered his resignation. He added that he understood their position.
"We live in a society where white people hate white people who like white people," he said. "So he doesn't need the baggage."
But a spokesman for the California Secretary of State told BuzzFeed News the delegate list had been certified. By law, the deadline for campaigns to submit delegate names was Monday; in spite of the Trump campaign's revised list on Tuesday, no changes could be made, he said.

The news was first reported Tuesday by Mother Jones, which also published emails showing that a member of the Trump campaign had personally interacted with Johnson about becoming a delegate on Monday.

In February, Johnson spoke with BuzzFeed News about white nationalists' hopes for a Trump presidency. He said he understood why Trump had disavowed some individual white nationalists and groups because they were disliked by the general public.
"It is unrequited love," Johnson said. "We like Donald Trump and Donald Trump doesn't like us. And that's the way it should be."
Johnson added that though he did not agree with Trump on every issue, he believed that Trump could be successfully lobbied to take a white nationalist stance.
On Tuesday, he added that he continues to support Trump, particularly for his populist economics and his desire to preserve American borders and "ban Muslims."
"He's the real deal," Johnson said. "He speaks his mind. He won't govern by public opinion polls."
In 1985, Johnson proposed a constitutional amendment that would take away citizenship from anyone who is not white or European, according to the Southern Poverty Law Center.

On his party's website, its platform is described as a nationalist party that shares the "customs and heritage of the European American people.
"White Americans should select a party that advocates for issues and concerns affecting European Americans! ... We need a Nationalist Party interested in defending our borders, preserving our language and promoting our culture."
The platform echoes Trump's recent foreign policy stance of "American first."
"The American Freedom Party is not beholden to foreign governments, special interest groups, nor Wall Street. The American Freedom Party is for America First."