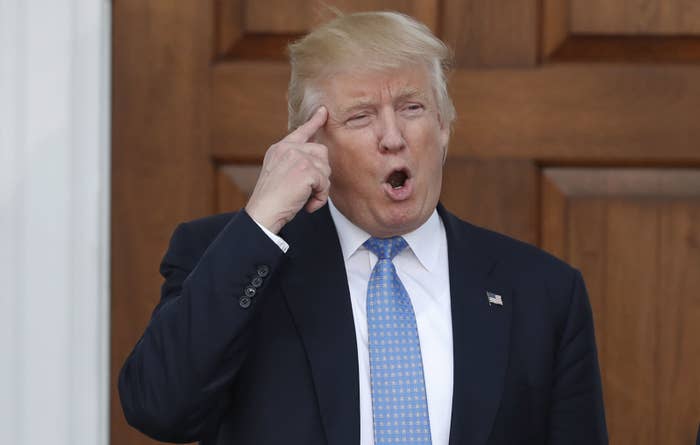 Without offering any evidence, President-elect Donald Trump on Sunday made the extraordinary claim that millions of people voted illegally in the US election, costing him the popular vote.
Trump made the fanciful claim as he weighed in via a Twitter tirade on efforts led by Green Party candidate Jill Stein to recount votes in Wisconsin, Michigan, and Pennsylvania.
"In addition to winning the Electoral College in a landslide, I won the popular vote if you deduct the millions of people who voted illegally," Trump tweeted. "It would have been much easier for me to win the so-called popular vote than the Electoral College in that I would only campaign in 3 or 4 states instead of the 15 states that I visited. I would have won even more easily and convincingly (but smaller states are forgotten)!"
By the latest count, Hillary Clinton won the popular vote by more than 2 million votes. Trump won the presidency with 309 electoral votes (270 are needed to win).

A claim — based on tweets from a self-styled vote protection activist — that 3 million "illegal aliens" had voted in the election was published by right-wing conspiracy site InfoWars on Nov. 14. The site also said that all 3 million fraudulent votes would have gone to Clinton — without showing any evidence to support the claims.
Trump tweeted again later on Sunday that "serious voter fraud" had taken place in several states. He criticized the media, but again failed to offer any evidence for the claims.
As he was campaigning, Trump had frequently said the election was rigged against him and even famously declined to accept the results of the election during one presidential debate.
Clinton's campaign team on Saturday announced they would participate in Stein's recount of the votes, even though they had found no evidence of any voting irregularities.
Marc Elias, general counsel for the Clinton campaign, wrote in a post on Medium on Saturday that "now that a recount has been initiated in Wisconsin, we intend to participate in order to ensure the process proceeds in a manner that is fair to all sides."
Earlier on Sunday, Trump also tweeted that he believed the recount would be a waste of time and resources, and wouldn't change the results of the election.
Election officials told BuzzFeed News that claims of a widespread attempt to rig the election were nonsensical.
In states where Stein is seeking a recount, there has been no evidence of any kind of tampering — though a group of academics noted it could be possible and deserves a closer look.
Trump's tweets on Sunday came as ugly rifts in his staff were on public display, with loyalists taking the unusual step of publicly attacking Mitt Romney, whom Trump is considering for secretary of state.
Additionally, the New York Times published an extensive article analyzing how Trump's business dealings around the world could potentially create conflicts of interest for him as president.