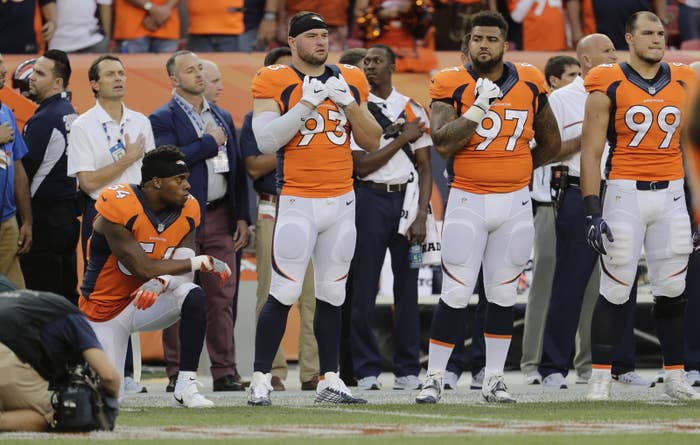 Denver Broncos linebacker Brandon Marshall took a knee Thursday night during the national anthem at the NFL's season opener.
In doing so, Marshall joined the silent protest started last month by San Francisco 49ers quarterback Colin Kaepernick, a former teammate of his from the University of Nevada. In interviews, Kaepernick has said he wants to draw attention to racial injustice in the US.
Since then, soccer star Megan Rapinoe has joined Kaepernick in kneeling before games, a move she said she hoped would keep the conversation going. Their actions have drawn criticism from some as unpatriotic and disrespectful. But others — including military veterans on Twitter — have applauded the protest as courageous and an exercise of the right to free speech.
In an interview with The Gazette last month, Marshall said he supported Kaepernick.
"Kaep, he's using his platform how he wants to use it, to reach the masses," Marshall told the newspaper. "We have freedom of speech. But then we use our platform, and we get bashed for it. It's almost like they want us to only go with the grain. And once we go against the grain, it's an issue. I feel for Kaep. I understand where he's coming from, and I support him."