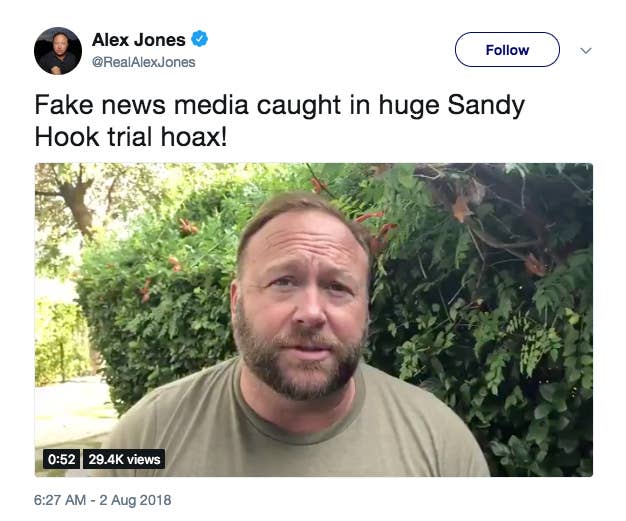 The popular podcast service Stitcher said Thursday it is removing prominent conspiracy theorist Alex Jones's controversial program from its platform, saying he has "harassed or allowed harassment of private individuals and organizations" on his show.
Jones, who has pushed baseless conspiracy theories on The Alex Jones Show as well as his Infowars website, is well known for falsely claiming that the massacre at Sandy Hook Elementary School was a hoax, and his statements have inspired fans in some cases to make death threats against the victims' parents.
Jones is currently facing multiple defamation suits from parents of Sandy Hook victims, who have said they've had to move and avoid appearing in public because of Jones' claims. Their plight has drawn attention from anti-hate organization Sleeping Giants, which this week put pressure on platforms that distribute Jones' work — thereby allowing him to earn ad money off his content.
"Kudos to Facebook, YouTube, Spotify, Twitter, GooglePlay, Amazon, and Apple Music for banding together to protect the Sandy Hook parents that have been relentlessly harassed on their platforms," a Sleeping Giants tweet said Wednesday. "Oh, no. Sorry. They're not protecting them. Just the guy who's harassing them!"

Sleeping Giants added that their campaign is not about free speech. Jones is clearly violating the platforms' terms of service, which do not allow for harassment, the campaign said.
On Thursday, Stitcher said it agreed that Jones had violated its rules, and his show, which had been one of the most shared on the platform, was no longer available to stream.
"We have reviewed Alex Jones' podcasts and found he has, on multiple occasions, harassed or allowed harassment of private individuals and organizations, and that harassment has led listeners of the show to engage in similar harassment and other damaging activity," a Stitcher statement said. "Therefore, we have decided to remove his podcasts from the Stitcher platform."
As of Thursday, The Alex Jones Show was still available on Spotify, Apple Podcasts, and YouTube among other platforms. Spotify said this week it will remove some of Jones' podcasts, but he has not been banned.
"We don't share specifics around our content decisions, as to not draw further attention to the content in question, but will take action to remove content that violates our hate content policy," a Spotify spokesperson said on Twitter.
On Facebook, Jones continues to have a platform in spite of criticism. In a recent video on his verified page, which has 1.7 million likes, Jones accused special counsel Robert Mueller of raping children and pantomimed shooting him. A Facebook spokesperson told BuzzFeed News that video did not violate its terms of service.