College Student Killed After Making Deal On Craigslist To Sell His Car
The body of Abdullah Alkadi, a 23-year-old international student at California State University Northridge, was found dumped near a freeway overpass last week.
A 23-year-old college student whose body was found last week was killed after he tried to make a more than $30,000 deal to sell his car on Craigslist, authorities said Monday.
He was an international student from Saudi Arabia, studying electrical engineering at the university.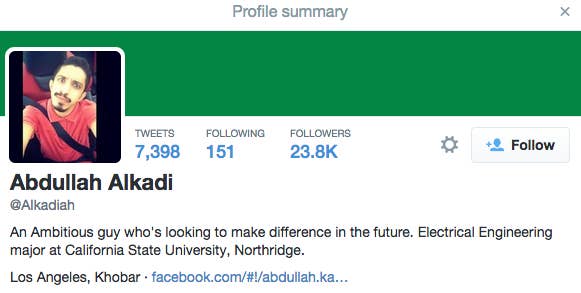 Augustin Fernandez of Long Beach was charged with murder and carjacking, Beck said Monday. He had been arrested on Thursday, and statements he made to police helped authorities find Alkadi's body dumped near an Interstate 10 overpass in Palm Desert, Beck said.
Fernandez had been in possession of Alkadi's Audi at the time of his arrest, Beck added, and evidence was also found in the car.
Police believe that the two men came into contact after Alkadi listed his car for sale on Craigslist. After a few contacts over two or three days, Fernandez came to Alkadi's home in Northridge. He stabbed Alkadi multiple times while they were alone, Beck said.
"The motivations outside of the robbery aspect of it are unclear," Beck said.
A second person who was arrested with Fernandez has been released without charges.
The crime has prompted authorities to remind anyone selling items online to take precautions. City councilman Mitchell Englander said sellers should avoid giving out their phone number or any identifying information. Transactions should take place in public places, for example, the parking lot of a community police station, he said.
"Anybody can be a victim in this, and you must take precautions," he said.