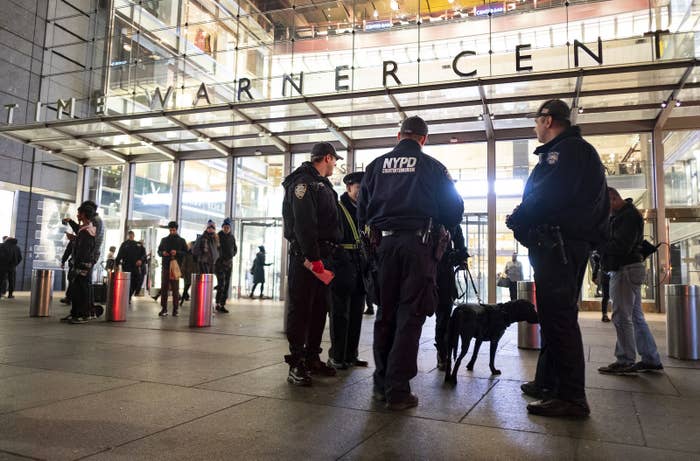 CNN employees were forced to evacuate the news network's New York offices Thursday night after receiving a bomb threat.

The threat was made by phone, prompting an evacuation of the Time Warner Building at Columbus Circle as well as the closure of adjacent 58th Street to cars and pedestrians.
An NYPD spokesperson told BuzzFeed News that the threat was reported to police with a 911 call at 10:07 p.m. ET.
No evidence of any explosives was immediately found, but police were searching the area as a precaution.

"The threat has not been substantiated at this time; we're on scene performing a comprehensive sweep-and-search of the facility," the NYPD said in a tweet.
The building was reopened within an hour after the NYPD's strategic response group and emergency service unit deemed it safe, police said.
The threat interrupted live programming, and it came one minute before President Trump tweeted about "fake news" — an insult he often throws at CNN.
"FAKE NEWS - THE ENEMY OF THE PEOPLE!" the president tweeted at 10:08 p.m.
CNN was one of multiple targets of suspicious packages and pipe bombs sent in October. Cesar Altieri Sayoc, a 56-year-old Florida man, is accused of sending the packages and faces up to 48 years in prison if convicted.
Sayoc, a Trump supporter, posted on social media that the network is "fake news and dishonest media," and he also posted a photo of a sign saying, "CNN sucks."