Plainclothes Officers Were Attacked Before Pointing Guns At Oakland Protesters, Officials Say
The California Highway Patrol said it has used plainclothes officers in the Bay Area since protests against police violence that began Nov. 24. Some protesters are accusing the officers of attempting to instigate looting.
An officer in plainclothes who had been marching with anti-police protesters in Oakland Wednesday night aimed his gun at the crowd after he and his partner were attacked, officials said.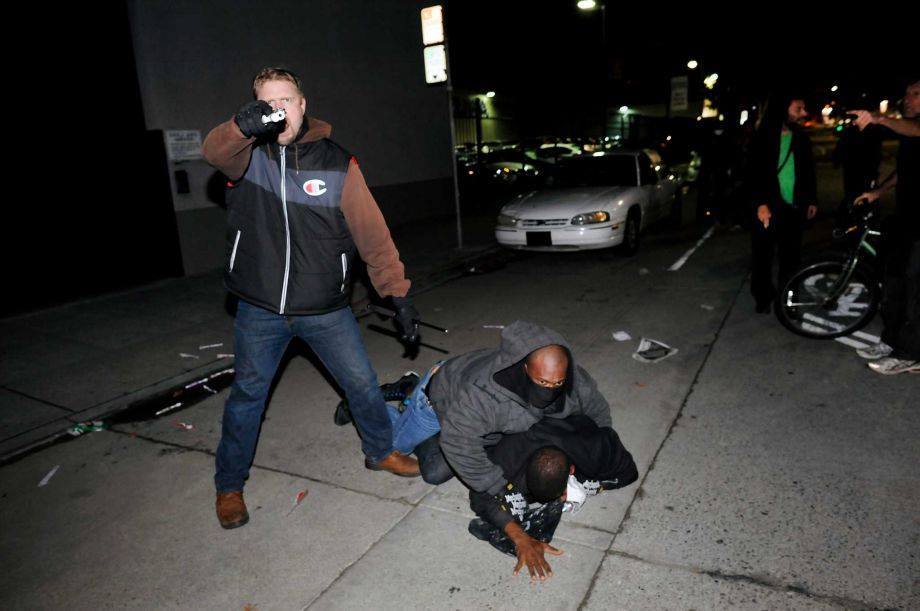 About 150 people had been marching from Berkeley to Oakland as part of a fifth consecutive night of demonstrations against police brutality and the recent deaths of unarmed black men, including Michael Brown and Eric Garner.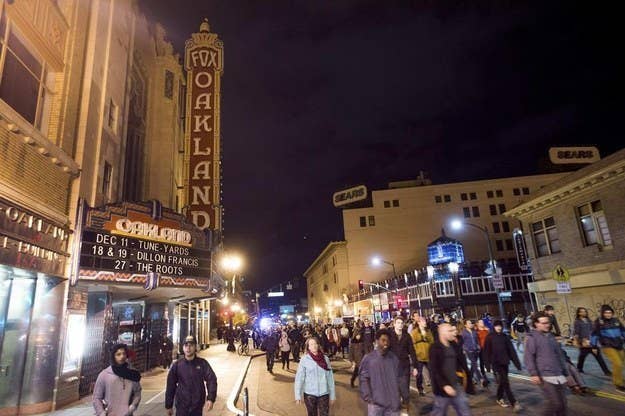 The officers had been following behind the crowd in an unmarked vehicle, attempting to gather intelligence, California Highway Patrol Commander Avery Browne said.
Uniformed officers had been stationed at on- and off-ramps, working to prevent protesters from shutting down freeways and vandalizing public property.
Aircraft can provide information about the movements of protesters, but wind gusts of up to 40 mph on Wednesday grounded CHP planes, Browne said. His agency instead turned to plainclothes officers to listen in to protesters' communication.
After an ATM and T-Mobile store were vandalized, Browne said the officers got out on foot to follow the protest and attempt to identify the vandals. The officers, usually detectives investigating auto thefts, wore bandanas over their faces to blend in with the crowd.
"You try to blend in with the crowd so they can get information," Browne said.
As one group of protesters split off from the crowd, Browne said someone identified one of the officers as law enforcement. After being shouted at, the officers walked away.
That's when one man grabbed one of the officer's hood and punched him in the back of the head, Browne said. They began to struggle, falling to the ground, and the crowd began to circle around them. One woman, who has not been identified, kicked the officer in the head.
The standing officer identified himself, drawing his badge and baton, as he told the crowd to back up. When they did not, he drew his gun and again commanded them to move back, Browne said.
Most scattered, and some rejoined the peaceful protest.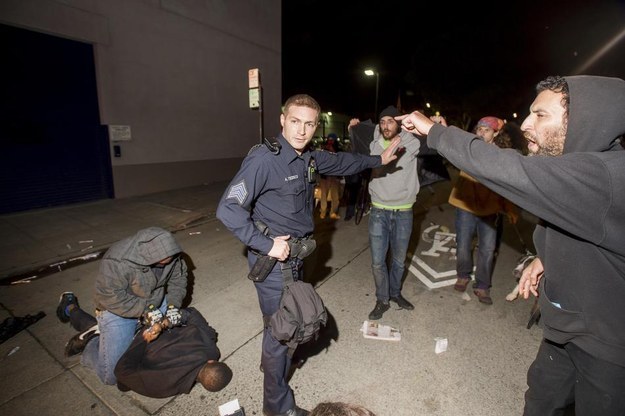 An Oakland police commander agreed police did not get involved in the protest until criminal activity took place.
But some protesters said the officers had been instigating within the crowd before the altercation took place.
Authorities could not confirm those reports, but asked witnesses to come forward. "At this point, no one has provided any evidence that the officers were inappropriate in what they did," Browne said.
Browne added the CHP will continue to use plainclothes officers to respond to protests. Other agencies also use similar tactics, he said.
"We're very cognizant of the danger, and we will continue to use the plainclothes officers to observe," he said.
Law enforcement officials also track protest plans through social media and informants, he said. In fluid situations, however, the plainclothes officers can provide vital information, Browne added.
"There are these individuals who continue to use this peaceful protest to commit criminal acts," he said. "That criminal conduct is putting a lot of people in jeopardy of getting hurt, both officers and bystanders."