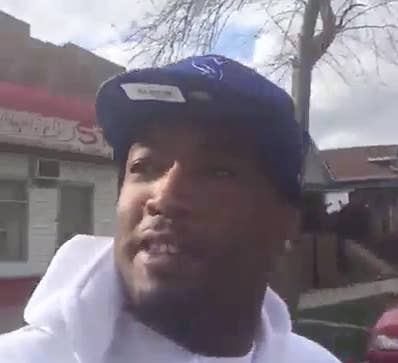 A man standing on a street corner on Chicago's South Side was brutally gunned down Thursday while live-streaming video on Facebook.
The shooting took place around 4:45 p.m. in the 5800 block of South Hoyne Avenue, Chicago Police Officer Thomas Sweeney told BuzzFeed News. A suspect approached the 31-year-old man, shot him multiple times, then fled in a vehicle, Sweeney said.
The victim was taken to a hospital, where as of Thursday night, he remained in treatment.
It was one of nine shootings across the city on Thursday that left at least two people dead, the Chicago Tribune reported. The city, which has been plagued by gun violence, is on its way to having its deadliest start to a year in decades.
And while many victims of violence stay faceless, the man on Hoyne Avenue had been streaming video. He stands smiling in front of a corner store, talking into the camera as music plays in the background. Shots fire suddenly, the camera drops, and then another man can be seen holding a handgun.
Sweeney said police have been made aware of the video, and the shooting is under investigation. Various versions of it were posted on social media Thursday night as people shared their outrage and weariness over gun violence in the city.
After the shots, the video shows the scene briefly silent. Then, a woman can be heard screaming.
"Oh my god, no...I can't believe this."