Charlotte Hornets Player Barred From Team After Domestic Assault Charge
NBA player Jeff Taylor was arrested twice on Thursday in Michigan on domestic assault charges and destruction of a building. The Hornets are investigating.
The Charlotte Hornets barred Taylor from team activities Friday, saying in a statement to BuzzFeed News that he would not be with the team while the case is investigated:
"We have informed Jeffery Taylor that effective immediately he will not be participating in any team-related activities while the NBA is investigating his conduct in this matter. As an organization, we understand and appreciate the seriousness of this matter, and will assist the NBA and law enforcement in any way we can until this comes to an acceptable resolution. We have spoken with Jeffery and his representatives and they fully understand our position."
Jeff Taylor was arrested for a second time Thursday in East Lansing, Michigan, after making bond on an earlier arrest for domestic assault.
The NBA player was arrested for the second time around 7:30 p.m. for malicious destruction of a building, WILX-TV reported. The damage was less than $200, and Taylor once again bonded out at 9 p.m.
"The Charlotte Hornets were made aware of the incident involving Jeffery Taylor early this evening," the team said in a statement. "The organization is in the process of gathering more information and doing our due diligence. This is a matter that we take very seriously."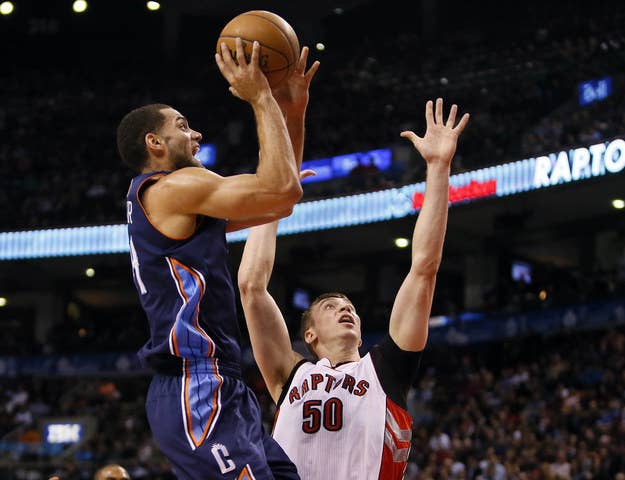 Charlotte Hornets player Jeff Taylor was arrested early Thursday morning at a Michigan hotel, police said.
The East Lansing Police Department responded to the Marriott at University Place around 1 a.m. after a report of a domestic assault, according to a statement. They arrested the 25-year-old NBA player, and he was later charged with domestic assault, assault, and malicious destruction of property.
He was taken to the Ingham County Jail on $5,000 bond.
The NBA said earlier this week that it would be taking a "fresh look" at the league's domestic violence policy. Currently, players are suspended for at least 10 games if they are convicted of a violent felony. Commissioner Adam Silver said the league and players association will be reviewing discipline policies as well as developing educational and prevention programs for players and their families.