CBS Sportscaster Calls For Action On Domestic Violence From All Men
The planned opening — which included the Jay Z-Rihanna song "Run This Town," with narration by Don Cheadle — was scrapped. Instead, the pregame show will feature news coverage of the Ray Rice incident and the NFL's response to a video showing him punching his then-fiancee in a casino elevator.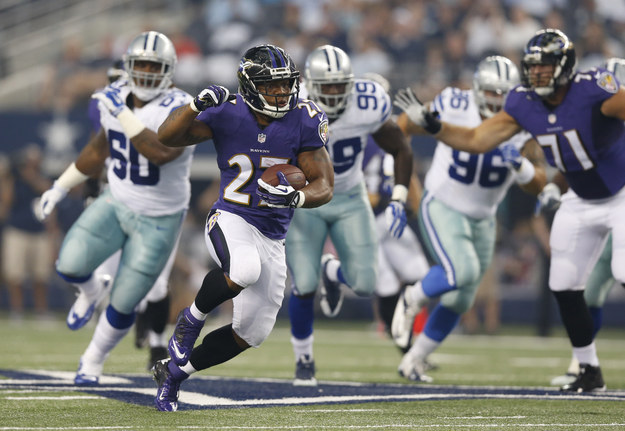 Host James Brown called for action from all men to address the sometimes deadly issue of domestic violence.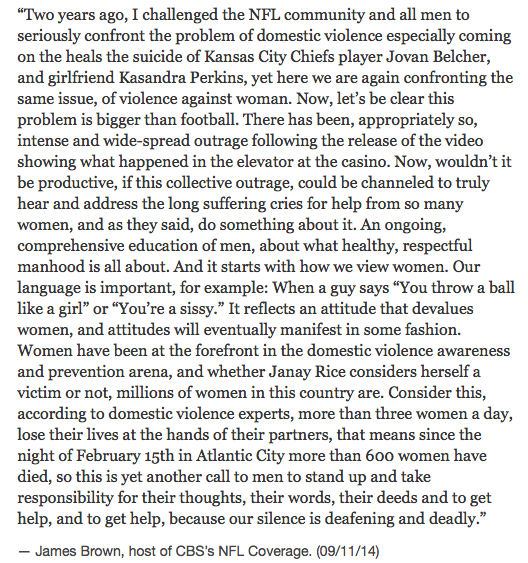 CBS Sports is changing its pregame show for Thursday Night Football this week, foregoing a dramatic opening and other elements for news coverage on the controversy surrounding former Baltimore Raven Ray Rice and NFL leadership.
CBS Sports told BuzzFeed News the pregame show for the match-up between the Ravens and the Pittsburgh Steelers will include a CBS News report along with an interview of Ravens owner Steve Bisciotti and a panel discussion. The newsier elements replace an opening set to Jay Z and Rihanna's "Run This Town" with narration by Don Cheadle as well as a comedy segment and other football content.
The original opening was filmed in an airplane hanger, produced and directed by CBS Sports' creative director, Pete Radovich.
"This open combines one of music's biggest stars with one of the most dynamic actors in Hollywood," he said in a press release last week. "The energy that both talents provide gives the opening to every Thursday night the big-game, primetime feel it deserves. It is a dream scenario for any director."
Instead, CBS Sports chairman Sean McManus told SI.com that the network would focus on the news facing the NFL.
"We thought journalistically and from a tone standpoint, we needed to have the appropriate tone and coverage," he said. "A lot of the production elements we wanted in the show are being eliminated because of time or tone."
CBS This Morning anchor Norah O'Donnell interviewed NFL Commissioner Roger Goodell earlier this week. Goodell has faced questions about what the NFL knew when about the casino elevator video from February showing Rice punching and knocking unconscious his then-fiancee. Goodell said the NFL had not seen the video until TMZ released it Monday. The AP reported the league actually received a DVD from law enforcement in April.