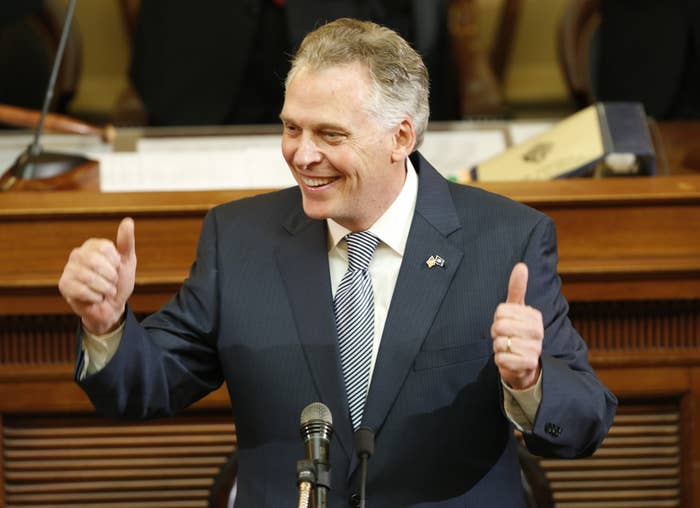 The Department of Justice and FBI are investigating campaign contributions made to Virginia Gov. Terry McAuliffe, CNN reported on Monday.
The ongoing investigation was revealed by unnamed sources who had been briefed on the matter, according to CNN. Its existence could not be confirmed by McAuliffe's campaign.
"The governor will certainly cooperate with the government if he is contacted about it," attorney Marc Elias said in a statement.
McAuliffe, a former chair of the Democratic National Committee, was elected as Virginia governor in 2013. He also served as co-chair of Hilary Clinton's 2008 presidential campaign and was a board member of the Clinton Global Initiative.
The Clinton Foundation made headlines last year when it was revealed that some major donors had ties to foreign governments. Among them was Chinese businessman and one-time National People's Congress member Wang Wenliang, whose company gave the foundation $2 million, the Wall Street Journal reported. Wang's New Jersey company also gave $120,000 to McAuliffe's campaign in 2013.

"Contributions to the campaign from Mr. Wang were completely lawful," Elias said.
Wang, who is a U.S. permanent resident, is one of many Clinton donors who have gone on to support McAuliffe, the Washington Post reported last year.

"We admire and applaud Governor McAuliffe for his leadership in promoting trade, economic growth, and job creation," Wang's company said in a statement to the Post at the time.

The Clinton Foundation is not part of the investigation, CNN reported.
On Sunday, the governor campaigned for Clinton with an "Afternoon with Terry McAuliffe." Tickets ranged from $500 to a $2,700 co-host tier, which included a photo with McAuliffe.