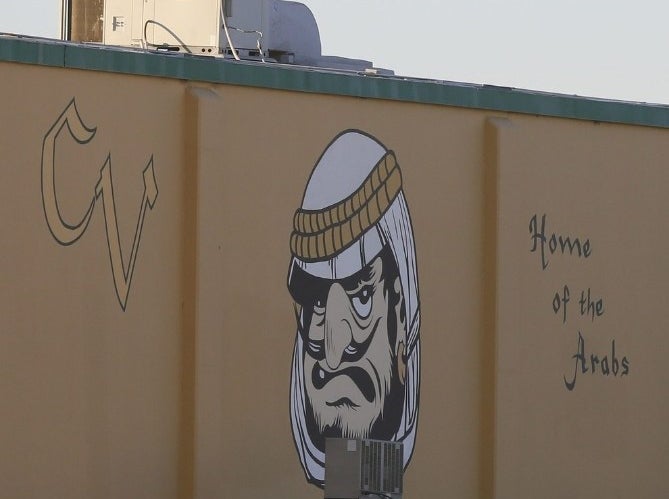 The snarling, hook-nosed Arab had been Coachella Valley High School's mascot for decades, a nod to the desert climate and the surrounding farms of date trees. Generations of students cheered for Arab pride at football games where, in recent years, a leering, costumed character took part in a halftime show with belly dancers.
Superintendent Darryl Adams said he wasn't shocked when the Coachella Valley Unified School District received a letter from the Arab-American Anti-Defamation Committee last year. When he started at the district four years ago, Adams, an African-American from the Deep South, said he had some of the same thoughts.
"I know about stereotyping," he said.
The November 2013 letter called for an end to the use of the caricatured Arab mascot as well as the halftime performances.
"By allowing continued use of the term and imagery, you are commending and
enforcing the negative stereotypes of an entire ethnic group, millions of whom are citizens of this nation," the letter said.
"We immediately began the conversation with them," Adams said.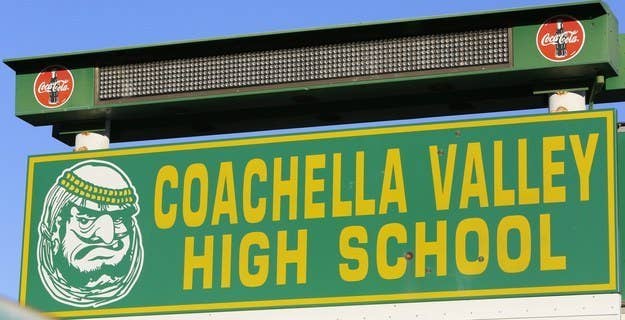 Over the last year, the school district's board as well as alumni and current students have been working with the Arab-American group.
"It certainly was a learning experience for many of those involved," said Abed Ayoub, legal and policy director for the group.
On Tuesday, the school board voted unanimously on a new mascot design from three options chosen by students and alumni. The final choice also met the approval of the Arab-American committee. On Friday, Ayoub said he and the school district will formally unveil the design as well as plans to promote Arab heritage to students.
"It's been a good experience," Ayoub said.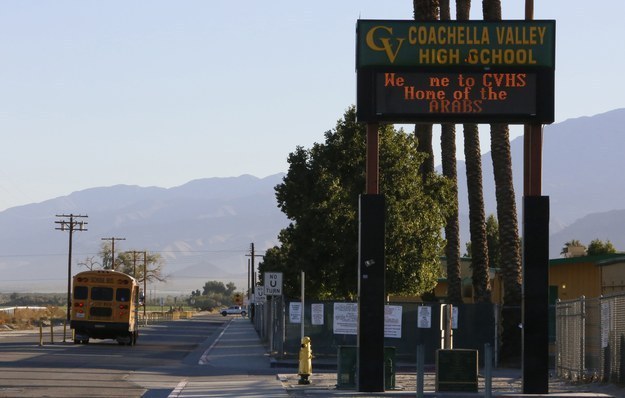 The mascot dates back to the 1920s or '30s, Adams said, when dates were the dominant crop of the area. Indio is also home to the annual National Date Festival where girls compete in a scholarship pageant for the title of Queen Scheherazade. The town of Mecca is not far.
"It's so hot out here it reminded citizens of the Arabian Peninsula," Adams said.
The mascot's appearance underwent several revisions over the years, ultimately resulting in the angry, gap-toothed face that decorates sports uniforms and the football scoreboard.
"It was just used to symbolize the aggressiveness of the football team," Adams said.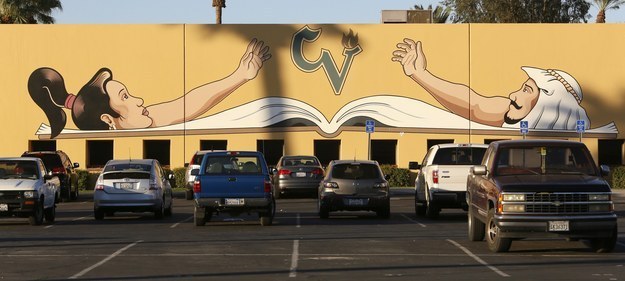 Though the anti-defamation committee originally asked the school to drop the Arab name altogether, the school community wanted to hang on to its identity.
"They're very proud to be Arabs," Adams said. "It really is a proud symbol to them."
The school will now be home to the Mighty Arabs. An educational exchange program between the high school and students from a city in Michigan with a large Arab-American population is in the works.
The new mascot with its more realistic face captures the school's spirit — without stereotyping or discriminating, Adams said.
"It shows the mighty, proud Arabs."