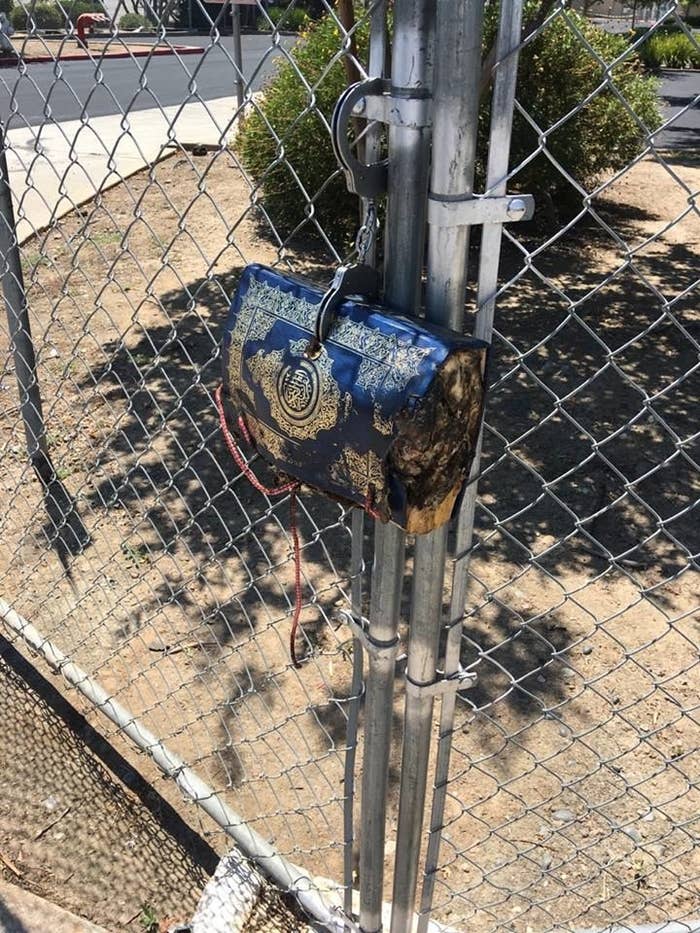 Detectives are investigating after a Qur'an that was burned, stuffed with bacon, and handcuffed to a fence was found at a Sacramento mosque on Saturday.
The Sacramento County Sheriff's Department was contacted Saturday afternoon about the desecrated holy book, and hate crime detectives responded, officials said. The Masjid Annur Islamic Center is the largest mosque in the Sacramento area, and it's next door to the sheriff's central station.
The Qur'an was hanging by a handcuff attached to a temporary fence between the mosque and the sheriff's station. The incident at the end of Ramadan; Muslims around the world celebrated Eid al-Fitr on Sunday.
The sheriff's department asked anyone with information to contact investigators at sacsheriff.com or 916-874-8477.

In the neighboring city of Davis, worshippers at the local Islamic center called police after someone in a car threw shredded pages of the Qur'an's text at the property. Adults were praying inside around 11 p.m. Friday, the Davis Enterprise reported, when children playing outside found what appear to be cut-up print outs of the holy book. Police have reviewed surveillance video, which shows the pages being thrown from a car, the Enterprise reported.

A spokesman for the local chapter of the Council on American-Islamic Relations thanked law enforcement for their response to both incidents.
"We thank all the officers involved in these investigations for their prompt and professional actions in responding to these troubling incidents," CAIR-Sacramento Valley executive director Basim Elkarra said. "Decisive action by law enforcement authorities sends a strong message of deterrence to anyone who contemplates turning their bigoted views into acts of intimidation."

The Islamic Center of Davis was earlier this year targeted by a hate crime. Lauren Kirk-Coehlo, 30, was sentenced to probation on Friday for breaking the mosque's windows, vandalizing bicycles, and leaving bacon on door handles in January. She pleaded guilty to a felony hate crime.