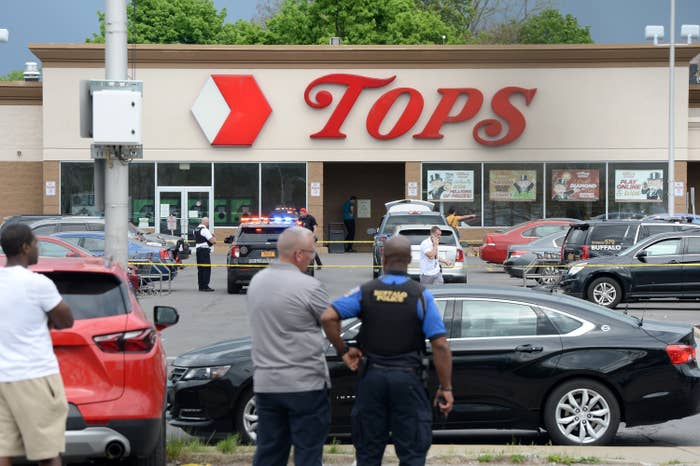 The 18-year-old man suspected of targeting Black shoppers at a grocery store in Buffalo, New York, killing 10 people, previously underwent a mental health evaluation for making a threat while he was in high school, police said Sunday.
Buffalo Police Commissioner Joseph Gramaglia said at a press conference Sunday that the threat was made in June 2021 and was of a general nature. At the time, state police took the suspect, Payton Gendron, to a hospital, where he was evaluated and kept for about a day and a half before being released, Gramaglia said. The New York State Police did not immediately respond to questions from BuzzFeed News about what happened, but the Associated Press reported that the then–17-year-old had threatened a shooting at the high school.
Aside from that interaction, the suspect and the violent, racist beliefs he reportedly outlined in a manifesto were not on the radar of authorities. The FBI was not notified about the threat last year and had not been monitoring him.
"There was nothing picked up on the state police intelligence, nothing that was picked up on the FBI intelligence," Gramaglia said. "Nobody called in, nobody called any complaints."

Police believe the suspect was in Buffalo at least a day before Saturday's deadly shooting, doing "reconnaissance" of the majority-Black neighborhood and the Tops supermarket, Gramaglia said.
Grady Lewis, a Buffalo resident who collects cans and bottles, told BuzzFeed News that he believes he talked to the suspect at length outside Tops on Friday. Lewis said he saw him walk out of Tops and approached him because he "looked out of place."
"I got a feeling of, He's not supposed to be here. I just had a feeling," he said. "I don't like — it's not like white people come to the store, and I say 'Why are you here?' I don't do that. It was just a feeling."
Lewis said the suspect, who was wearing a shirt that said "Genius," told him he was in Buffalo to see the countryside. (Another resident, Daniel Love, told the Washington Post that he interacted with a man wearing the same shirt on Friday and believed that man to be the shooter.)
They talked for more than an hour and Lewis said he bought the teen a Gatorade. They discussed, among other things, space and critical race theory. Lewis recalled the suspect telling him that critical race theory "teaches that white people are violent."
Lewis said he was sure it was the same person he spoke to the day before early on Sunday, when he saw the gunman's mugshot. He said he had told police about his encounter; the Buffalo Police Department did not immediately respond to a request for comment.
Lewis also said the suspect had asked him if he was going to be at Tops the next day. He told the suspect he would be there at 5 p.m. on Saturday, when his friend's shift started. Lewis, who is Black, doesn't know what to make of the fact that his life was spared when other Black men and women in his community were killed.
"I guess I can't say he liked me, but maybe he did like me a little bit," Lewis said. "I don't know, if I was standing there [in the store on Saturday], would he have shot me? I don't know. But he asked me if I was going to be here, and then he came earlier."
Authorities believe that the suspect acted alone, armed with an AR-15 and wearing body armor, with another rifle and shotgun in his vehicle. Among the victims was security guard Aaron Salter, a retired Buffalo police officer, who Gramaglia said fired shots at the suspect, striking him at least once, as Salter tried to stop the shooting.
Police arrived less than two minutes after being called and took the suspect, who was pointing the gun under his chin, into custody without any further shots being fired.
"This individual came here with the expressed purpose of taking as many Black lives as he possibly could. So the Buffalo police saved a lot of lives yesterday," Mayor Byron Brown said. "I want to thank them for that."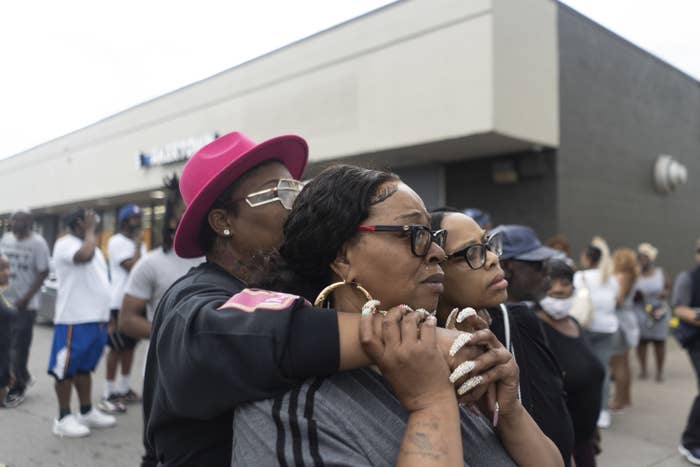 Authorities are now investigating the manifesto as well as the suspect's social media accounts and phone as they seek evidence regarding the shooting's motivation. Erie County District Attorney John Flynn said earlier Sunday that his office is considering a terrorism charge. Federal hate crime charges are also under consideration.

"We will bring charges as soon as we know we have the evidence to support them," Trini E. Ross, US attorney for the Western District of New York, told reporters in Buffalo.

More than 200 miles away, near the Pennsylvania border, authorities were searching the suspect's home in Conklin, New York, and interviewing his parents, who police said have been cooperating with the investigation. Also under review is how the suspect obtained the high-capacity magazine used in the shooting, which is illegal under New York law.
Gov. Kathy Hochul, whose hometown is Buffalo, said she would be working on new gun control measures in New York and nationally as she sought to prevent future mass shootings. Hochul said she believed more could be done to shut down hate speech that incites violence without running afoul of free speech protections, and she wanted to meet with representatives of social media platforms, including Twitch, where the shooting was livestreamed.
"Are they doing everything they humanly can?" she said. "Are they putting in place human intellect as well as algorithms to identify when this hate speech occurs?"