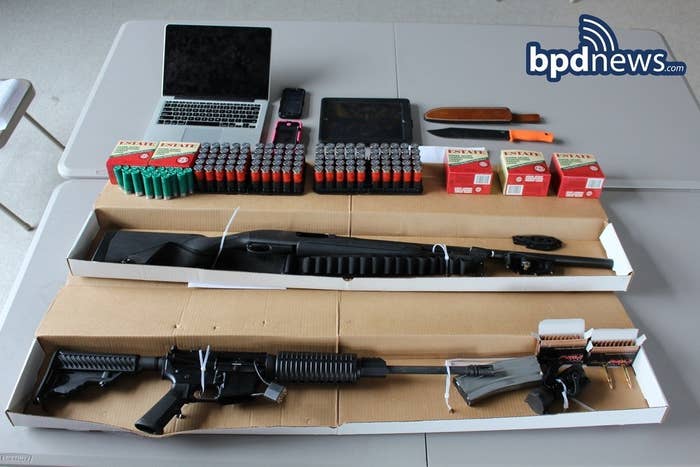 Two men were arrested Friday and charged with weapons offenses after police said threats were made over social media against people attending the Pokémon World Championships in Boston.
Private security from the Hynes Convention Center first alerted authorities on Thursday about threats of violence on social media toward attendees of the championship, according to a statement by the Boston Police Department.
Police, private security, and members of the Boston Regional Intelligence Center began to investigate, and after a few hours two men were stopped trying to enter the convention center.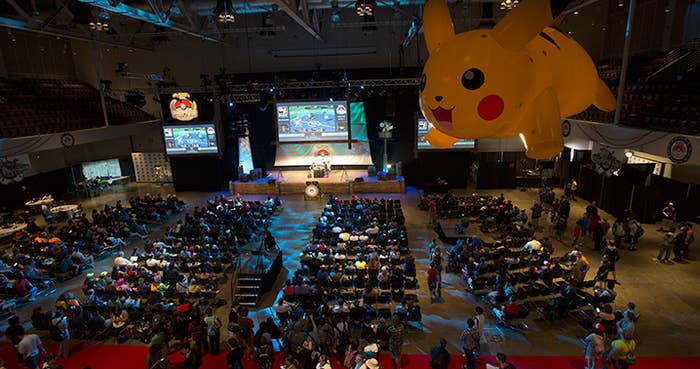 According to police, the men had driven from Iowa and had several guns in their vehicle without a license to carry.
Police later obtained a search warrant, and found a 12-gauge Remington shotgun, a DPM5 model AR-15 rifle, several hundred rounds of ammunition, and a hunting knife.
Kevin Norton, 18, and James Stumbo, 27, were arrested on suspicion of unlawful possession of a firearm, unlawful possession of ammunition, and other firearms-related charges, police said.
They were scheduled to be arraigned in Boston Municipal Court.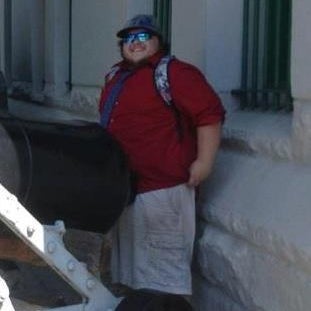 On Facebook, Norton's profile picture showed him firing a handgun.
Stumbo had uploaded a number of pictures showing he had attended previous Pokémon championships.
In a Facebook group entitled "Mayhem Pokémon Crew," Stumbo uploaded a picture on Wednesday showing two weapons on the back of a car with the caption, "Kevin Norton and I are ready for worlds Boston here we come!!!"
"Good luck," one friend replied.
"With killing the competition?" Norton replied.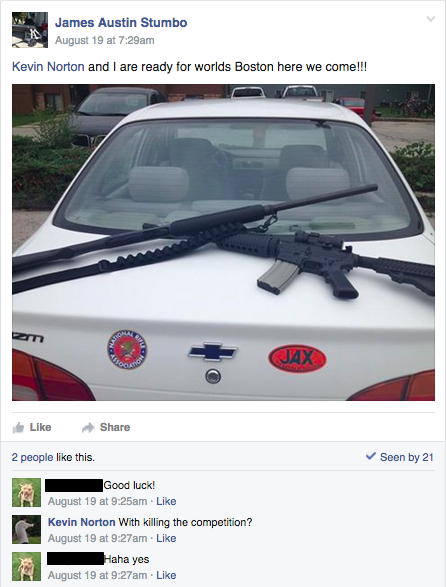 Beginning on Friday, the championship tournament saw die-hard Pokémon fans compete against one another in the trading card game.
In a statement, Paul Fitzgerald of the Boston Police Department's bureau of intelligence and analysis commended private security for working seamlessly with police.
"The BPD detectives did a great job in the stop and prevention of a potential tragedy," he said.
In a statement to BuzzFeed News, the Pokémon Company International said its community of players made it aware of a security issue:
We gathered information and gave it as soon as possible to the authorities at the John B. Hynes Veterans Memorial Convention Center who acted swiftly and spearheaded communication with the Boston Police Department. Due to quick action, the potential threat was resolved. The Pokémon Company International takes the safety of our fans seriously and will continue to ensure proper security measures are a priority.
The Massachusetts Convention Center Authority said that the close cooperation of convention center staff and Boston police quickly resolved any issue.
"The event was not directly impacted and we do not believe there is any further threat at this time," a spokesperson said in a statement. "We are extremely confident in our public safety team's ability to keep all those visiting our facilities safe and deeply appreciate our strong relationships with Boston Police and the entire first responder community."