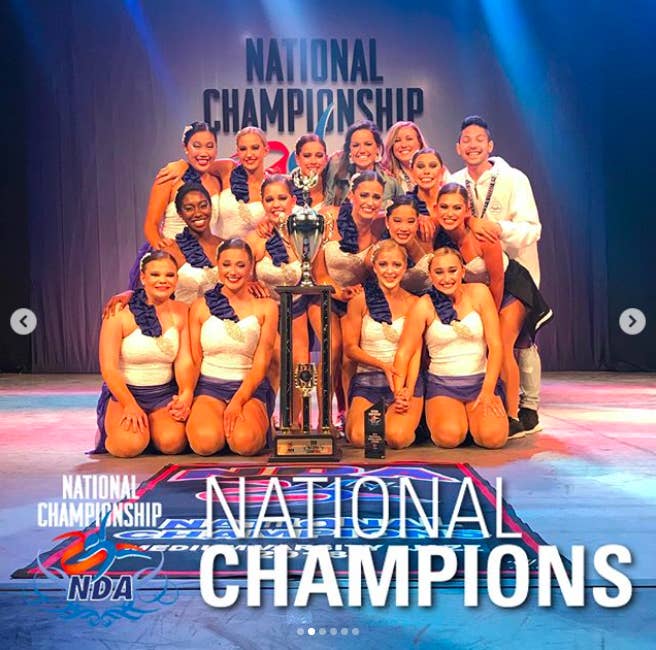 A black teen is suing her former dance coach after she says she was told she could not perform because her skin was too dark, and was then retaliated against when she spoke up about the discrimination.
Camille Sturdivant, now a freshman at the University of Missouri, filed the federal lawsuit last month against Blue Valley Schools in Overland Park, Kansas, the high school principal, the former dance coach, and a parent of a former teammate. According to her complaint, she was excluded from a dance performance and singled out because of her race. When her parents initially asked school leaders to take action, they did nothing, the complaint said.
Sturdivant was a senior at Blue Valley Northwest High School in the 2017–18 school year and one of two black students on the Dazzlers dance team. In July 2017, the team's choreographer told her she was "too dark" to take part in a contemporary dance performance and claimed her skin would clash with the costumes, her complaint said.
When Sturdivant's parents met with the school's principal about the alleged comments, they were told it was up to the dance coach to decide who would perform, the complaint said.
In a statement on Tuesday, choreographer Kevin Murakami said he never mentioned the color of Sturdivant's skin, adding he always treated her and other dancers with respect.
"I'm half Japanese and also gay. My family has experienced racism, so I was raised to be open and to appreciate all races, genders, sexual orientations and cultures," Murakami said. "I am not a racist, and I never commented on Camille's skin color. These accusations are untrue and are extremely damaging."
In her complaint, Sturdivant added she remained a member of the team for the rest of the school year and was allowed to dance, but that the coach, Carley Fine, was "dismissive" of her. In April 2018, Sturdivant received big news: She'd earned a spot on the University of Missouri's Golden Girls dance squad.
Not long after, Sturdivant was helping Fine with the dance team and used the coach's phone to play music, the complaint said. A text message popped up in a conversation about Sturdivant's university audition success.
"Bc she's fucking black. I hate that," Fine wrote, according to the complaint.
"Sturdivant read the message and was sickened," her complaint stated.
The teen's parents again met with the principal, and Fine was fired the following day. The coach was told to keep away from Sturdivant and the dance team, and the team's end-of-year banquet was canceled.
But other dancers and their parents — including a school district employee — gathered twice without Sturdivant. At the final school performance of the year, other members of the dance team wore ribbons with their former coach's initials. The dancers then took a photo — excluding only Sturdivant and the other black member of the team, the complaint said.
"Sturdivant was excluded from school-sponsored activities and was denied the full
panoply of educational benefits afforded other similarly situated members of the Dazzlers because of her race, African-American," the complaint said.
In a statement, Fine said the lawsuit didn't present the full story and she looked forward to defending herself in court. She added her lawyer had advised her to not comment more specifically on the accusations at this time.
"I have dedicated myself to helping our dancers achieve their goals," Fine said in a statement. "This includes not only working with them on their dance skills and routines, but also working with them outside the studio. In no way would I ever want to cause pain, distress or concern."
BuzzFeed News has also contacted Blue Valley Schools for comment but did not immediately hear back. A lawyer representing Sturdivant declined to comment.

In a statement to the Kansas City Star, the school district emphasized that it removed the dance coach a day after becoming aware of the text message.
"Respectful and meaningful relationships between staff and students are at the heart of Blue Valley's culture. Discrimination of any kind has no place here," the statement said. "The District expects staff to treat all students with respect at all times, and any report that this expectation has not been fulfilled is taken very seriously."