The former dean of the University of California Berkeley School of Law returned to work this week following his departure last semester and an earlier finding that he had violated sexual harassment policies.
A group of students protested the return of professor Sujit Choudhry on Wednesday, and on Thursday, chalk messages calling for zero tolerance for sexual harassment remained on the walls of the school.
Choudhry wrote an open letter in the campus newspaper, The Daily Californian, earlier in the week saying that he understood the confusion and potential alarm about his return. University of California President Janet Napolitano had asked that Choudhry be banned from campus for the 2016 spring semester. Choudhry in return resigned his position as dean and stayed away from Berkeley, but he was never formally banned, the Daily Californian reported. A university spokesman said the administration requested Choudhry to stay off campus, and he agreed.

Choudhry, who remains a tenured faculty member, is not scheduled to teach classes, but he returned to work out of his office this week.
"I have the right to go to work," he wrote in the Daily Cal. "I am exercising that right, peacefully and unobtrusively."
University officials said Choudhry offered no warning he was returning to campus.
"Now that Professor Choudhry has returned unannounced to the law school, campus and law school leaders are evaluating next steps, with the best interests of our law school and campus community as our top priority," a Berkeley spokesman said.
Last year, BuzzFeed News revealed a prominent Berkeley astronomer had violated the university's sexual harassment policies for a decade without being disciplined. Since 2011, 19 Berkeley employees were found to have violated the campus sexual harassment policy and new scrutiny was placed on how adminstrators handled each case.
UC Berkeley Chancellor Nicholas Dirks resigned last month amid criticism that he had mishandled several sexual harassment cases involving high-profile staff.

In Choudhry's case, his executive assistant accused him of treating her in a demeaning way, as well as subjecting her to unwanted hugging and kissing. Choudhry responded that there was no sexual intent in any of their interactions.
But a 2015 university report noted that sexual intent was not necessary for sexual harassment and found Choudhry had violated the university policy by a preponderance of evidence.
"I am not a predator and have never been accused of being one until now," Choudhry wrote in the Daily Cal. "In the face of public hysteria, I am the predator who never was, purportedly subject to a campus ban that never was."
The university sanctioned Choudhry with a salary deduction, a punishment that some critics said was too light. The discipline came under Choudhry's role as an administrator; a separate, confidential process exists for faculty members. The university said it could not comment on whether Choudhry remained under investigation, but in the Daily Cal, the professor said he was now facing a second investigation — which he described as unprecedented and solely the result of public outcry against him.
Earlier this year, his former executive assistant, Tyann Sorrell, filed a lawsuit, alleging the university did not respond quickly or effectively to her claims.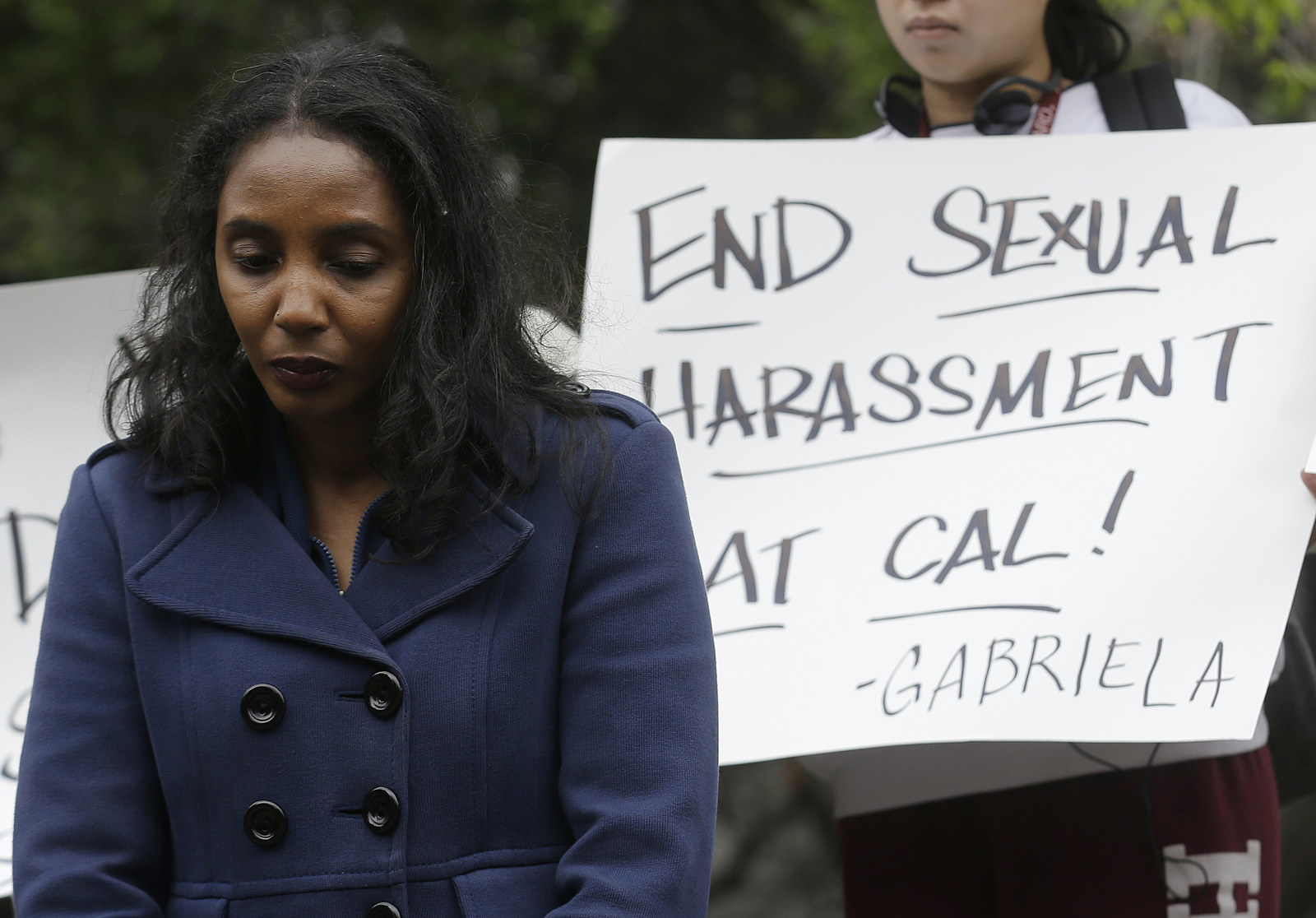 On Wednesday, she told the Guardian that Choudhry's continued presence on campus could send a message to other victims of sexual harassment that they should not come forward.

"I'm still trying to piece myself back together," she told the Guardian. "But he's backed by his credentials and status … He's a scholar who gets to return to work and a sense of normalcy."