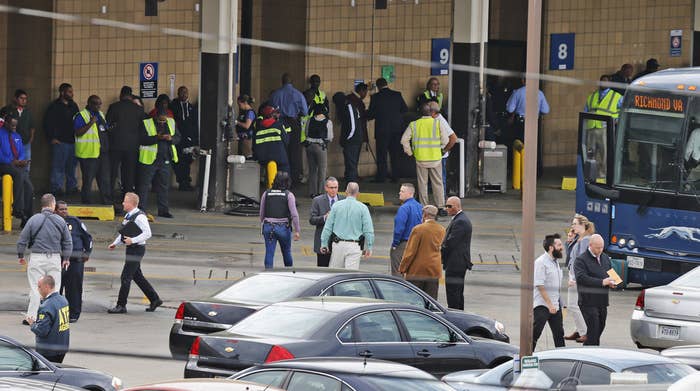 The gunman who shot and killed a Virginia State Trooper Thursday, after he opened fire at a Greyhound bus station in Richmond, was identified as James Brown III, police confirmed to BuzzFeed News. Brown was also killed in the incident.
Police said Brown was from Aurora, Illinois. They did not provide a motive for the shooting.
Two women who were nearby at the time were also shot, but they were expected to recover from their injuries, state police Col. W. Steve Flaherty said Thursday evening.
The trooper was identified as Chad Dermyer, 37.
Gunfire broke out around 2:45 p.m. as about a dozen officers were conducting a crime interdiction training at the bus station. As part of the training, Dermyer began a conversation with Brown inside the bus station, Flaherty said.
After a brief exchange, Brown took out a handgun and opened fire, Flaherty said. Two state troopers who were nearby returned fire.
Brown and Dermyer were taken to a hospital, where they each later died. The two bystanders were also hospitalized Thursday night.
Brown did not have a warrant for his arrest, and investigators were working to determine any criminal history.
"He has a history of charges, but we haven't been able to sort through what convictions [he may have had]," Flaherty said Thursday.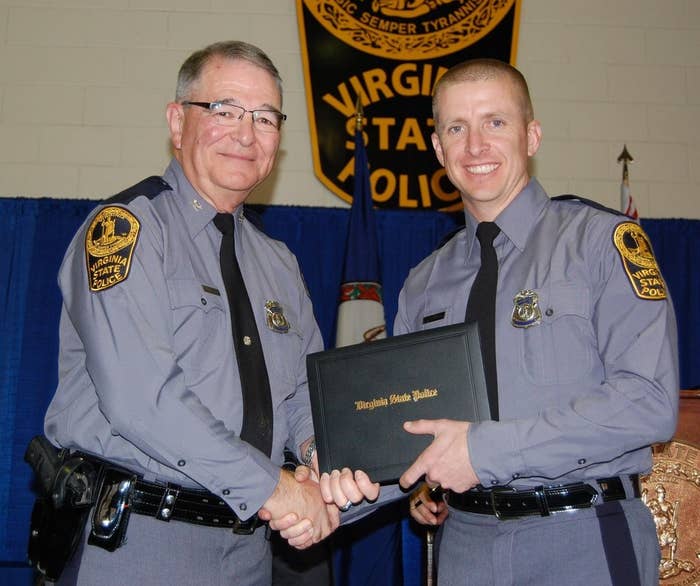 Dermyer is survived by his wife and two children, Flaherty said. He was a veteran of the U.S. Marines, and he had also worked as a police officer in his native Jackson, Michigan, and Newport News, Virginia.
Law enforcement officers from various agencies responded to the scene, and Greyhound said the station would be closed until further notice. Gov. Terry McAuliffe said he had offered whatever state resources might be necessary.
Next steps in the investigation would include reviewing surveillance footage as well as evidence left behind by the gunman, including his luggage, Flaherty said. The man did not have a Richmond, Virginia, address, and it was not immediately clear what his ties to the area were.