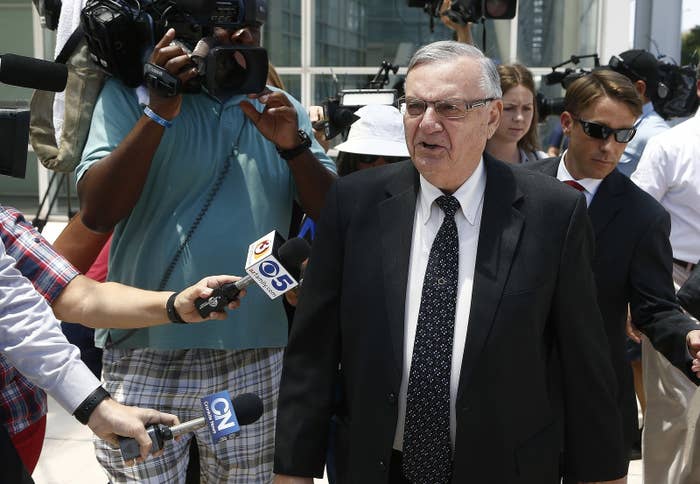 A federal judge on Monday found Joe Arpaio — the 85-year-old former sheriff of Maricopa County, Arizona — guilty of criminal contempt for violating a federal court order to stop a controversial policing tactic to catch undocumented immigrants.

"Not only did defendant abdicate responsibility, he announced to the world and to his subordinates that he was going to continue business as usual no matter who said otherwise," Judge Susan Bolton wrote in her decision.

She added that Arpaio's actions showed "a flagrant disregard" for a federal judge's order preventing the former sheriff from "detaining persons for further investigation without reasonable suspicion that a crime has been or is being committed."

Arpaio "willfully violated the order by failing to do anything to ensure his subordinates' compliance and by directing them to continue to detain persons for whom no criminal charges could be filed," Bolton wrote.
Arpaio, who styled himself as "America's toughest sheriff," lost a reelection bid in November after 23 years in office. He spent many of those years as a polarizing figure for how he ran his department: He housed inmates in a "Tent City" and made them wear pink underwear, and he campaigned for President Trump and promoted the idea that President Obama's birth certificate was a fraud.
And although immigration is the responsibility of federal law enforcement, Arpaio ordered his deputies, in sweeps and traffic stops, to check the legal status of the people they encountered. Even if an undocumented person had not committed any crime other than lacking documentation, deputies were told to arrest them and turn them over to immigration officials for deportation.
The American Civil Liberties Union filed a lawsuit against Arpaio in 2007, calling those practices unconstitutional and a form of racial profiling. While the case went through the court system, a federal judge ordered Arpaio to stop detaining people unless deputies actually suspected them of a crime under state law.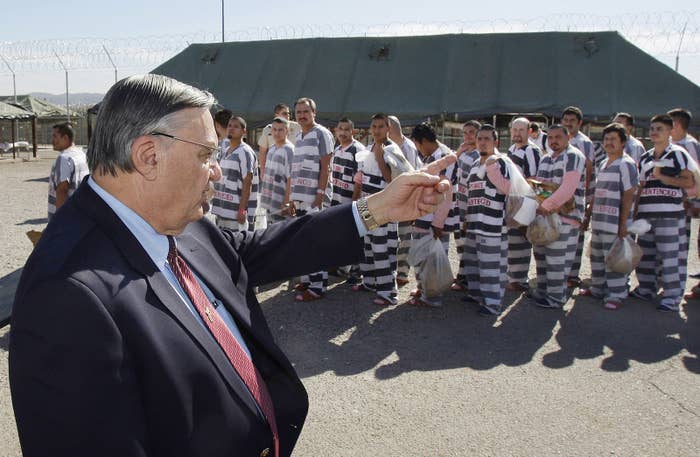 But Arpaio pushed back publicly, and the practices continued. The judge then found him in civil contempt of court, and recommended he face a criminal contempt charge as well.
"Sheriff Arpaio may be in charge of the [Maricopa County Sheriff's Office] for the foreseeable future. In doing so, he must follow the law," Judge G. Murray Snow said in August as he recommended Arpaio face criminal consequences.
Arpaio was charged with a misdemeanor in October, punishable by a maximum of six months in jail. This summer, the now-retired sheriff went on trial, and closing arguments wrapped up in July.
Defense attorneys said Arpaio didn't realize he was violating the court order, the Associated Press reported. But prosecutors pointed to Arpaio's own statements bragging about immigration enforcement as evidence he was intentionally disobeying the judge.
"He thought he could get away with it," prosecutor Victor Salgado said. "He never thought this day would come."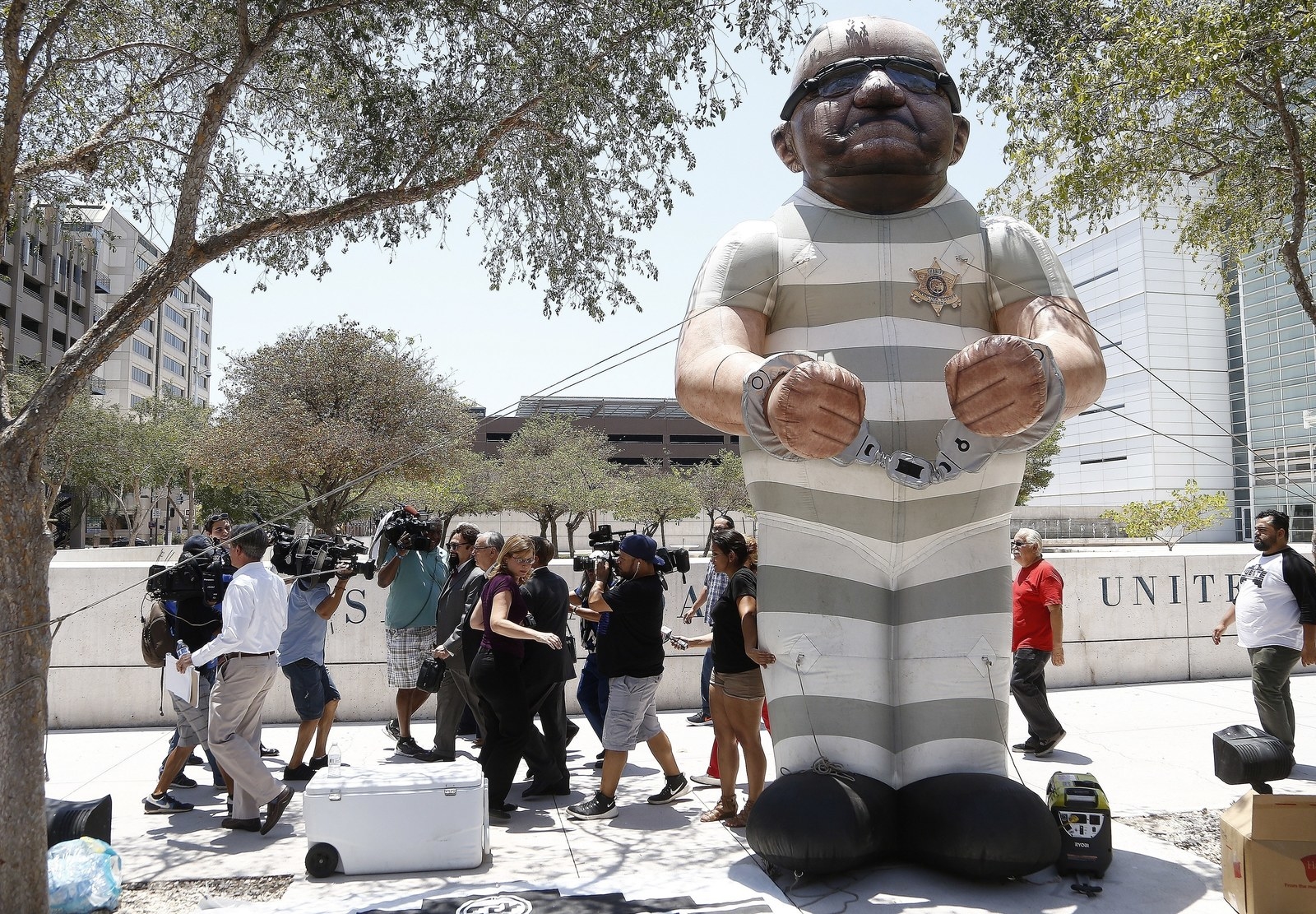 The Maricopa Sheriff's Office — now headed by Sheriff Paul Penzone, who defeated Arpaio in 2016 — released a statement hailing the conclusion of the "disservice and distractions" by Arpaio.
"Although the election in November was a statement by this community to put an end to the prior administration's practices, the verdict today by US District Court Judge Susan Bolton is a conclusion to the disservice and distractions caused by former Sheriff Joe Arpaio," the office said.
The ACLU, which is still pursuing its civil lawsuit against Arpaio, said the judge's ruling was a victory for the Constitution and for immigrants.
"This verdict is a vindication for the many victims of Joe Arpaio's immigration policies, which were unconstitutional to begin with, and were doubly illegal when Arpaio flouted the court's orders," ACLU deputy legal director Cecillia Wang said in a statement. "Joe Arpaio learned his lesson the hard way — no one, not even America's so-called toughest sheriff, is above the law."

Arpaio's lawyers have said he will appeal the conviction and seek a new trial in front of a jury.
In spite of the years of controversy surrounding Arpaio, the trial was notably quiet, the Arizona Republic reported. Unlike previous hearings and appearances over the years, few protesters appeared to speak out against Arpaio. Overflow seating for the media and public wasn't necessary, and Arpaio did not testify, the Republic reported.
Arpaio lost a reelection bid in November after efforts by activists to register Latino voters. At the time, activists called it a victory for immigrant rights — even as they feared what new challenges might come under the Trump administration.
Current Maricopa County Sheriff Paul Penzone campaigned on ending Arpaio's practices. In April, Penzone also vowed that Tent City would be dismantled within six months. As of June, its population had been reduced to several hundred people.