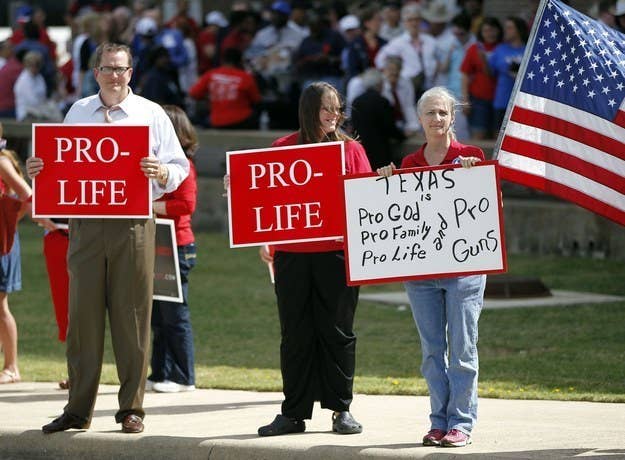 The Supreme Court on Tuesday halted enforcement of some provisions of a strict Texas abortion law that forced many clinics around the state to close.
The Court stopped enforcement of the requirement that abortion clinics meet the same facilities' standards as ambulatory surgical centers. Requirements for doctors at clinics in McAllen and El Paso to have admitting privileges at local hospitals were also put on hold.
"Tomorrow, 13 clinics across the state will be allowed to reopen and provide women with safe and legal abortion care in their own communities," Nancy Northup, president of the Center for Reproductive Rights told the New York Times. But said, "This fight against Texas' sham abortion law is not over."
Enforcement of the law was halted while it is under review by an appeals court. Justices Antonin Scalia, Clarence Thomas, and Samuel Alito voted against the court's order.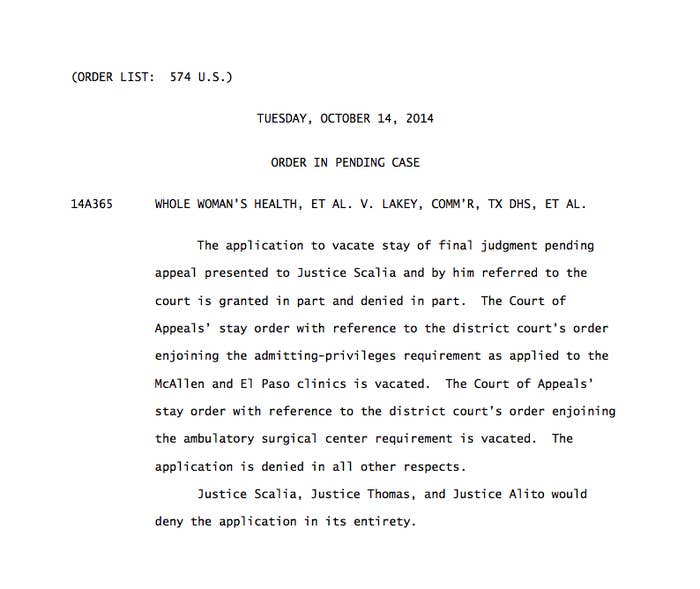 We're seeing the terrible impact these restrictions have on thousands of Texas women who effectively no longer have access to safe and legal abortion. We're relieved that the court stepped in to stop this, and we hope this dangerous law is ultimately overturned completely.
A federal appeals court will allow Texas to enforce strict regulations that will force all but eight abortion facilities in the state to close until the court can determine if the law is constitutional, the Associated Press reported.
The regulations require abortion facilities to include operating rooms and hospital-style air filtration systems. Another portion of the law has already required doctors working at clinics to have admitting privileges at local hospitals.
Currently, only seven clinics in Houston, Austin, San Antonio, and the Dallas-Fort Worth areas meet the requirements, which critics say effectively deny many women the right to an abortion in the second most populous state in the U.S.
The 2013 law aimed to protect women's health, said Gov. Rick Perry and other Texas conservatives. A U.S. District judge ruled in August that the law, which would require millions of dollars of upgrades at clinics, was actually about making access to abortions more difficult. Thursday's opinion by a panel of judges in New Orleans puts a hold on the earlier decision pending more court review.
According to the law's opponents, almost a million women will now live more than three hours away from an abortion clinic. It was briefly halted by a 13-hour filibuster by Democratic state Sen. Wendy Davis, who is now running for governor.
Davis reacted to the court decision Thursday on Twitter:
Texas Attorney General Greg Abbott, who is running against Davis for governor, also posted his reaction.