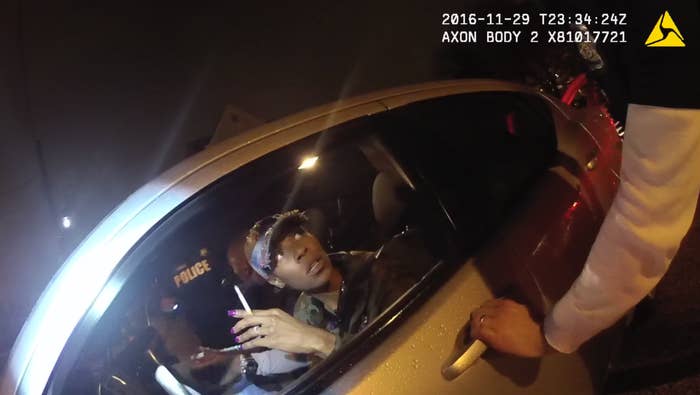 New video appears to show Baltimore police officers planting drugs inside a woman's car, her attorney said Wednesday — the second time in just weeks that police body-camera footage has raised questions of possible misconduct by officers.
The Baltimore public defender's office first described the video on Monday, when criminal charges were dropped against Shamere Collins. She and a male passenger were arrested after being stopped by police on Nov. 30 and accused of possessing and distributing drugs.
Since the night she was arrested, Collins has said the bag of marijuana and pills an officer found underneath her seat was not hers. (She did admit to having a half-smoked blunt in her center console and a nickel bag of weed, her attorney said.)
"You said there's drugs in my car. Where?" she demanded of arresting officers, according to police video from the scene.
Police video appears to back up her statements, her attorney Joshua Insley told BuzzFeed News. Collins is now contemplating litigation and will cooperate with the Baltimore Police Department's internal affairs investigation of two of the responding officers.
"She wants reform," he said. "She wants to make sure it doesn't happen to anyone else."
Baltimore police first came under scrutiny last month when video from a separate incident appeared to show an officer planting evidence. In that video, an officer can be seen placing a bag of pills under garbage in an alley. He walks out to the street and activates his camera, then returns to find the drugs.
In Collins' case, the videos are not the same kind of smoking gun, her attorney said, but they do appear to show an officer manipulating evidence.
The cameras used by Baltimore police capture 30 seconds of silent video before they are activated. It's a feature meant to show what leads up to a critical incident or use of force.
One of the videos from Collins' arrest shows an officer crouching by the driver's seat. His hands are not visible. He gets up, and a few seconds after the sound comes in — when another officer formally activated a camera — he asks if the area below the seat has been searched. Other officers standing by him don't respond.
"They did not intend to capture [him] down there," Insley said.
When another officer for a second time crouches in front of the seat, he pulls out a bag containing drugs packaged for sale.
"Oh yeah," one officer says.
"I knew it," another says.
Other police footage shows the car being extensively searched with no such evidence found. About 30 minutes before the officer found the bag of drugs, another officer had searched the same area and found nothing.
The Baltimore Police Department has said it takes allegations of officer misconduct seriously, and is investigating both incidents. But on Wednesday, police commissioner Kevin Davis said the issue may simply be the gap in the footage.
"It's irresponsible to jump to a conclusion that the police officers were engaged in criminal misconduct," he said at a news conference. "That's a heavy allegation to make."
Davis has issued a memo to officers reminding them to have cameras turned on for the entirety of the time they are at a scene conducting searches, the Baltimore Sun reported. Officers should not attempt to recreate the discovery of evidence on camera, he wrote.
"It's the job of criminal defense attorneys to raise doubt. And when they see a gap in video tape... sometimes it's going to raise enough doubt to call into question the arrest and the prosecution," he said Wednesday.
Leaving cameras on for the duration of an officer's time at a scene is the kind of reform that Insley and his client are hoping for.
"I think the reform is already starting to happen," he said. "I think where it's going is [police body] cameras are going to be on all the time. It's good for them, and it's good for the citizens."
Baltimore police outfitted 500 of its officers with body-worn cameras in response to Freddie Gray, a black man who died after being arrested and transported by officers. Local officials hoped to bring more accountability to the department, which protesters accused of using excessive force and unfairly targeting people because of race.
Both incidents of alleged evidence-planting took place not long after body cameras became widespread within the department, Insley said. Officers were likely unaware that they were being recorded 30 seconds before they activated the cameras, he added, and now that the footage is being reviewed by trial attorneys, misconduct like that faced by his client is starting to be revealed.
"I would be shocked if it's the last one," he said.