An unexpectedly close race to represent one of the most conservative congressional districts in California has turned increasingly ugly with the Republican incumbent, who is facing federal criminal charges, launching increasingly brazen anti-Muslim attacks on his Democratic opponent.
Rep. Duncan Hunter, the 41-year-old Republican, should have been a shoo-in to win California's 50th Congressional District east of San Diego. The retired Marine captain took office in 2008, succeeding his father, Duncan L. Hunter.
But in August, the lawmaker and his wife were accused of using $250,000 in campaign funds for personal expenses. A month later, a University of California, Berkeley poll showed a surge in support for his Democratic opponent, Ammar Campa-Najjar — putting the two men within just a few points of each other.
Hunter responded by attacking Campa-Najjar as a terrorist sympathizer and "national security risk," seeking to "infiltrate" US politics as part of a broader radical Muslim conspiracy.
Campa-Najjar, the 29-year-old Christian son of a Mexican American mother and Palestinian father, previously worked on President Barack Obama's campaign and in the US Department of Labor. As a teenager, he worked as a church janitor, and his campaign messages frequently feature prayer, his pastor, and Bible verses.
"I tell people, look, Hunter's family is not responsible for his actions. I'm not responsible for mine," Campa-Najjar told BuzzFeed News. "I was fully vetted by the FBI, and this is just a fear-mongering, hate-filled attack, a sign of desperation from an incumbent who has 10 years of a record to run on, and he's resorting to this."
Campa-Najjar's grandfather, Muhammad Youssef al-Najjar, was involved in the organization of the terrorist massacre at the 1972 Olympics in Munich. He was killed in 1973, when Campa-Najjar's father was 11. The event inspired his father to turn his back on violence, Campa-Najjar has said, and the candidate personally denounced his grandfather's actions and terrorism.

"To achieve peace, Palestinians and Israelis will have to make the same personal choice I've had to make: leave the dark past behind so that the future shines brighter through the eyes of our children," Campa-Najjar said in a statement to the San Diego Union-Tribune when his family history was first revealed.

That message earned praise from Jewish leaders in Israel, the Haaretz newspaper reported in February.
But Hunter's campaign has sought to raise alarm, publicizing a letter signed by three retired US generals (who are now lobbyists) as a "security alert" about Campa-Najjar. In response, Campa-Najjar has said Hunter is the actual security risk; Campa-Najjar held security clearance during his time in the Obama administration, while Hunter remains under federal indictment.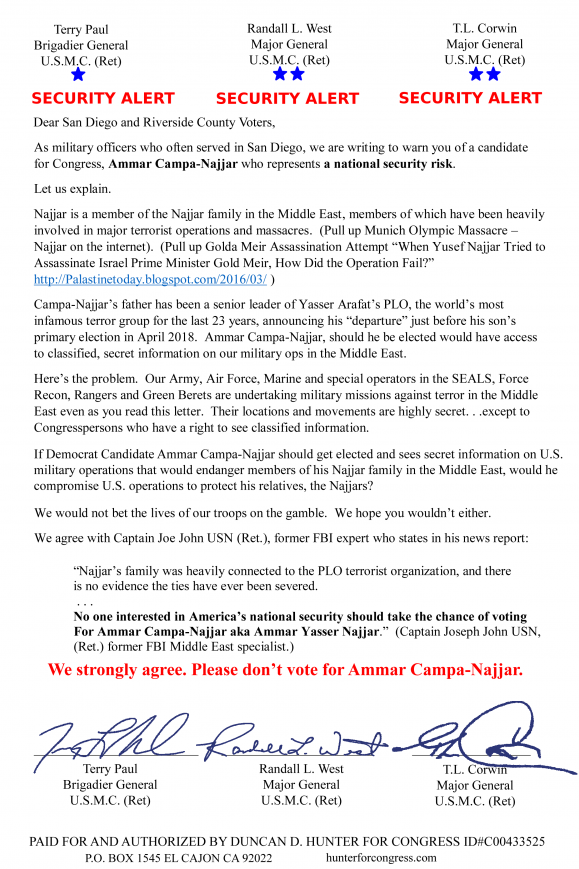 "Hunter poses a threat to our nation's security, to be honest," Campa-Najjar told BuzzFeed News. "When it comes to his indictment, his excessive drinking and extramarital affairs, his financial instability, over-drafting his account by $35,000, all of those things make him an ideal candidate for a foreign actor to try to influence him out of desperation."
On the campaign trail, Hunter has pointed to Campa-Najjar's legal name change: He formally added his mother's surname to his, reflecting how he'd been known professionally for years. At the same time, Campa-Najjar changed his middle name from Yasser, his father's name, to Joseph.

"That is how hard, by the way, that the radical Muslims are trying to infiltrate the US government. You had more Islamists run for office this year at the federal level than ever before in US history," Hunter said at a Republican women's event last month, according to audio published by the Times of San Diego.
Hunter praised President Trump's plan to build a wall on the southern border, citing in particular the need to protect military installations around San Diego from terrorists.
"It really doesn't have to do with illegal immigration. You have plenty of people who come over here on student visas and work visas and get lost in the system and stay here," he said. "The border wall is about our safety, literally."
He continued: "If a family with kids can sneak right across the border, then a trained Palestinian terrorist can definitely get across the border. A trained Pakistani terrorist can definitely make it across the border. They speak Spanish, they look Hispanic, they're here."
While Hunter's campaign has increasingly resorted to xenophobic attacks, Campa-Najjar said the tactics weren't unexpected — it's a sign that the incumbent sees him as a serious opponent, he said. Most people see that Hunter's attacks don't line up with the facts, he added, and the negativity is turning off some local Republicans. He pointed to the example set by Sen. John McCain, who shut down a racist comment about Barack Obama during the 2008 presidential campaign.
"Today the Republican Party is really splintered on this type of race-baiting politics," Campa-Najjar said. "[Hunter] might be strengthening a certain base, but he's alienating a bigger base of people, that will lead him to fall short of a victory this year."
Campa-Najjar has campaigned on bringing more jobs and infrastructure to the district, which is struggling compared to the rest of San Diego County. Hunter, who has been stripped of his committee assignments, hasn't been able to do that, he said.
"I think my experiences and background uniquely position me to be a consensus-builder in Washington and deliver," he said. "And I think Hunter's proven himself to be divisive, and even alienating his own party from himself in Washington."
Hunter's campaign did not return a BuzzFeed News request for comment. A spokesperson for Hunter previously said the representative never called Campa-Najjar a Muslim.

"What is a fact is our opponent has changed his name; that's not in dispute. He does have family ties to terrorists; that's not in dispute," spokesperson Mike Harrison told the Los Angeles Times. "Mr. Hunter was not saying he's a Muslim."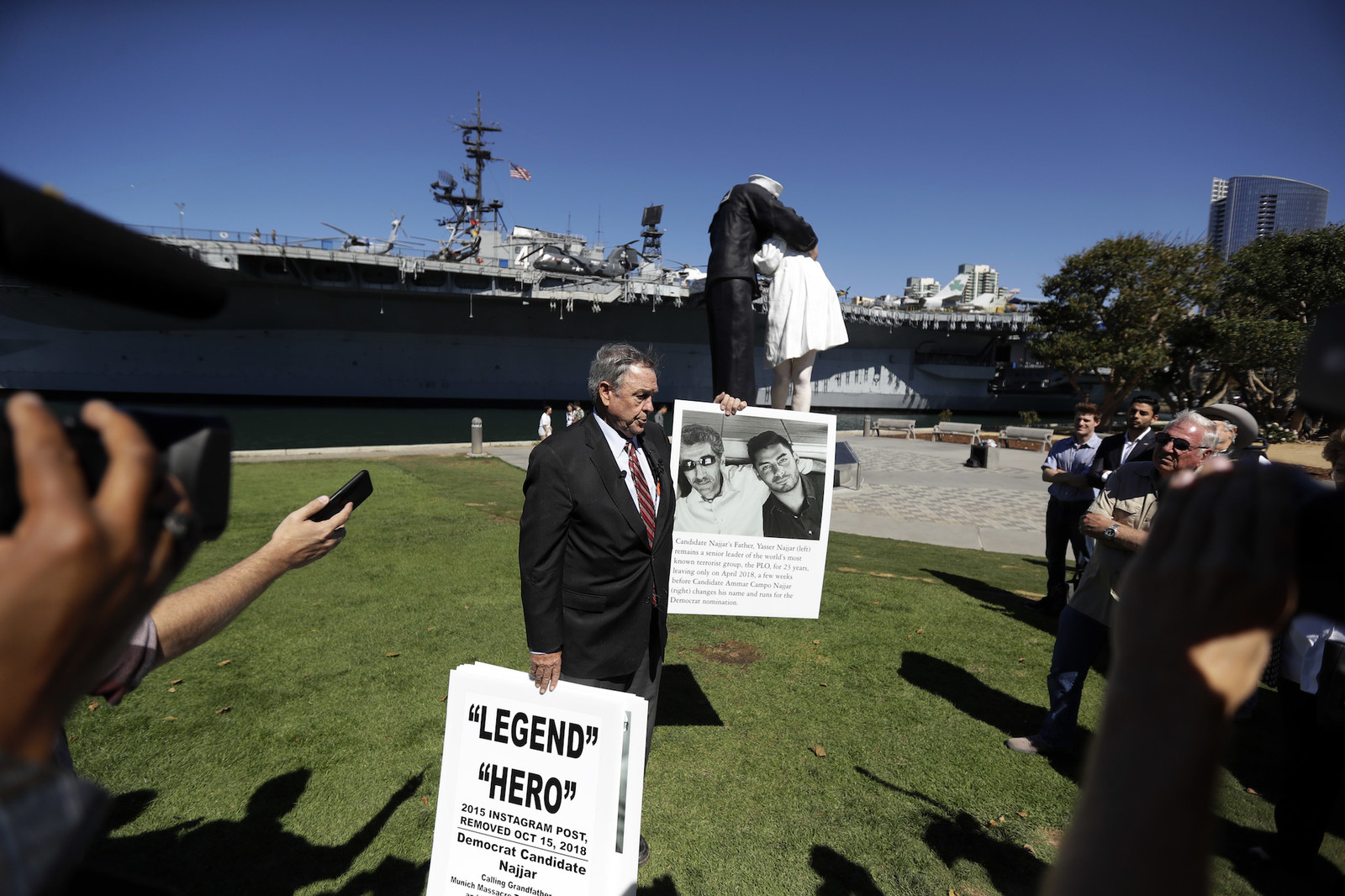 And on Tuesday, Hunter's father, Duncan L. Hunter, called a news conference in San Diego to reiterate claims that Campa-Najjar was tied to terrorism.
"This has nothing to do with race, this has to do with terrorism," the elder Hunter said, according to the Associated Press.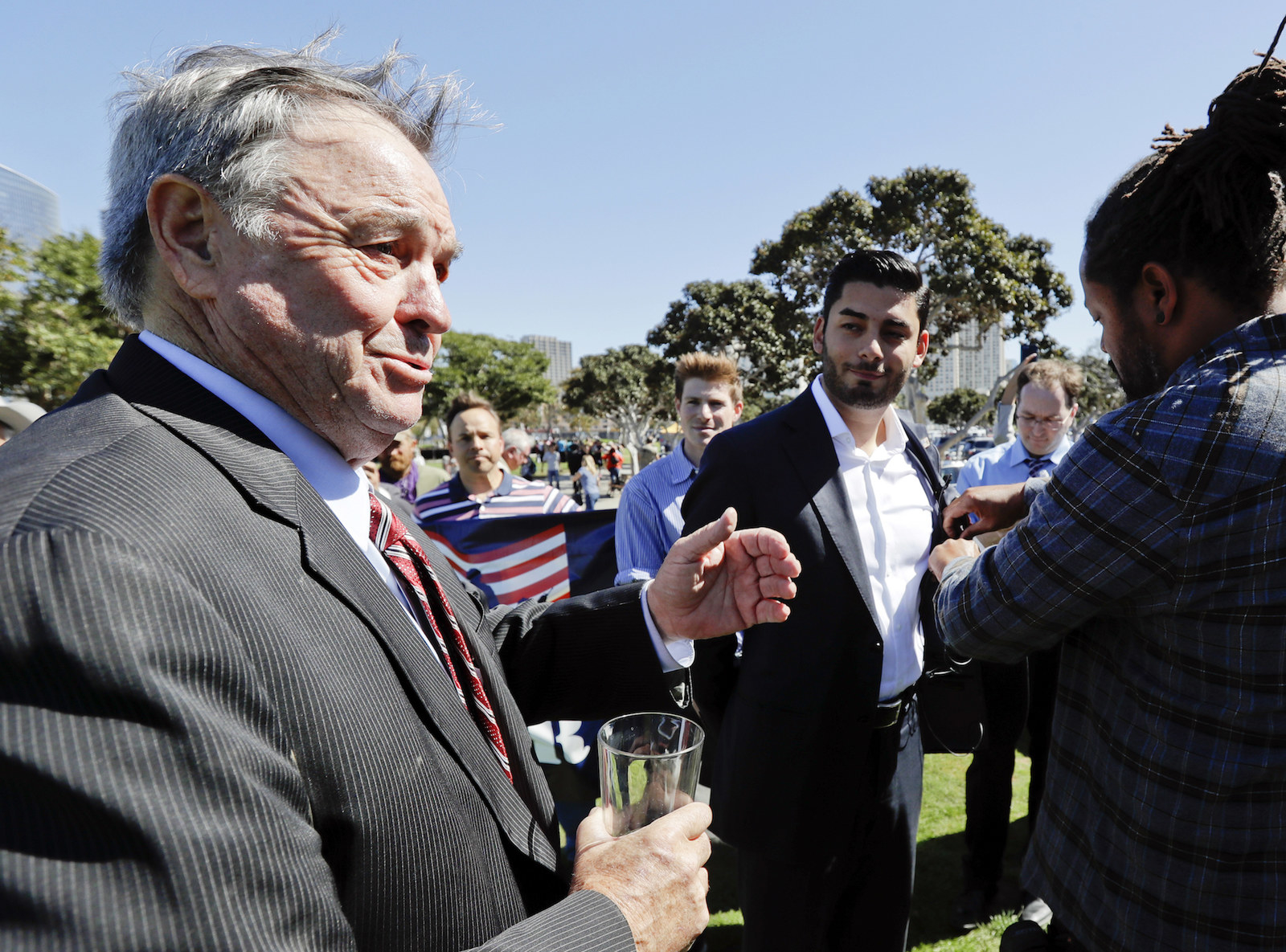 Campa-Najjar attended the press conference and characterized it as an "act of desperation" by a struggling campaign.
That will be tested on Nov. 6. Campa-Najjar has raised more money than Hunter and polling continues to place the candidates neck and neck, but Campa-Najjar said he's confident in his ability to turn out voters, especially young people.
"I want to put country over party," he said. "I have my own ideas of policies on health care and jobs and immigration reform that aren't the cookie-cutter approach you hear from both parties, but I think are tailor-made for my district."