Elephant Seal That Kept Trying To Cross A Highway In California Gives Birth
This is one determined momma.
The 900-pound elephant seal that captured the attention of Northern California after she tried multiple times to cross a busy freeway in Sonoma County has given birth, officials announced.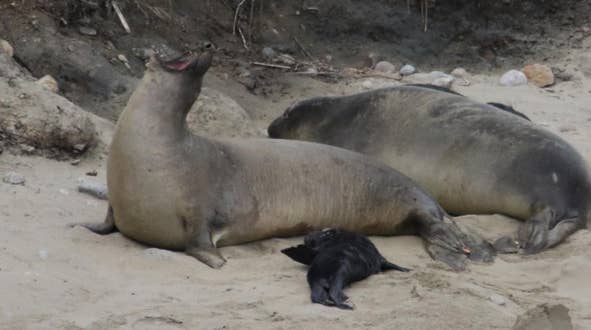 In a post on Instagram, National Park Service staff at the Point Reyes said the seal, Tolay, gave birth to a pup over the weekend! The birth was observed from the elephant seal overlook at Chimney Rock.
The new development comes just days after the elephant seal was relocated from Highway 37, where she caused a scene while trying repeatedly to cross.
One caller told the CHP that the seal was in the slow lane, and another said it had tried to attack a car, the San Francisco Chronicle reported.
When officers arrived to the scene, the seal was out of the roadway — but causing traffic problems as drivers slowed down to take a look.
A team from the Marine Mammal Center responded to try to shoo the seal back to water and safety. The seal, however, did not cooperate.
CHP officers nicknamed the seal Tolay for the creek it swam in from. If Tolay crossed the highway, authorities worried the seal wouldn't be able to get back to open waters.
On Tuesday, the seal again remained next to the highway. Kayakers from the Marine Mammal Center once more tried to usher her out to the bay.
It didn't work, and Tolay made her way inland through a viaduct.
Finally, a veterinarian tranquilized the seal, allowing the team to physically remove it from the area.
After a medical exam, the team determined Tolay was pregnant, which came to term over the weekend.