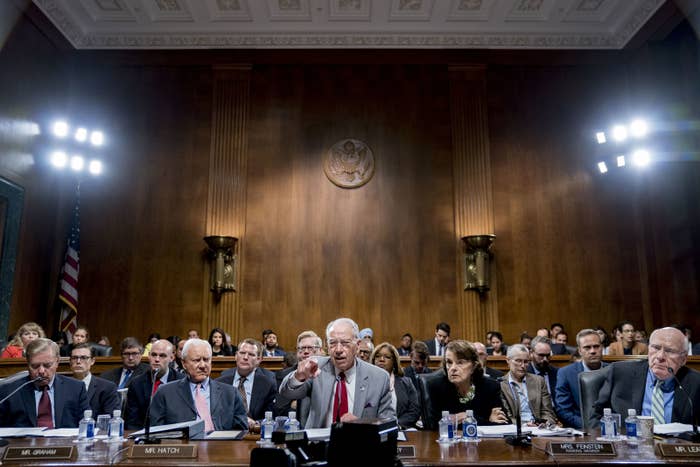 A leading sex crimes prosecutor from Arizona will ask questions on behalf of Republicans at Thursday's Senate Judiciary Committee hearing, where a woman will testify about an alleged sexual assault committed by Supreme Court nominee Brett Kavanaugh.
Rachel Mitchell is on leave as chief of the special victims division in the Maricopa County Attorney's Office and has decades of experience as a prosecutor. Her duties include supervising attorneys prosecuting child molestation and sexual assault cases in Phoenix and the surrounding cities, as well as working on sex crimes legislation and standards for prosecutors.
Senate Majority Leader Mitch McConnell said earlier Tuesday that Republicans on the Senate Judiciary Committee — all of whom are men — wanted to bring in a woman to ask questions for them in order to keep the hearing respectful.
"We have hired a female assistant to go on staff and to ask these questions in a respectful and professional way," McConnell told reporters. "We want this hearing to be handled very professionally, not a political sideshow like you saw put on by the Democrats when they were questioning Judge Kavanaugh."
Specifically, Mitchell will serve as the nomination investigative counsel for Republicans, Senate Judiciary chair Chuck Grassley said in a statement. The decision was made in the shadow of another Supreme Court nomination hearing: the 1991 proceedings where Anita Hill testified that then-nominee Clarence Thomas had sexually harassed her at work. Senators on the committee, exclusively men at that time, repeatedly asked Hill intimate questions, creating an atmosphere that critics described as a sham trial and misogynistic.
"As I have said, I'm committed to providing a forum to both Dr. Ford and Judge Kavanaugh on Thursday that is safe, comfortable, and dignified," Grassley said.
He added that Mitchell would be an experienced and objective questioner, which he hoped would ease the fears of Kavanaugh's accuser, Christine Blasey Ford, in coming forward. Ford, who has said Kavanaugh assaulted her at a high school party, has experienced death threats and other harassment.
"I promised Dr. Ford that I would do everything in my power to avoid a repeat of the 'circus' atmosphere in the hearing room that we saw the week of September 4," Grassley said. "I've taken this additional step to have questions asked by expert staff counsel to establish the most fair and respectful treatment of the witnesses possible."
In Arizona, Mitchell has helped write standards for investigators and prosecutors handling child abuse or sexual assault cases. She advocated for allowing child victims to testify in court with emotional support dogs. In 2006, she was Maricopa County's prosecutor of the year, and she's also been recognized for her work with victims and children.
In a statement late Tuesday, Maricopa County Attorney's Office said that Mitchell is "professional, fair, objective, and has a caring heart for victims."

"She has been instrumental in developing protocols for the investigation of child abuse and sexual assault cases enhancing the ability for victims to be treated with fairness, dignity and respect while holding offenders accountable," it added.

Maricopa County Attorney Bill Montgomery said: "The American people can be confident that Rachel Mitchell's experience as a conscientious prosecutor, trained to seek justice, protect victims, and pursue truth, will assist the Senate Judiciary Committee in performing its important task."