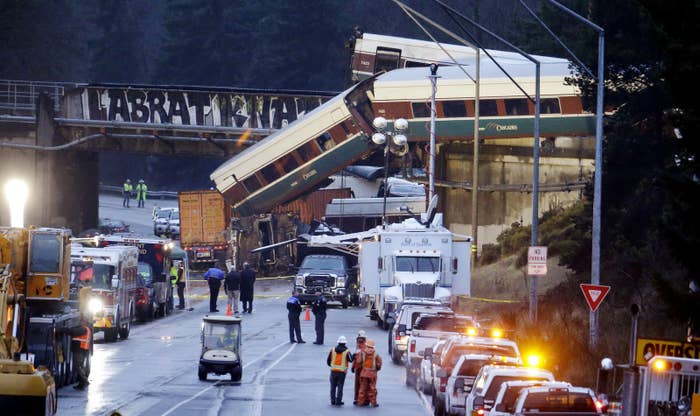 The engineer of the Amtrak train that derailed during its inaugural run Monday near Olympia, Washington, killing at least three people and injuring 72 others, didn't manually engage its emergency brake before a dozen passenger-filled cars were flung off the tracks, officials said.
The National Transportation Safety Board is investigating the cause of the derailment of Amtrak Cascades Train 501, which sent 12 passenger cars and a locomotive hurtling off a bridge onto Interstate 5 during the morning commute. Investigators revealed late Monday that the train was traveling 80 mph into a curve with a 30 mph speed limit.
NTSB board member Bella Dinh-Zarr added on Tuesday that not only was the train speeding, its emergency brakes only activated automatically when the fatal derailment occurred.
"When there is an accident, the emergency brake system goes to place," she said. "It was not something the engineer actually initiated himself."

As of Tuesday, investigators had not interviewed the engineer nor the other four crew members, who remained hospitalized with injuries.
"We are working to interview crew members as soon as their medical status allows them to be interviewed," Dinh-Zarr said, adding that investigators hope that will take place in the next several days.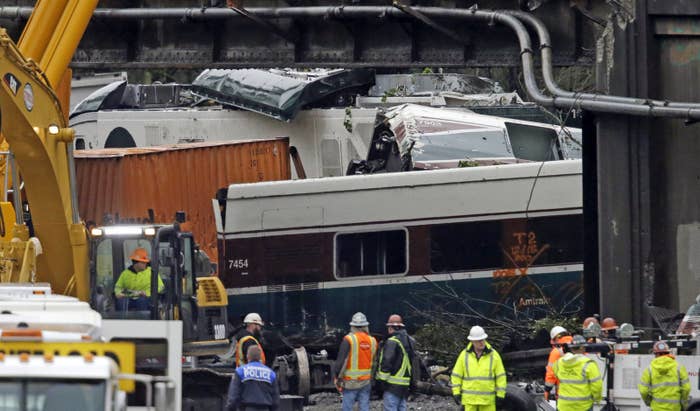 At the time of the derailment, a conductor undergoing training was also in the train's cab with the engineer, she said. The train's active conductor was in the passenger area.
As part of the investigation, the NTSB will seek to determine if the engineer was distracted, Dinh-Zarr said.
"It's protocol for us to look at all the cell phone records of all the crew members whenever there's an accident of this type," she said. "And of course we hope when we interview the crew members, they'll be able to give us more information."
Other pieces of the investigation will include examining the train's speed profile throughout its run, as well as the training and service records of all crew members.
Monday was the train's inaugural run between Seattle and Portland using a new bypass that shaved 10 minutes off the previous route. Though it was the first time paying passengers had been on board, Dinh-Zarr said Amtrak had been conducting test runs for two weeks.
Though exactly how crew members were trained is still being reviewed, NTSB lead investigator Ted Turpin said the engineer would have had experience on the new route.
"Under Amtrak policy, he couldn't run the train unless he was qualified and familiar with this territory," Turpin said.
Investigators are expected to remain at the scene in Washington for seven to ten days, and a final report will likely take months. Inward- and outward-facing cameras were damaged as the train crashed, but they've been sent to a lab where data may potentially be retrieved, Dinh-Zarr said. Train cars will also be removed from the highway to nearby Joint Base Lewis–McChord for examination. Both data records have now been retrieved from the train, she added.
As for the tracks themselves, Dinh-Zarr said "witness tracks" show where the train derailed. The railway is otherwise intact, she said.
"All of our teams continue working around the clock to gather information and the facts that will help us determine what happened in this accident and prevent such accidents from happing again," she said.
Earlier in the day, Washington Gov. Jay Inslee urged people to wait for the outcome of the investigation before making conclusions. He added he was committed to improving train safety, in spite of the challenges of getting local and federal jurisdictions to work together. The train, he said, did have positive train control, a technological system designed to automatically slow a train down, though it's so far unknown if that could have prevented the derailment. The remote safety feature was supposed to be in place on all trains by 2015, but Congress chose to extend the deadline until 2018, he said.
"Whatever lessons we learn from this tragedy, I will be more than pleased and not have one hesitation to propose whatever legislation might be necessary, to propose whatever executive order might be necessary, to propose whatever collaboration with the federal government, to do by any means necessary to improve train safety more than it was two days ago," he said.
Hours after the derailment, President Trump blamed it on failing infrastructure.
"I would say that is perhaps jumping to conclusions before the investigation is complete," Inslee said.

He added that Washington had made recent investments in infrastructure, including the $181 million project that resulted in the new Amtrak Cascades train route.
"I wish Congress was as successful as we are in the state of Washington," he said.