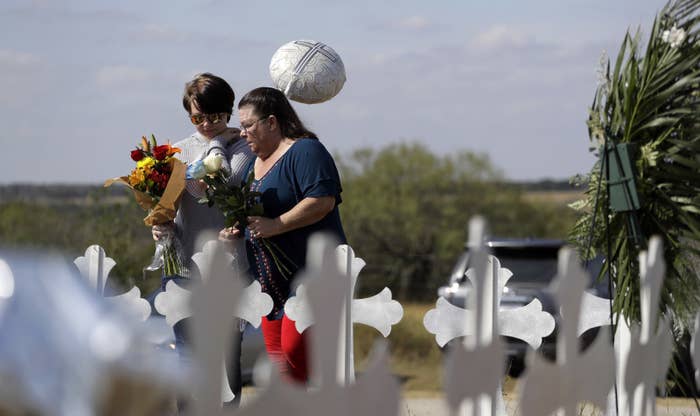 SUTHERLAND SPRINGS, Texas — Three days after the horrific church shooting that claimed the lives of 26 people, Texans are grappling with the question of what could be done to prevent a similar tragedy from happening again.

Vice President Mike Pence arrived in San Antonio on Wednesday, where he met with some of the victims at Brooke Army Medical Center. He was also briefed by law enforcement and spoke at a prayer vigil at Floresville High School.
"Three days ago, evil descended on this small town and on this small church," Pence said. "But we also gather with the resolve that this evil must come to an end."
It was a show of support that residents told BuzzFeed News they appreciated. And as Texans are dealing with feelings of disbelief and heartbreak over the shooting, they're also considering what changes local communities and national leaders can make going forward.
Rebecca Fernandez, a resident of nearby town Helotes, said she's still having trouble wrapping her mind around the brutality of the shooting.
"You attend church and think you're in a safe place. For something like this to happen, it's heartbreaking," she said.
Like others, it was important for her to come to the scene and show her support — a show of unity that she hopes adds up to making a difference.
"Hopefully our eyes are opened," she said. "And we appreciate the things that really matter in life, and learn to love and care for each other."
Too often, she added, people ignore potential warning signs of violence in an effort to mind their own business.
"I don't think we're able to do that anymore," she said. "We can't look the other way."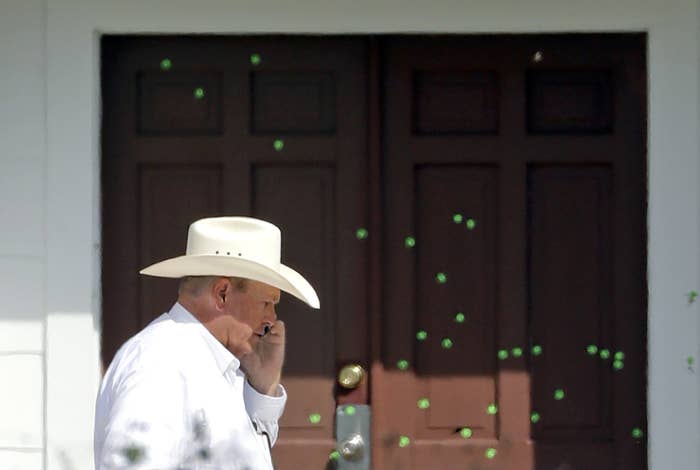 Sotero Bocanegro, a San Antonio resident, drove to Sutherland Springs on Wednesday to see if he could donate or offer help. He said he hoped local leaders would do their part to support victims — and possibly down the line turn the site of the shooting into some kind of park or memorial.

"People can come back here and pay their respects," he said.
Going forward, Bocanegro said authorities need to examine how the federal background check system failed to record the gunman's criminal history.
"He went under the radar," he said. "Obviously the system needs to be looked at what people have the privilege to go out there and buy weapons."
Cindy Schillo, a LaVernia resident, agreed.
"I just know they need to get a better grip on the gun law," Schillo said, who stopped by the church with her 16-year-old granddaughter Cassidy Keyser, who knew one of the victims.
Schillo said the violence so close to home has left her afraid with what she might find outside her own doors. It's an awareness she hoped her granddaughter also understands.
"She needs to know when her mom wants to know where [she and her friends] are, this is why," she said. "You never know."
Mary Sinti, who stopped by the church with her husband as they traveled to San Antonio, said she feared violence was becoming the norm in America.
"Americans have to wake up," she said. "We all have to wake up to this."
She questioned what had changed in the US: maybe the lack of prayer in schools, or violence in the media, or the prevalence of the internet. And even as she supported people's right to protect themselves — and praised the man who pursued the gunman with a gun of his own — she said something needs to change.

"I would say on the gun situation, it's not take away the guns from normal people. When you buy the gun, check them out mentally."
Outside First Baptist Church on Wednesday, Lupe Garza, a pastor from Baytown, prayed with people who stopped by. A specialist in church safety, he traveled more than 200 miles after receiving a call from a church in nearby LaVernia for help with their volunteer safety team.
Garza was a law enforcement officer for 33 years, and now runs the nonprofit Watch 360 Ministries. His church safety consulting work began after he was threatened as a pastor and learned that 75% of churches don't have any safety plan.
"We're talking 300,000 churches in America," he said. "That's a big number. From that, God put a burden on me to say, hey, I need to commit to reaching out to churches to optimize their safety and risk management services."
Garza hopes to raise other pastors' level of awareness and get congregations involved in creating a safety plan with their local law enforcement. A volunteer safety team can serve as critical eyes and ears to potential issues, he said, and it's worth it for churches to invest in training and equipment such as radios.
"We have to be realistic," he said. "Churches, like schools, are soft targets because we are community-oriented."