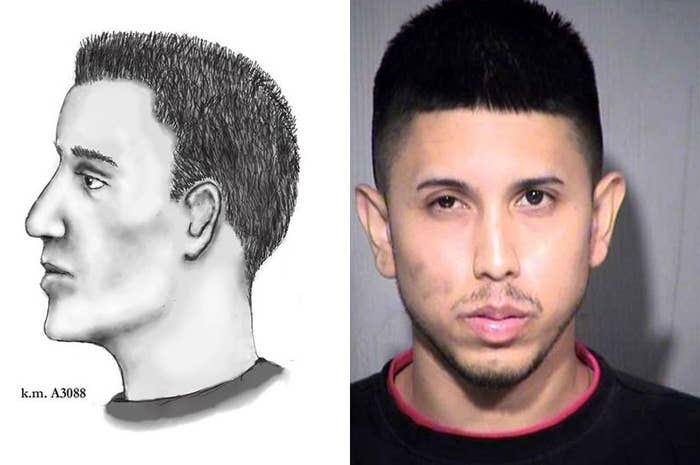 Phoenix police on Monday announced the arrest of a 23-year-old man in connection with a series of random shootings that left nine people dead and terrorized Arizona residents for more than a year.
Aaron Saucedo was arrested on April 19 in connection with the 2015 death of his mother's boyfriend, police said. Since then, investigators linked him to the more recent series of shootings, and police announced Monday they had found probable cause to seek charges.
"Our hearts go out to the surviving families," Phoenix Police Chief Jeri Williams said. "Today we are closer to providing them the justice they deserve."
Saucedo is expected to be charged with at least 26 felonies, including homicide, aggravated assault, and committing a drive-by shooting.
For more than a year, police have been investigating crimes related to a then-unknown suspect they called the Serial Street Shooter. The man shot at pedestrians and cars, mostly in poor neighborhoods of west Phoenix, causing damage, injuries, and ultimately at least seven deaths.
Surviving victims helped police create a composite sketch of the suspect, and the shootings appeared to be random. He drove multiple vehicles, including a black 5-Series BMW from the late '90s or early 2000s as well as a white Cadillac or Lincoln.
Authorities had offered $75,000 for information leading to his arrest. They received around 3,300 tips, Phoenix Mayor Greg Stanton said, one of which led to the identification of Saucedo as the serial shooting suspect.
"Those tips led directly to where we are today," Stanton said.
Police on Monday said Saucedo is suspected of an additional fatal shooting in January 2016 as well as the killing of his mother's boyfriend, 61-year-old Raul Romero. That brings the number of linked deaths to nine; Romero is believed to be the only victim who had any type of personal connection to Saucedo.
Authorities said they don't know of any motive for the shootings.
It wasn't the first time a gunman has committed an extended and random series of shootings in Arizona. In 2015, a shooter struck 11 times along the state's freeways over two months. A man was arrested in connection with what became known as the Freeway Shootings, but the case was later dropped. He has filed a lawsuit against state officials.
While investigating the street shootings, police compared evidence from the freeway shootings. Ultimately, it wasn't a match, police said on Monday.
Two men were also arrested in 2006 for killing eight people and shooting at dozens of others over the course of a year. The so-called Serial Shooters randomly targeted pedestrians; Dale Hausner killed himself while in prison, and Samuel Dieteman is serving a life sentence.
According to police, Saucedo was connected to the following crimes:

Aug. 12, 2015: Shots were fired at a home, and no one was injured.
Aug. 16, 2015: A 61-year-old man, Raul Romero, was killed after being shot multiple times in the driveway of his home.
Jan. 1, 2016: A 22-year-old man, Jesse Olivas, was found with multiple gunshot wounds outside a home. He died at a hospital.
March 17, 2016: A 16-year-old boy was shot and injured while walking in a residential area around 11:30 p.m.

March 18, 2016: A 21-year-old man was shot and injured while standing outside his car in a residential area around 11:30 p.m.

April 1, 2016: A 21-year-old man, Diego Verdugo-Sanchez, was shot and killed in front of a home around 9 p.m.

April 19, 2016: A 55-year-old woman, Krystal Annette White, was found dead in a street from apparent gunshot wounds around 4:30 a.m.

June 3, 2016: A 32-year-old man, Horacio De Jesus Pena, was shot and killed while standing in front of a home around 9:50 p.m.

June 10, 2016: A 19-year-old man, Manuel Castro Garcia, was shot and killed outside a home around 9:30 p.m.
June 12, 2016: An unoccupied vehicle was shot at around 2:35 a.m.

June 12, 2016: A 33-year-old woman, Stefanie Ellis, her 12-year-old daughter Maleah Ellis, and her friend, 31-year-old Angela Linner, were shot outside of a home around 3 a.m. All three died of their injuries.
July 11, 2016: A car with a 21-year-old man and his 4-year-old nephew inside was shot at. Neither were injured.