A Teen Has Been Arrested On Suspicion Of Vandalizing A Holocaust Memorial
It was the second time this summer that someone has shattered glass of the New England Holocaust Memorial in Boston.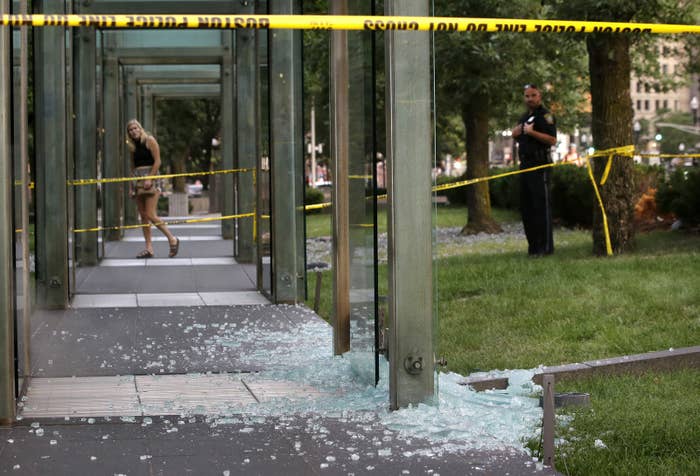 A 17-year-old boy threw a rock at the New England Holocaust Memorial in Boston on Monday, shattering one of its six glass towers for the second time this summer, according to local officials.
Police arrested the teen Monday evening on suspicion of willful destruction of property, a Boston Police Department spokesperson told BuzzFeed News. The incident was reported by a witness around 6:40 p.m. When officers arrived, they found two bystanders detaining the 17-year-old, who was then taken into police custody.
Because of his age, the teenager, who is from Malden, Massachusetts, was not named. He is also under investigation by the police department's civil rights unit, which could result in an additional charge.
In a statement, Boston Police Commissioner William Evans thanked the members of the community who helped officers arrest the teen.
"I'm grateful for the quick response and the community help which led to the swift arrest of the suspect responsible for the damage done to the Holocaust Memorial," Evans said. "Clearly, this type of behavior will not be tolerated in our city. And, in light of the recent events and unrest in Charlottesville, it's sad to see a young person choose to engage in such senseless and shameful behavior."

The memorial was vandalized under similar circumstances in June. At that time, police arrested a 21-year-old man on suspicion of willful and malicious destruction of property and destruction of a place of memorial.
The site was dedicated in 1995 after a campaign by Holocaust survivors who settled in the Boston area. Its six glass towers aim to represent the 6 million Jews killed in six major death camps. The towers are illuminated like memorial candles, and their glass is etched with millions of numbers, reminiscent of the serial number tattoos forced upon victims.
Sen. Elizabeth Warren, who represents Massachusetts, responded on Twitter.
"Let me be clear: These cowardly acts of hate aren't welcome in Boston or anywhere else in this country," she said.