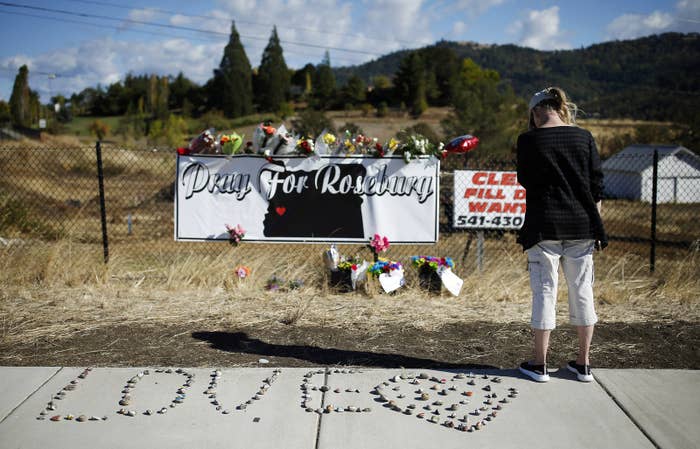 ROSEBURG, Oregon — As the first firefighters and paramedics headed to Umpqua Community College Thursday morning, they knew only that there was an active shooter on campus and that one young woman had been shot.
It was 10:48 a.m. Two minutes later, dispatchers were calling all available ambulances to the hillside college.
Douglas Fire District 2 Chief Greg Marlar was among the first to arrive at the scene. As students remained huddled in other buildings of the campus and law enforcement searched for any other threats, he walked toward the classroom where police had exchanged gunfire with the shooter. On the grass outside, he saw one student bloodied from a gunshot wound.
He walked into the classroom, and with multiple people on the ground, it was immediately clear that it was much worse than anyone had originally known.
"I don't think I can adequately describe that," he said Saturday. "It was a horrific scene.
Marlar immediately stepped back to start coordinating more aid as fire and emergency medical crews went in to assess who most needed care in the two adjoining classrooms. The handcuffed shooter, 26-year-old Chris Harper-Mercer, was at one point loaded onto a gurney for treatment. It quickly became clear resuscitation would not be possible, Marlar said.
Officials announced Saturday that the medical examiner had ruled his death a suicide. Eight others were pronounced dead at the scene, another died upon arriving at the hospital, and nine others were wounded.
In the minutes after the shooting, Marlar said that his crews treated the shooter like any other patient.
"Our people are trained to take care of patients and treat them accordingly," Marlar said. "We have to think about [who they are] and maybe deal with those emotions after the fact."
The emotional toll of the shooting has hit local officials hard. In a town of 22,000, almost everyone is in some way connected to the victims, their families, or the college.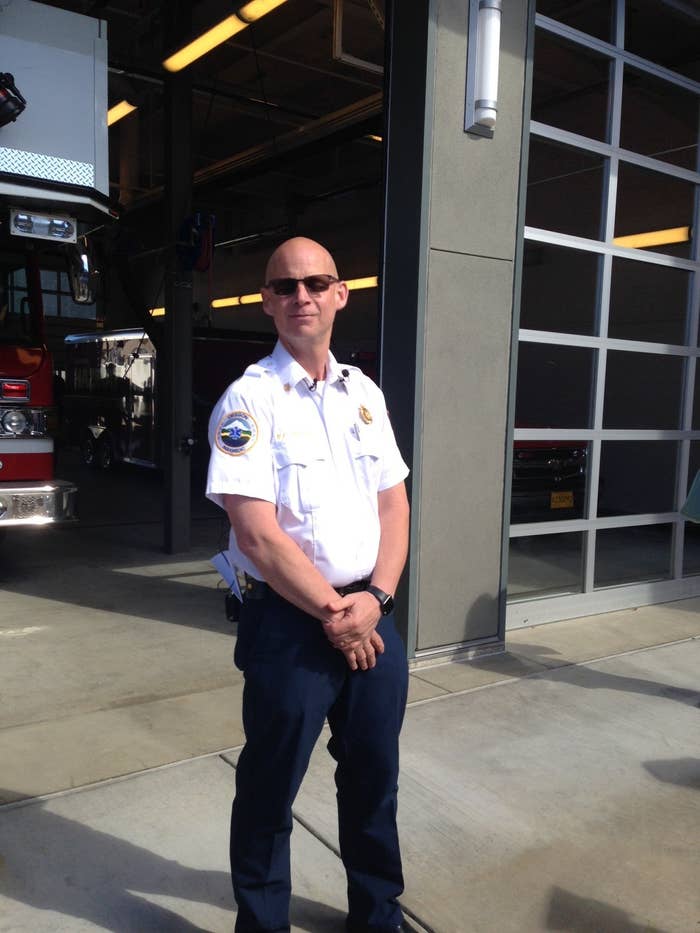 Earlier on Saturday, Marlar had visited each of his fire stations to see how firefighters and paramedics were coping. He planned to later go on to see firefighter Justin Anspach and his family. Anspach's 20-year-old son Trevon died in the shooting. The chief's son had known him from the high school. Another victim, 18-year-old Rebecka Carnes, was the niece of paramedic Brian McFadden.
Neither man was among the 45 firefighters and paramedics that eventually responded to the scene.
At first, there were only rumors that their loved ones might be among the victims. Official confirmation that Trevon Anspach had died came hours later, and Marlar went in person Thursday evening to confirm the news to the family. The memory left the chief briefly at a loss for words on Saturday.
"Now my focus is on working through with our personnel and making sure they're taken care of, and they have the support and the assistance that they need to carry on, because we still have a job to do 24/7," he said.
On Saturday, workers from the local Dutch Bros. Coffee stand stopped by the police and fire station to drop off five gallons of coffee. Clayton Reinhart, owner of the franchise, has lived in Roseburg for the last 15 years and said he wanted to do what he could to give back to the community.
"That's what we can do to give back today, to brighten people's day in a tough time," he said.
First responders were also in locals' thoughts Saturday night during a vigil at River Bend Park in nearby Winston. About 750 people gathered to pray, sing, and offer donations for the victims. One prayer went specifically to the first responders.
"They are such an overlooked group when this happens," said Pastor Jerry Smart of Foursquare Gospel Center, who organized the event along with other local pastors.
Smart was one of the grief counselors on Thursday at the Douglas County Fairgrounds, where buses brought students and staff from the college immediately after the shooting.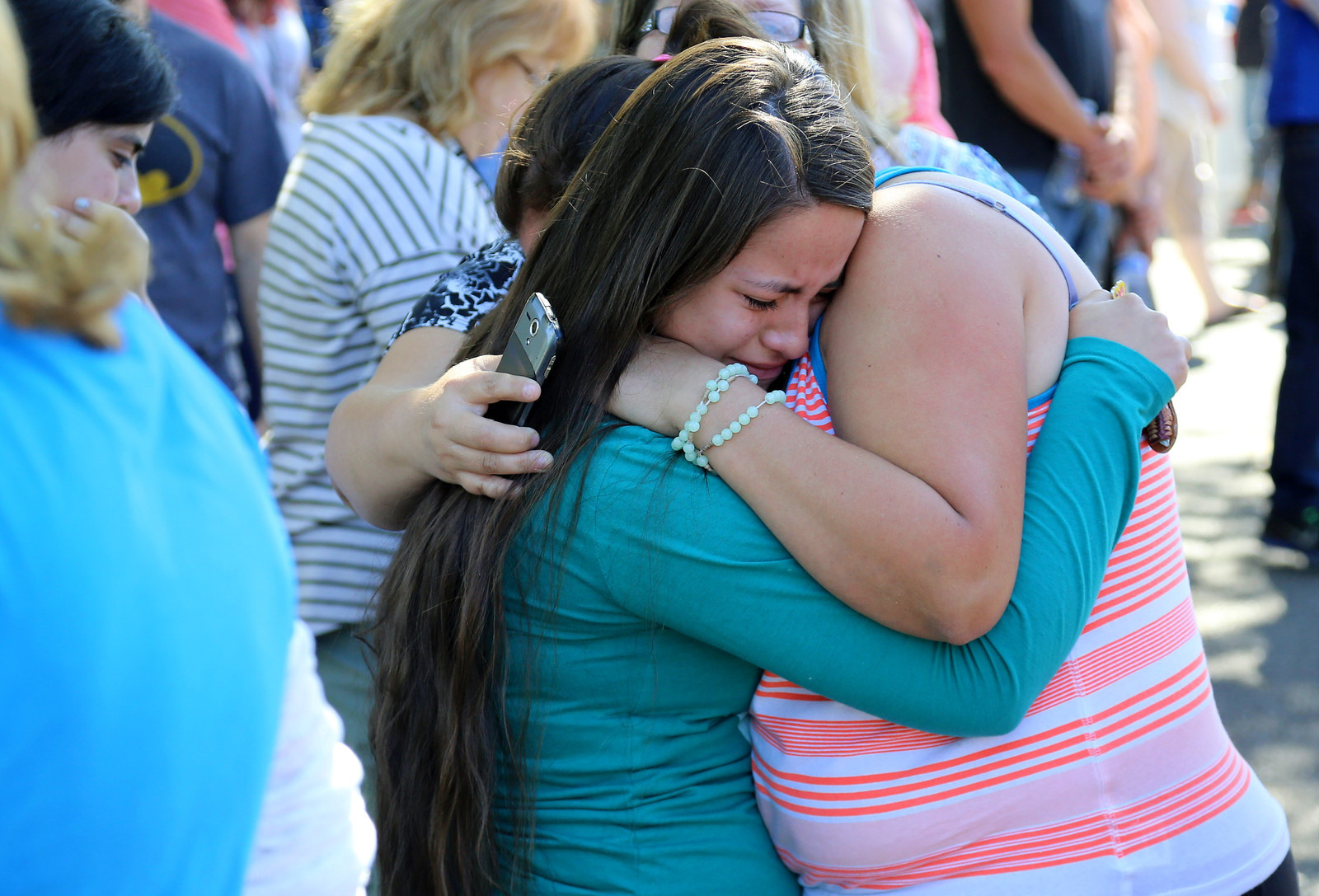 One woman came off the bus and fell into his arms weeping. Thirty minutes before, she had held her friend as she died in her arms, Smart said.
"How could God let something like this happen?" she asked him.
It was a question that Smart will talk about during Sunday services. It doesn't lend itself to a simplistic answer, he said. In the counseling he has given over the last few days, he said, he hasn't focused on trying to find a "right" answer.
"Hug 'em, hear 'em, let them talk," he said. "A lot of counseling is simply giving people a safe space to talk."
He encouraged others to just be there for their friends and neighbors dealing with grief and trauma. In tragedy, wounds can only be healed by time and connecting with other people, he said.
Outside of the public eye, he and other counselors have been trying to offer that comfort to police and paramedics.
"That grief is very real," he said. "It's traumatic for them."
As they grieve, Marlar said many of his firefighters are also thinking about getting back to work. They're dedicated, he said, and being at work helps them stay in the right frame of mind.
They did their jobs on Thursday, he said, and he was sure their efforts had saved lives. Since then, the stations remained open and his crews remained ready to serve, he said.
"Nothing will stand in our way."