A Southern California teen wearing a hijab was misidentified as Isis in her high school yearbook.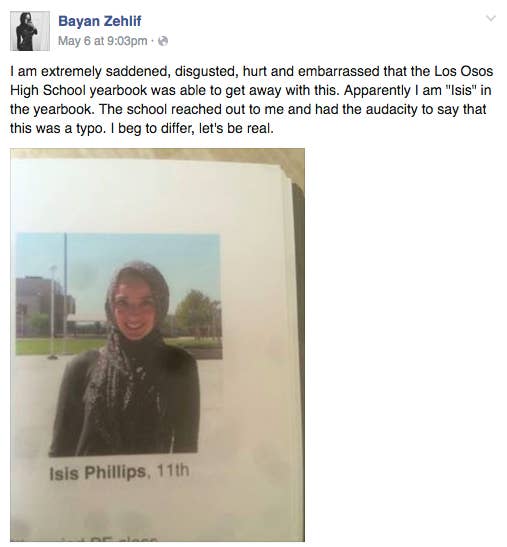 Bayan Zehlif is a student at Los Osos High School in Rancho Cucamonga. She shared the mislabeled photo on social media, adding that she was saddened, disgusted, and embarrassed.
"The school reached out to me and had the audacity to say that this was a typo. I beg to differ, let's be real," she wrote on Facebook.
The school's principal apologized and said the school is investigating how the "misprint" happened.
Students on the yearbook staff said the photo had been mistagged to give the incorrect name — a girl named Isis Phillips had previously gone to the school, several students said.
The Council on American-Islamic Relations, a Muslim civil rights group, is calling on the school to thoroughly investigate what happened and to take steps to prevent it from happening again.
"We join with the family in their concern about a possible bias motive for this incident and in the deep concern for their daughter's safety as a result of being falsely labeled as a member of a terrorist group," said Hussam Ayloush, executive director of the Los Angeles CAIR office. "No student should have to face the humiliation of being associated with a group as reprehensible as ISIS."
According to a CAIR report, more than half of Muslim students in California have said they've been bullied for their religion.
About 200 yearbooks have been distributed to students. It's unlikely that Bayan will return to the high school until the issue is "resolved appropriately," CAIR said.