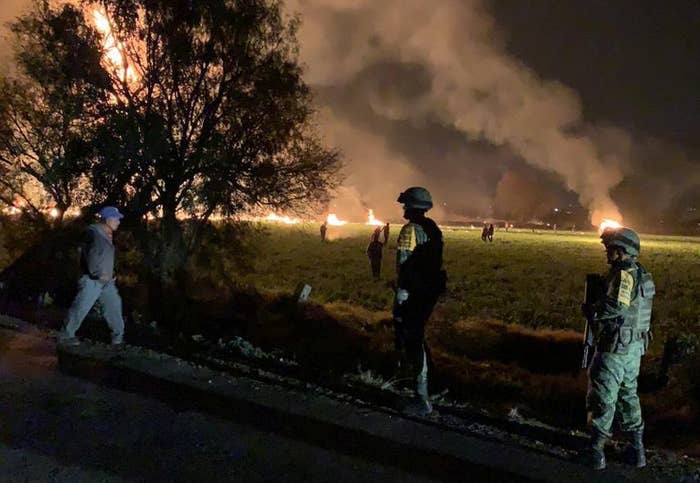 The death toll in an explosion of a ruptured fuel pipeline in central Mexico has risen to 85, Mexican Health Minister Jorge Alcocer said Sunday, and another 58 people remain hospitalized.
Some patients had more than 80% of burns on their bodies and their organs were compromised, Alcocer said at a press conference. Dozens of other people are still reported as missing.
The explosion took place in the town of Tlahuelilpan in the state of Hidalgo.
Mexico is in the middle of a gas shortage, and President Andrés Manuel López Obrador has come out strongly against fuel theft.

In the hours before the explosion, thousands of people reportedly gathered around the geyser of gas. Footage appeared to show soldiers guarding the pipeline as people helped themselves to gasoline.
Following the explosion, local hospitals were swamped with burn victims, Punto Por Punto reported.

The governor of the state of Hidalgo, Omar Fayad, confirmed the casualties and called on Mexicans to come out against fuel theft.
"Not only is it illegal, it puts your life and your family's at risk," he wrote on Twitter. "What happened today in Tlahuelilpan should not happen again."

The country's gas shortage, now in its second week, is bringing hours-long lines to gas stations that have been unable to keep up with demand. The federal government has been trying to curtail what has been organized gas theft and corruption in the country. To do so, López Obrador's administration has shut down major pipelines of the state-owned petroleum company Pemex, which were targeted by several organized thieves, including drug traffickers.
According to PRI, the thefts have caused Pemex about $3 billion a year.
That's forced gas stations to rely on being supplied by fuel-transporting trucks, which have not been able to keep up with the pace of demand.
In reaction to the shortage, some communities have looked to tap illegally into fuel pipelines, and some local officials have tried to ration the distribution of gas.
On Wednesday, Mexico City Mayor Claudia Sheinbaum announced that people in the city would be able to buy gas only on specific days of the week, according to the color on their license plates.
López Obrador said he was in contact with the leader of Pemex, and his government's secretary of defense declared a national emergency Friday night. López Obrador offered his condolences to the victims and their families and called on government resources to attend to their needs.
In a statement late Friday, Pemex said the gas rupture occurred after illicit activity. A specialized team was responding, and fire trucks and suppressant foam were being brought to the site to put out the fire.
A second pipeline rupture and fire was reported in San Juan del Río, Querétaro, later Friday night. Initial reports said no one was injured.
State officials in Querétaro said the fire was also caused by an illegal rupture of the pipe and was expected to burn out in about five hours.