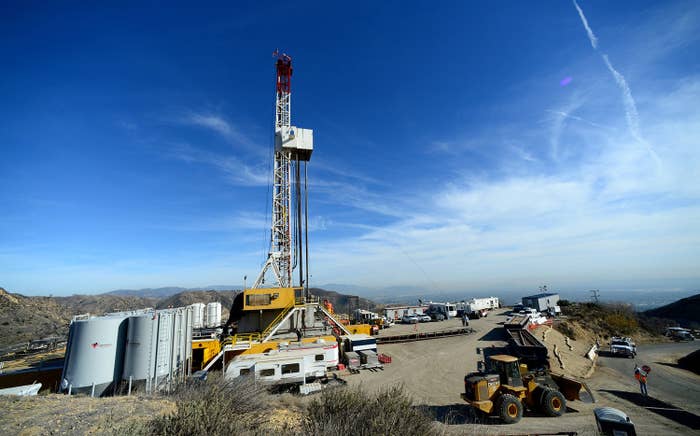 A natural gas leak in Southern California's San Fernando Valley has spewed billions of pounds of methane into the air — and gas officials have said it will likely be months before it can be sealed.
The gas leak near Porter Ranch has pushed thousands of residents out of their homes, diverted low-flying aircraft, and sparked a lawsuit by the Los Angeles city attorney. On Tuesday, the Los Angeles County Board of Supervisors declared a state of emergency, and On Wednesday, the Los Angeles Times reported that the L.A. Unified School District was working on a plan to relocate students of two elementary schools because of the leak.

Crews from Southern California Gas discovered the leak on Oct. 23 within a storage tank facility in Aliso Canyon. The gas company has stressed it is not an immediate threat to public safety — the gas is dissipating into the air, and the nearest home is more than a mile away.
But according to Mike Feuer, L.A.'s city attorney, the gas, which smells like rotten eggs' has caused residents in Porter Ranch to suffer headaches, nosebleeds, and nausea. The leak is also putting residents at risk of long-term health effects, he said. According to the Associated Press, the gas company has paid 1,675 households to relocate temporarily and is working to move another 1,200.
"As a result of this nuisance, hundreds of city residents, including children, the elderly, and persons with disabilities, have been forced to indefinitely leave their homes, with many having to pull their children out of local schools," Feuer wrote in a lawsuit filed against the gas company. "There is no end in sight to the harms caused by this release."
Since Dec. 4, the gas company has been working to drill a relief well to intercept the leak more than 8,000 feet below ground. Once the relief well is complete — which is expected to take place in early March or May — fluids and cement will be pumped into the well to seal it.
The company has offered air filtration systems to residents in the meantime, as well as set up a reimbursement system for those who have temporarily relocated. Experts are also testing air quality, though the company stressed the smell is an annoyance rather than a risk to health.
"In outdoor locations such as this, natural gas quickly dissipates into the air, greatly reducing the possibility for ignition and further diluting the gas as it reaches the public," a company statement said. "The human nose is amazingly sensitive and can detect the smell of the odorant at levels much lower than any level of concern."
But among the gas dissipating into the air is methane, giving the leak catastrophic environmental implications, Los Angeles officials have said.
The leak is spewing out 100,000 pounds of methane an hour, according to Feuer's suit, upping California's output of greenhouse gases by 25 percent.
"SoCal Gas needs to take immediate action to rectify this environmental disaster," Mayor Eric Garcetti said. "They need to take responsibility for the long term impacts this will cause and make a commitment to making this right for the people of Porter Ranch - and all of Los Angeles."