A chemical attack by the Syrian government against civilians — including children — this week left at least 72 people dead and hundreds of others injured.
Leaders in the US and Turkey confirmed that the attack, in fact, happened. An autopsy conducted by Turkish doctors in the presence of World Health Organization officials showed that chemical weapons were used. It was covered by a variety of journalists, and injuries and deaths were documented in photos and video.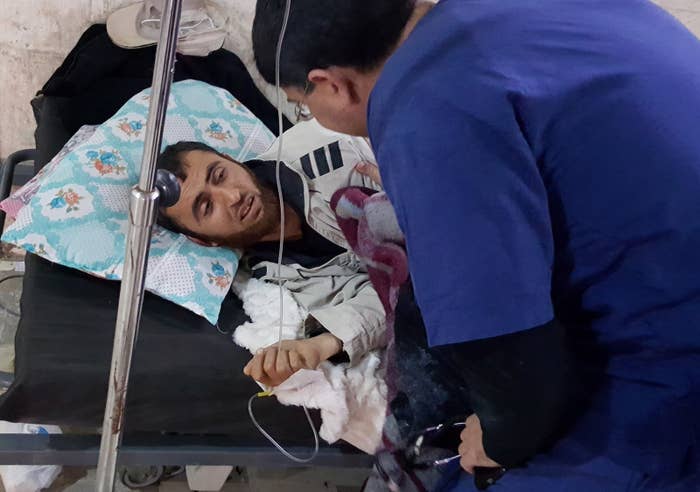 As the US weighed those options, alt-right blogger and Trump supporter Mike Cernovich worked to convince his thousands of followers that it was all a hoax.
"The Syria gas attack was done by deep state agents," he wrote on Twitter Wednesday night. "The fake news media (which works for them) wants you to ignore basic logic and 101 level game theory and strategic thinking to reach an illogical conclusion. Stay vigilant!"
Cernovich also launched a multi-hour livestream Thursday, in which he pledged to "filibuster this World War III" on YouTube and Periscope, and called on supporters to call the White House and "jam their phone lines."
"That's what Trump does — Trump listens to us," Cernovich said, after several hours of broadcasting. "The fake news media is going to keep pushing for war. They're going to do whatever it takes ... If you want me to keep doing this, I'll go as long as it takes. We're trying to stop World War III."
It wasn't the first time conspiracy theorists claimed an attack in Syria was staged for political purposes. A 2013 chemical attack was similarly — and also falsely — written off as a hoax. But the latest conspiracy is spreading faster, perpetuated by fringe media figures who have the ear of the president.
Infowars, a right-wing conspiracy site, claimed the Syrian attack was faked by groups funded by liberal billionaire George Soros. The site's founder, Alex Jones, has also claimed that the Sandy Hook shooting and Boston Marathon bombing were hoaxes.
And WikiLeaks, which released information stolen by Russian hackers that damaged Trump's opponents during the 2016 election, said "the matter is far from clear."
Former US Rep. Ron Paul agreed the Syrian attack was a "false flag" — a government-sponsored conspiracy.
Richard Spencer, another leading alt right and white nationalist figure, claimed to speak for the movement as a whole. "We want good relations with Bashar al-Assad," he tweeted, "and we urge Trump to halt the rush to war."
The #SyriaHoax hashtag spread among other Trump supporters on Twitter.