Fraternity Brother Charged After Allegedly Smearing Peanut Butter On Allergic Teen's Face
The alleged hazing incident went viral last month and has now resulted in a misdemeanor charge for a 20-year-old.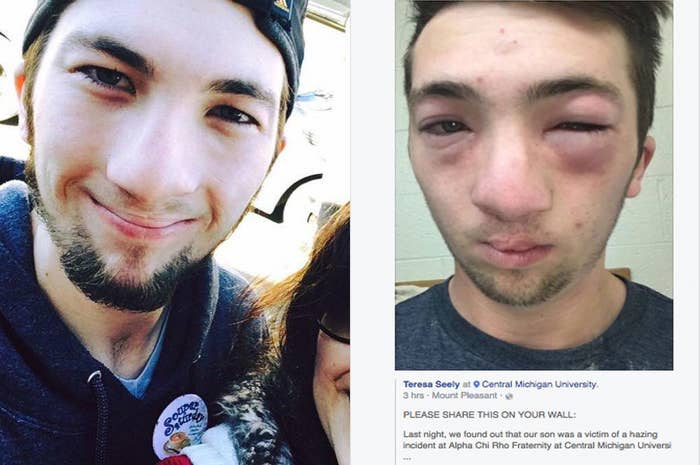 A 20-year-old fraternity brother was charged this week after allegedly taking part in hazing that involved smearing peanut butter on the face of a pledge with a severe allergy.
The mother of 19-year-old Andrew Seely wrote in a viral Facebook post that the incident, which took place in October near Central Michigan University, could have killed him. A photo showed Seely's swollen face, and the family filed a complaint with police.
On Monday, officials in Mount Pleasant, Michigan, announced that 20-year-old Dale Merza had been charged with a misdemeanor in connection with the alleged hazing. He was arrested on suspicion of hazing resulting in injury, which could be punishable with up to 93 days in jail.
According to Teresa Seely, Andrew's mother, the teen was pledging to the Alpha Chi Rho fraternity when he passed out at the fraternity house. Another member then smeared peanut butter on his face, prompting the severe allergic reaction, she told student newspaper Central Michigan Life.

"We want people to bring awareness to the community that hazing is still happening on the campus of Central Michigan University," she told the campus paper. "We will be seeking justice for Andrew and make sure the people who did this are held accountable."

An unnamed fraternity member told WDIV that it was meant to be a prank, not hazing.
"It was just a joke trying to be funny and put it on his face," the student told WDIV. "We didn't know he was allergic. It was just college students being kids."
The national offices of Alpha Chi Rho said it has not had an authorized chapter at Central Michigan University since 2011.
"The individuals involved were not members and acted independently," the fraternity said in a statement. "Alpha Chi Rho does not condone this type of behavior—or any form of hazing—and it stands in conflict with our mission to cultivate men of character, honor and integrity."
The unauthorized group was also not recognized by or formally affiliated with the university. It is listed on the CMU website as one of several "unrecognized organizations."

"WARNING: Some organizations that were once recognized fraternities or sororities on campus continue to operate underground despite having lost recognition from the University," the site reads. "These organizations have had their recognition revoked by the institution for various reasons, including such things as hazing, alcohol and drug abuse, risk management violations, and failure to comply with University policies and expectations."