Teen YouTube Star Accused Of Trying To Lure Girl Into Having Sex With Men
Police say 15-year-old Steven Fernandez promised fame to a 12-year-old girl in exchange for sex with him, his 22-year-old manager, and a 27-year-old skateboarder.
A 15-year-old YouTube star is accused of attempting to lure a 12-year-old girl to have sex with him, his 22-year-old manager, and a 29-year-old skateboarder in a vacant home in Compton.
Steven Fernandez — who has more than 1 million followers on social media — was arrested Nov. 17, along with his manager, Jose Barajas, after exchanging a series of text messages with a detective posing as the 12-year-old girl, according to the Los Angeles Police Department. Now, detectives are asking local parents to check with their daughters to see if there might be other potential victims.
It's unusual for authorities to release the name of a minor who has been arrested. But police said there are special circumstances when a suspect is believed to have targeted other minors sexually.
"Fernandez and his buddies used his fame and brand to sexually exploit the very girls who made the men rich and famous," LAPD Detective Ninette Toosbuy said in a statement. "We're taking exceptional measures to find additional victims because the fate of some young lives may be at stake."
According to police, the 12-year-old girl first came to authorities on Nov. 13. She met Fernandez when he called to her from a car on Ventura Boulevard, and Barajas was in the driver's seat. Fernandez promised to introduce her to celebrities and get her a spot in an MTV special — which doesn't actually exist — if she performed sexual acts on the pair and 27-year-old Keelan Lamar Dadd, another skateboarder who promotes a clothing line with Fernandez, police said.
Detectives then stepped in and posed as the girl in a series of text messages to Fernandez. They planned to meet at an abandoned home to have sex, police said. Fernandez and Barajas were arrested as part of the sting on Nov 17.
Dadd was also later arrested, and all three were booked on suspicion of lewd and lascivious acts with a child under 14. Dadd and Barajas have since been released on bail, and Fernandez, as a minor, was released to his mother.
Fernandez has millions of views on YouTube, where the young skateboarder, who goes by $CUMBEEZY or Baby Scumbag, posts videos of himself picking up girls and carrying out pranks and skate tricks.
In the weeks since his arrest, he has been promoting Steven's Traphouse, an event scheduled at the Pico Rivera Sports Arena with tickets selling at $30 to $50. On Wednesday, he tweeted that the event had been pushed back to February due to permit issues.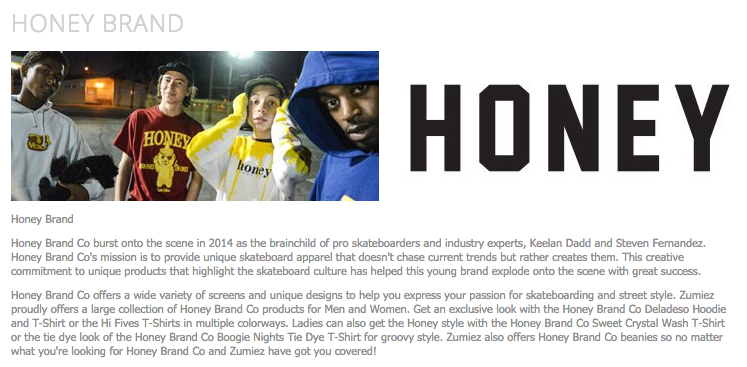 The teen works with fellow skateboarder Dadd on Honey Brand Co., a line of clothing and accessories carried by skate shops, including national retailer Zumiez.
In March, thousands of teenagers swarmed a mall in Downey for an appearance by Dadd and Fernandez at Zumiez. Police temporarily closed the mall and canceled the appearance because of the crowds.
Fernandez regularly posts selfies of girls wearing his clothing. Britney Spears has also posted a photo of her young sons in Honey T-shirts.
With Fernandez's popularity, police believe it's likely he approached other girls with similar propositions of fame in exchange for sex.
"The suspects tended to cruise the West San Fernando Valley, Hollywood, and Compton, looking for young girls to solicit," Toosbuy said.