A 14-year-old boy in Baltimore was shot by an officer after raising a BB gun that appeared to be a real semi-automatic weapon during a foot chase, Police Commissioner Kevin Davis said Thursday.
The boy, Davis added, is expected to survive.
"My thoughts and prayers are with him," Davis said. "My thoughts and prayers are with his family."
The boy, identified as Dedric Colvin, is an eighth-grader at City Springs Middle School, his mother, Volanda Young, told The Baltimore Sun. Police had originally listed his age as 13, but Young later said he was 14.
Young said she found out about the shooting on Wednesday when her older son, Alvin Colvin, banged on her front door and told her, "Ma, the police shot Dedric." Young told The Sun that she found Dedric bleeding in a street.
"All I could see was blood," she said. "I was screaming."
The American Civil Liberties Union of Maryland on Thursday called on police to stop attempting to justify the shooting.
"Fourteen-year-old boys play with BB guns all over the country every day without getting shot by police," the ACLU said in a statement. "It dehumanizes black children when law enforcement and our society so quickly seek to justify a shoot-to-kill response when a black child in East Baltimore does the same thing."
The incident comes just two days after the city of Cleveland agreed to pay $6 million as part of a settlement with the family of Tamir Rice, who was fatally shot by police while holding a replica weapon in 2014.
Davis on Thursday identified the officer who shot Covin as Thomas Smith, a 12-year veteran of the force. He did not identify the second female officer, a six-year veteran, who was also at the scene.
Smith remains on routine administrative leave pending the outcome of the investigation, Davis said at a news conference.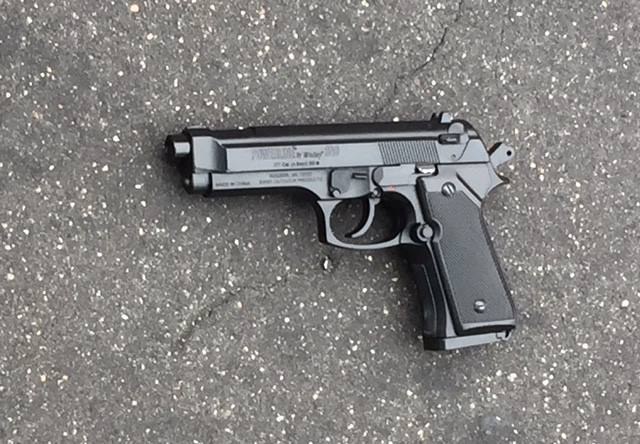 Davis said the two plainclothes officers approached Colvin — they didn't identify him by name — after spotting him walking down the street holding a basketball in one hand and "what looked like a firearm" in the other. When they said they were police, the boy ran away, leading both officers on a 150-yard chase, Davis said.
"At some point [the boy] stopped and turned towards the police officers and he still had what looked like the firearm in his hand," Davis said, adding that an independent witness told police that he saw the boy "raising" the gun.
Smith then shot and wounded the boy.
"They did what the community expects them to do," Davis said. "This has nothing to do with police-community relations. This is a police response to a person seen in broad daylight with a gun in his hands in the middle of the street."
At the new conference, police officials displayed two firearms, one of them real and the other the replica.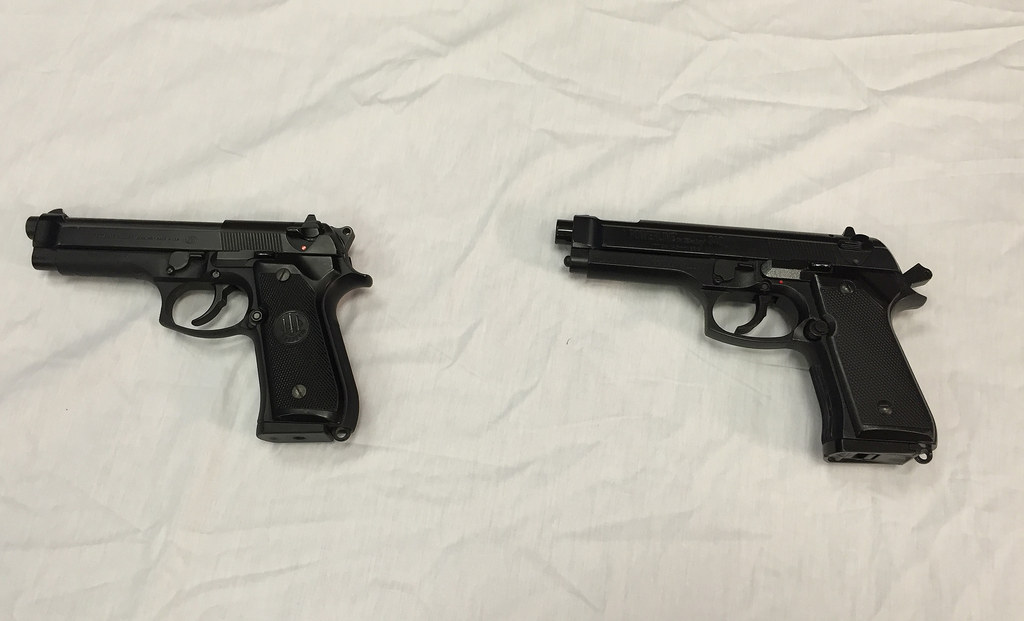 "The real only way to tell which one of this guns is real or not is to be on the receiving end of the gun as you're staring down the barrel of it and the trigger is pulled," Davis said. "Thats the only time we're ever going to know if a gun is real or it's a replica."
Davis had previously said the officers had "no way of knowing" it was not an actual firearm.
A witness told a WBAL reporter that the boy had yelled "It's not real" as officers said to drop it.
On Thursday, Davis said he didn't know why the boy decided to run.
"What is a 13-year-old doing what one of those in his hands?" he added.
Officials said the BB replica gun was not sold at toy stores, but instead at "hunting and shooting type arenas." They also said they were looking into the legality of carrying a BB gun in Baltimore, and noted its manufacturer had warned that it shouldn't be carried by anyone under 16 without parental supervision.
Young, meanwhile, told The Baltimore Sun that she was handcuffed and taken to the police station where she was asked questions and put in a cell after officers told her she was being belligerent.
"It was humiliating," she said. Only after begging officers was she driven to the hospital her son was in, she told The Sun.
The shooting took place on the one-year anniversary of the funeral of Freddie Gray, the 25-year-old man who died after injuries he sustained while in police custody in Baltimore. His funeral was followed by protests and unrest in the city.
"It is not lost on me what April 27th means to this city," Davis said.