5 People Found Dead After Fire Tears Through Los Angeles Office Building
A possible arson suspect has been detained, the Los Angeles Fire Department said.
A 21-year-old man was arrested on suspicion of lighting a fire in Los Angeles that resulted in the deaths of five people inside a building, police told BuzzFeed News.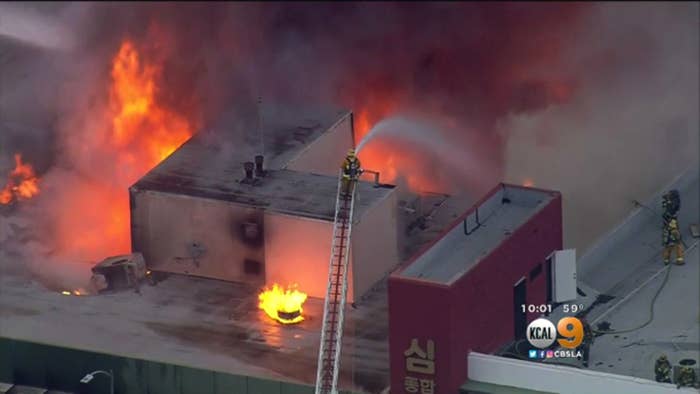 Johnny Sanchez was being held on $1 million bail on suspicion of murder after several bodies were found inside the abandoned building, Los Angeles Police officials said.
Police said Sanchez was a transient.
Five homeless people were killed after fire raged through an abandoned office building Monday night in Los Angeles.
Firefighters first responded to the two-story building in the city's Westlake district after a 911 call around 7 p.m. Monday, the Los Angeles Fire Department said. When firefighters arrived, the building was showing heavy smoke and flames across its interior and roof.
Three people were rescued from second-story windows by firefighters, and hose lines were deployed to keep the fire from spreading to neighboring buildings.
Over the next two hours and a half hours, 145 firefighters responded to the fire.
One person was found dead in the immediate response, and on Tuesday, fire officials said four more victims were found inside the building.
The building was vacant of any businesses, and it appeared the five victims were homeless, fire officials said.
One person has been detained as a potential arson suspect, fire officials said.