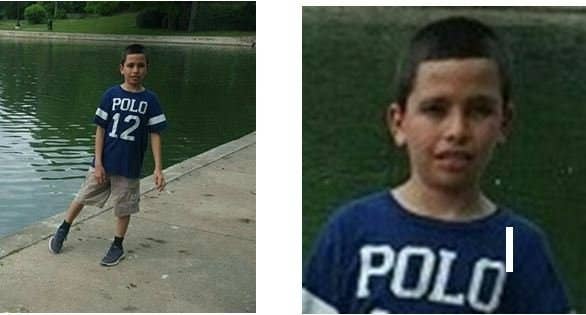 A 10-year-old boy was found unharmed Monday night after being taken from his family's Dallas, Texas, home during an attempted armed robbery.
The Dallas Police Department issued an alert for Nicholas Fierros, who was taken at gunpoint by three men from a family member's home around 12:30 p.m. He was found around 7 p.m. by a couple who recognized him from media coverage of the kidnapping, and on Tuesday, police said it appeared the kidnapping was not random.
"They were there at that home specifically and had targeted that home specifically," Assistant Chief Randy Blankenbaker said.
According to police, three men dressed entirely in black stormed into the home with guns and demanded money. They restrained a woman — Nicholas' aunt — while his 14-year-old and 6-year-old cousins hid and called 911, the Dallas Morning News reported.
When the men did not get the money they were after, they took Nicholas, police said.
The men then fled with the boy, who another family member told WFAA was bound with duct tape. At one point, the boy's family received a text message demanding $60,000 as ransom for the boy, CBS DFW reported.
Around 7 p.m., a couple driving in South Dallas stopped when they saw the boy standing in the rain. They recognized him from media coverage of the kidnapping, and they took him to police to be reunited with his family.
Police said he had not been physically harmed by the men, who as of Tuesday afternoon remained at large.
"He was wet because it was raining, and he was hungry," Blankenbaker said.
The investigation is ongoing, and police asked for the public's help in identifying the kidnappers.